Located midstream in the picturesque Hawkesbury River near Brooklyn, New South Wales, Milson Island has been used at various times over the past hundred years as a hospital and a jail, and is today a playground for primary school children. Sport and Recreation New South Wales, hosts groups of up to 180 kids at a time who "camp" there for a week and enjoy activities such as canoeing, fencing, climbing and high ropes.
When faced with an ordinary budget it is easy enough to turn out a commensurately ordinary building, however Michael Heenan of Allen Jack+Cottier considered the commission to create the Milson Island Sport and Recreation Centre an opportunity to demonstrate that great things can be done with limited resources. "The client [Sport and Recreation New South Wales] had quite limited funding, but high expectations," says Heenan. "It's good working with clients who expect grand results. We like a challenge; it encourages us."
Cost savings were especially important given all materials were barged to the island, a factor which influenced the material choice and specifications. The steel purlin lengths were designed with the mode of transport in mind. "It was no coincidence the purlins are 6.7 metres long, the length of the Miss Piggy barge which took them there. Those short pieces clipped together very easily to form the building's frame. Once they were bolted together they regained their engineered properties to form slender 600mm-deep by 21-metre-wide spans, which is quite phenomenal. Steel makes it easy to do junctions like that."
Heenan took a "first principles" approach in which structural and cladding materials combine. An acoustically optimised mod wood ceiling topped, insulated and finished in Lysaght custom orb (in Colorbond Ultra steel, Dune) integrates with the steel structural bracing.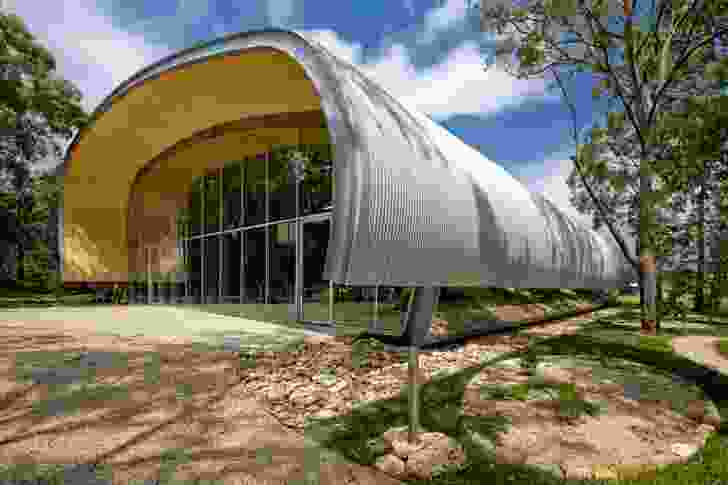 This structural modelling allows the specifically shaped walls and ceiling to carry the building's wind loads. "We unloaded the necessary structural capacity of the building by about 30 per cent, which also made it between 25 and 30 per cent less costly," Heenan says.
The roof design forms a protective shell around the entire building, stopping 1.3 metres short of the ground, acting as a fire-deterrent skin. Its shape deflects tree debris, which collects on the ground alongside an in-ground rainwater gutter beneath a filtering stone garden. The integration of roof and walls without traditional gutters extinguishes fire hazard concerns, allowing the hall to nestle deeply within a clump of trees.
End-wall wind bracing made up of floor-to-ceiling steel rectangular hollow sections is visually unobtrusive. The roof cantilever on the northern end is a neat touch, acting as a proscenium arch for the children to play out their evenings amidst the glow of an impressive fire pit.
Heenan allowed the purpose of the hall to shape his vision for its design. "There was nothing preconceived about this building. When I came here I had no idea it would turn out like this. It has been generated from its place and that's what I like about it. But it shouldn't be about what I like. It should be about its functionality for the kids. We're not going to be here for the next 40 years but kids will be, so ultimately it has to be relevant and responsive for them."
The semi-eliptical shape of the hall was born from the breeze. Thermodynamic analysis revealed that the channel carved through the spectacular sheer rock faces along the Hawkesbury River bends the breeze up and over the island. "We found a predominant wind direction, so we designed the building to react to this more constant breeze," Heenan says. "Specifically, we knew we had the opportunity to harness it for natural ventilation."
It's no accident that the roof has a wing-like shape: "a wing gives lift, which is suction. This suction draws hot air out of the building through the roof turbines to create an internal cooling effect when the turbines are opened in tandem with the electric low-level louvres along the entire length of the building. Before it enters the building, low-level air is drawn across large river stones which are kept shaded and moist, thus enhancing the cooling effect.
Not only is the building's form an overt expression of thermodynamic modelling, it's also a response to more material surroundings. To camouflage it from the adjacent Milson's Passage residents, Heenan pushed hard to place the hall amongst bushland rather than in a clearing. "The residents wrote us a letter saying they appreciated how sensitively we had designed and sited the building so that the bushscape remained unspoiled."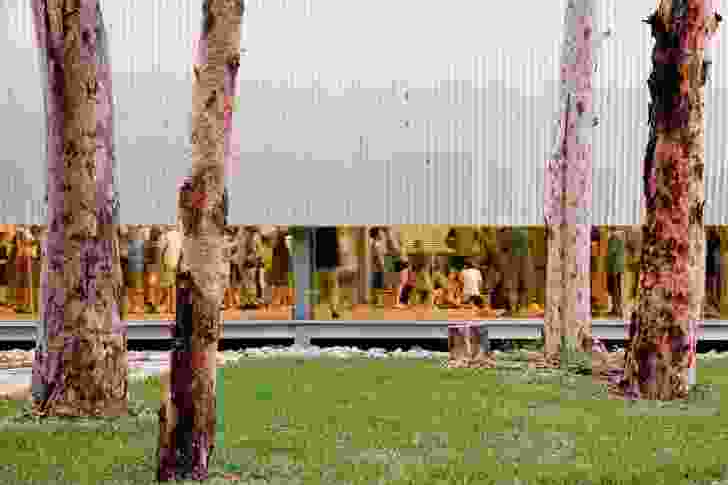 Heenan also deliberated at length on an appropriate colour for the exterior cladding. "There was a push to make it dark but we knew a lighter one would be less obtrusive in the landscape. The bark of the surrounding trees creates a pattern as it peels. It's being quite silvery and the colour of the cladding (Colorbond Dune) matches it well.
It's ironic, says Heenan, that his ellipse-like hall has been referred to as the 'wonky' shed. "There's a lot of thinking and scientific modelling behind this thing. We're about creating architecture, not straight buildings. The capabilities of steel got us over the issues of span pretty quickly, which left us free to think poetically about the shape."
In addition to the wind influencing the hall's design, it also takes cues from the vast river surrounds in which it 'floats' like a marine vessel. "The building's shape is almost like a boat's hull in reverse. Someone joked that we could have built it on shore and floated it over upside down," jokes Heenan.
"I was struck by images of Arnhem Land canoes made out of tree bark braced with sticks, and also the way canoes are used upside down as land shelter – one side propped up, and the other touching the ground. I tried to reflect the essence of shelter, the simple poetry of a piece of bark leaning on the ground: it's just that our 'sticks' happen to be steel."
An edited excerpt from Steel Profile 111.
Awards
2012 Colorbond Award for Steel Architecture / Australian Institute of Architects (National)
2012 Building Award - Small Projects / Australian Steel Institute (National)
2012 Building Award - Small Projects / Australian Steel Institute (NSW & ACT)
2012 Colorbond Award for Steel Architecture / Australian Institute of Architects (NSW)
2011 Public Architecture Commendation / Australian Institute of Architects (NSW)
2011 Commercial Interior Fitout High Commendation: Timber Design Awards
2011 National Commercial/Industrial Construction Award (Under $5 million) / Master Builders National Excellence in Building and Construction Awards