How do you distil the luxury of time and relaxation, the rituals of pampering and the supposed medicinal effects of mineral spring water into one abbreviated experience of the day spa? In his design for RNA Day Spa, architect Stephen Cameron of Cameron & Co has created a sense of ritual and relaxation with elements that subliminally harness ideas of health and hygiene.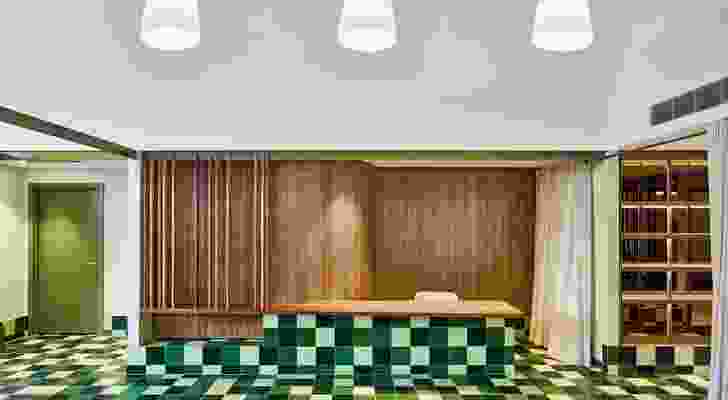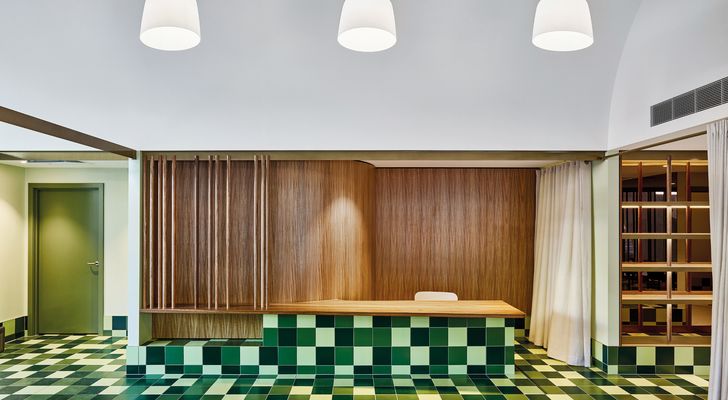 Instant gratification has become a syndrome of new millennium living. Social media platforms distribute images of our lives in small and inspiring doses to our fans and followers, memes provide humour and critique, and political comment can be bound up in 280 characters. We are reminded constantly that we have little time to spare and attention spans to match.
The day spa is the Twitter version of the once-luxurious ancient spa. No self-respecting Roman would have spent less than a day lying about and sweating in Caracalla's hall-like rooms, or drowsing and being scrubbed alongside the hot green pools of England's Bath. Moorish women in Seville had their private vaulted stone retreat in the cool chthonic spaces beneath fragrant walled gardens, and the Japanese onsen takes on a life of its own. In the twentieth century, many cultures lost sight of how to relax in a spa town constructed around magical mineral springs, and "beauty treatments" were relegated to the cramped side room of a hairdresser's salon after an up-do. But now the concept is loved once again, albeit in its own meme-like version.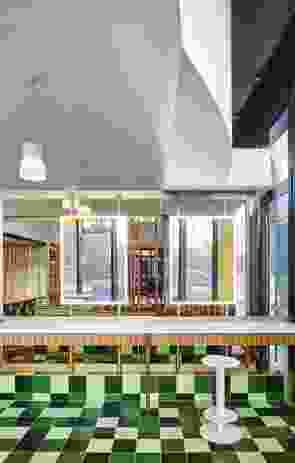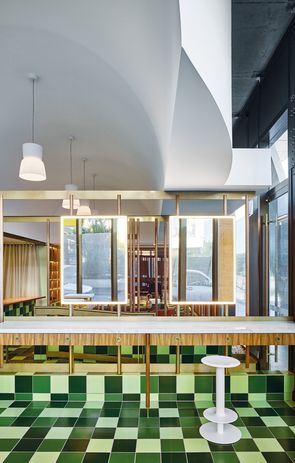 The long linear space occupied by RNA Day Spa sits at the base of Lend Lease's new Kingsgate building and adjacent to Brisbane Showgrounds (the home of the Royal Queensland Show, aka "The Ekka"). Cameron & Co was commissioned to redesign the ground-level spaces of the office tower in a way that reflects Brisbane's subtropical aesthetic and lifestyle. The first intervention was to dematerialize the corner of the building to establish a series of intriguing connections to the street.
"This is a visitor's first experience of the whole RNA precinct," says Cameron, "so we didn't want to create a barrier with a big, imposing foyer. It's all about the outdoors here."
Street dining is part of the gig, and a series of intimately scaled cafes and bars weaves along the northern edge, which faces the Ekka showgrounds. Columns of greenery and edge gardens further disintegrate the lines between street and building. RNA Day Spa sits on Kingsgate's south-eastern corner, away from the dining action and facing a busy arterial road. A double-height corner bound by lusciously curved glass announces the spa's presence to passersby and provides a voyeuristic glimpse of what goes on within.
The brief from owners Pragmatic Training was for three treatment rooms, including a Vichy shower room and a generous front-of-house space that could cater to large group bookings. A central entry path divides a large open lounge area from the curved corner space, which is devoted to nail technology and makeup. A tiled floor sweeps through the whole space, sporting a variety of green hues – mints, avocados, aubergines – evoking a garden path. Above, a gorgeous white vault is the space's literal crowning glory. It is suspended from the raw concrete ceiling and embraces the space in a pure white arc. Glimpses of the rawness above serve to emphasize not only the purity of the clean white arch, but also the precision and craftsmanship in its construction.
The long lounge section, where groups can gather for treatments, is delineated by a broad tiled ledge and can be divided into smaller rooms by filmy white curtains. "It's a bit like a stage set," notes Cameron. Lookalike brass curtain rails (of coated aluminium) create a datum around the volumes, and balustrades are in the same "brass."
Interior treatment rooms are generous in size and strike a fine balance between nurturing coziness and confident clinical standards of hygiene, with their linoleum floors and white Corian benchtops countered by warm timber trims. While the building's other corner opens to the street in a series of alluring gardens and communal gathering spaces, this spa sets up a nice rhythm between the privacy demanded by clients and a big open gesture of exposure on the busy corner.
Products and materials
Walls and ceilings

Plasterboard, painted in Dulux 'Fair Bianca Half' and 'Stability.'
Doors

Door painted in Dulux 'Emerald City.'
Flooring

Uzbek cord carpet from Tretford. Classic Ceramics tiles in 'Menta,' 'Oliva' and 'Pistachio.' Linoleum flooring in 'Willow' from Forbo Flooring Systems.
Joinery

Statuario Maximus benchtop from Caesarstone. Spotted gum benchtop from Intergrain.
Lighting

Prandina Notte Metal suspension lamp in white and Prandina Bloom suspension lamp in white and 'Gamma,' both from Inlite. Gamma Modtrim downlight in satin white or anodized gold.
Furniture

Furniture from Cult.
Other

Liano Nexus and Cirrus basin mixers from Caroma. Mizu sink from Reece.
Credits
Design practice

Cameron & Co
Brisbane, Qld, Australia
Project Team

Stephen Cameron, Matthew Reynolds
Consultants

Builder Xenia Constructions
Lighting Inlite

Site Details

Location Fortitude Valley, Qld, Australia
Site type Urban
Category Health, Interiors
Type Workplace

Project Details

Status Built
Completion date 2017
Design, documentation 3 months
Construction 3 months

Source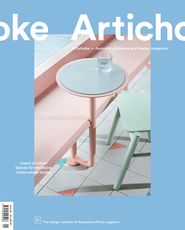 Issue
Artichoke, March 2018