Architecture practices, like architecture schools, develop an identity. Architects pigeonhole each other and from these peer-defined seeds grows a sense of what you might "get" as a consumer of architectural services. On the basis of a mute slideshow of houses designed by McBride Charles Ryan, one might be tempted to think of them as "merely" firmly embedded in a formalist tradition. The names given to their houses reinforce this, alluding to elemental forms: the Dome House, the Klein Bottle House, the Letterbox House.
For the non-architect reading this, it might interest you to know that the creation of forms – strong shapes and distinctive geometries – to make up buildings or parts of buildings is often denigrated within the profession as an inferior way of making architecture. "Just form-making" is usually a derisive phrase, as if the creation of a strong form is somehow an easy way out.
In our interview, Debbie Ryan implicitly acknowledged this tension and refuted its implication, saying, "Nearly all of our projects are quite contextual, although some people would argue with that." Rob McBride was more direct. "We are definitely interested in form," he said, adding that their interest was driven by "how it can enrich its urban location, what we call the urban experience."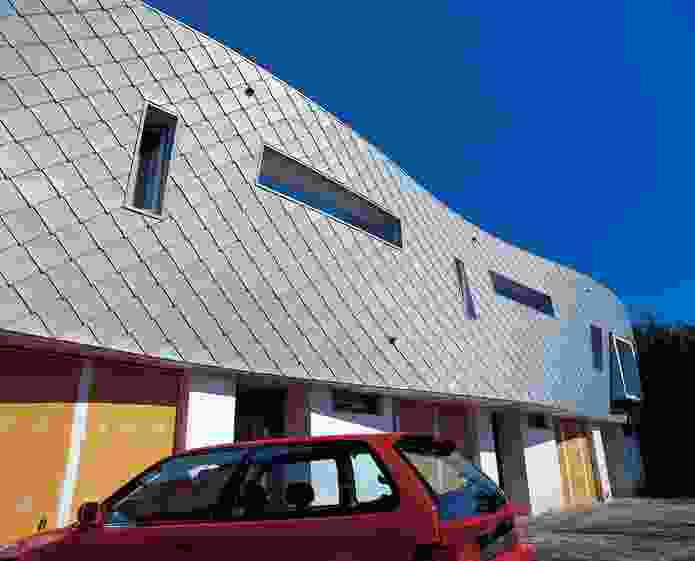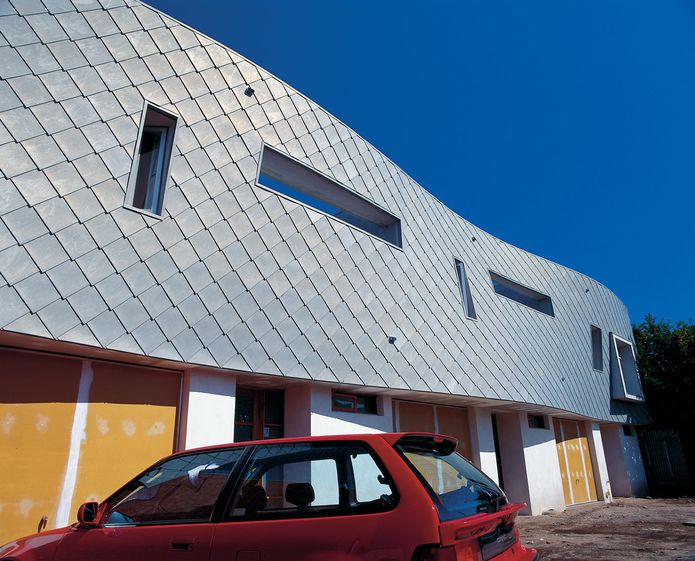 This is a clue to MCR's intention for form-making and, throughout our interview, both Rob and Debbie repeatedly referred to "the urban experience" and "urban memory." As Rob puts it, "We believe that forms, and the way that you shape them in the urban environment, can enrich it. It is about enriching the urban experience to get that sense of presence and memory, and I think that's why we opt for a strong, clear [formal] strategy." Their earliest residential project of note, the 1994 Legon Street House, encapsulates this, positing a bold form in the context of a tiny block in Port Melbourne. Port Melbourne has changed around the project – not so many old sailors, fishermen and dock workers – and yet the project's iconography in the setting remains.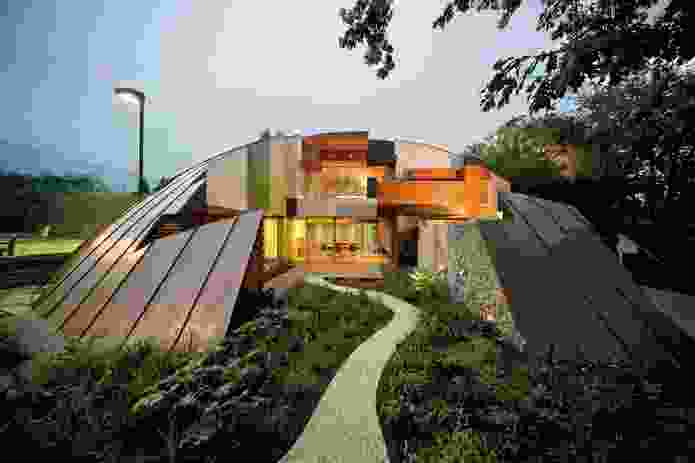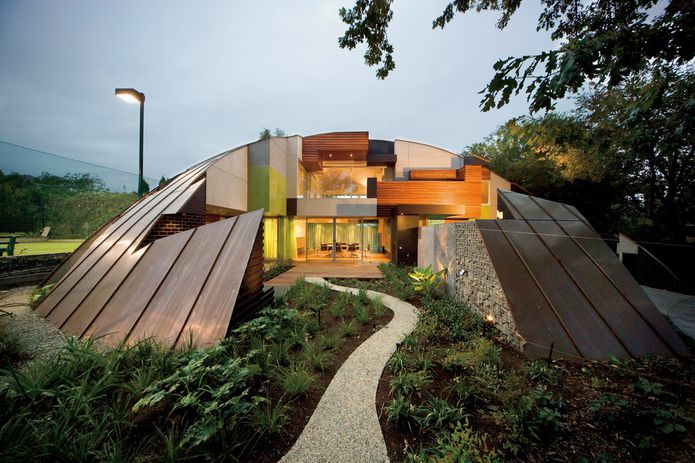 The city is a constant presence in MCR's work, in both residential and institutional projects, and the pair seem animated by a desire to contribute to the iconography and history of each setting they build in. The subtractive and additive Dome House, Wynnstay Road and even the Fitzroy High School building are all realized with strong forms. Passers-by are not reluctant to share their views of this, in the architect's experience, with some stopping to vent spleen and others equally keen to congratulate the pair on their "bravery." As Debbie puts it, "When a building goes up, people [might] say 'whoa' – but then two years later, it's just part of a place."
The marriage of the conditions of a problem to a resulting form is any architect's task, but it is the very basis of MCR's distinctive language. Despite the primacy of form in their work overall, the elemental shape or form itself is not a starting point but the result of the journey of the creation of the house. "We didn't start by saying 'let's build a Klein bottle,' for example," says Rob of the Klein Bottle House. Rather, the shape occurred to them as an ideal solution to a range of problems defined by the architect, the client and the site.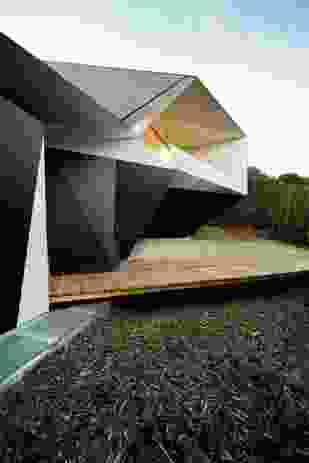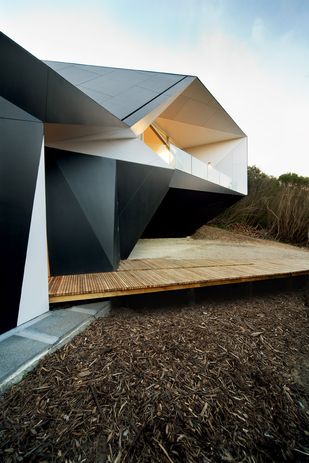 Getting from A to B is seldom direct. Rob explains: "From our point of view, when a client wants to go on a journey, to take a leap of faith, and they don't want to know what their house is going to look like from the first meeting, we always get a better result." The client's relationship to the "high" concept of the form is also not straightforward. The Klein Bottle House client was clear about this. "They understood that the Klein bottle was 'our thing,' " says Debbie, but they were far more interested in how their brief was being met.
Working with bold and decisive forms has other uses as well, as she suggests. "I suppose that in a lot of our projects we do focus on the big idea. That is partly because we know that when you are working on a project, budgets and other things come into it and the project gets eroded, and if you have a big idea then that doesn't get taken away."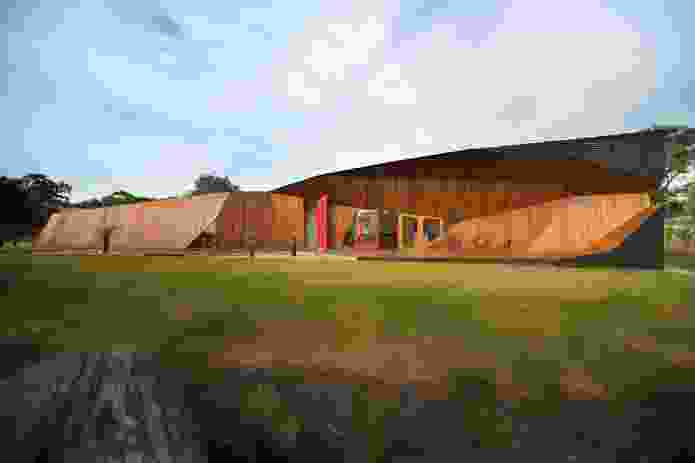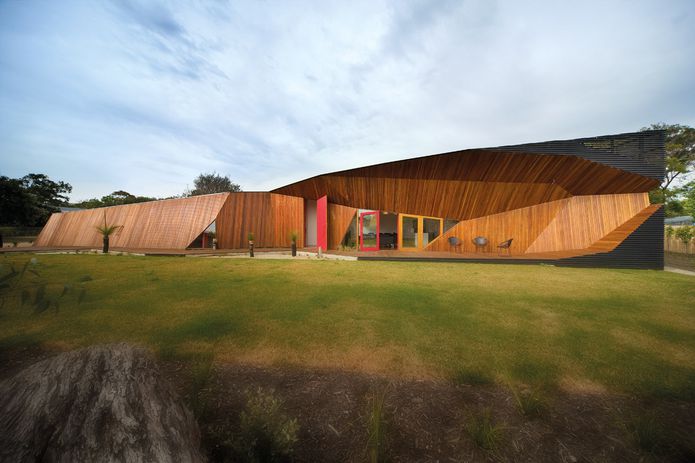 The city forms the backdrop for much of MCR's work, but a converse condition is also a factor: the leaving behind of urban things, seen primarily in the houses MCR has created on the Mornington Peninsula. The Letterbox House is perhaps the quintessential example of this sense of escape, consisting of a long deck promenade from car to threshold. "You arrive in your work clothes; it's about the journey. By the time you walk down the deck you are in your thongs and relaxing," says Rob. The Letterbox House played with the concept of creating a front facade that is the opposite of confrontation – reduced quite literally to the size of a letterbox. And yet the side elevation, along which troop hordes of families heading beach-wards, is heroic in the extreme, the opposite of an understated contextual response.
As a student, emboldened perhaps by naivety, a young Rob McBride looked up then-octogenarian Melbourne architect Frederick Romberg's phone number and called him. Rob reports that during their lengthy conversation Romberg said of one of his more boldly shaped and iconic buildings, "A lot of bullshit has been written about that building, but it was shaped by the planning envelopes." And that perhaps is the point: regardless of why, how, where and for whom an architect creates shape in their buildings, once they are cast into the world they take on a life of their own.
Source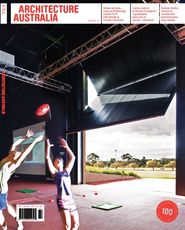 Issue
Architecture Australia, July 2011
Related topics