CAPE SCHANCK HOUSE
PAUL MORGAN ARCHITECTS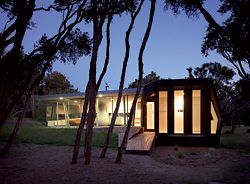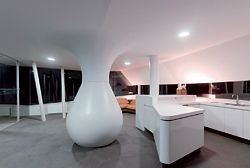 JURY CITATION
This small residence is an exemplary empathetic development of a pristine coastal site. And as development pressure on coastal areas mounts, sensitive and specific design strategies will become increasingly important. Here, the architect's observations of patterns of wind movement, the arrangement of the various stands of coastal tea-tree, and slight shifts in the gradient of the ground informed the whole strategy of this construction.
The single-level plan is set into an open grassed area on a site containing substantial remnant coastal vegetation. Two distinct parts of a contrasting composition present to the roadway and describe a particular code of inhabitation. The bedroom and services strand is wrapped in a contoured framework and clad in stained plywood, its external face indicating the influence of the strong prevailing coastal wind. The resultant shaping provides a drag coefficient bettered only by a Citroen CX. A carefully choreographed thoroughfare through the whole site is suggested by the wrapped profile of timber decking that pronounces the entry, defines the single passageway through the house and then reappears to lead into the garden.
The living zone is a counterpoint of sheer glass and open plan, but sways clear of convention by imploding into the house's most defining feature. A large steel bulb that collects rainwater from the roof provides coolth to the space during summer months. This splendidly eccentric element provides comfort, character and good company, while defining the radial point of this articulate and inventive small home.
In the tradition of Robin Boyd, this is the kind of modest project with generous ambitions that can help promote new ideas for our concerns with settlement.
Cape Schanck House
Architect
Paul Morgan Architects—project architect Paul Morgan; project team Sophie Dyring, Karla Martinez, Yau Ka Man, Timo Carl, Jo Scicluna, Tek Chee Chow.
Structural consultant
TD&C.
Civil consultant
Wirrawonga.
Building surveyor
BSGM.
Landscape
Sally Prideaux.
Cost consultant
Prowse Quantity Surveyors.
Builder
Drew Head.
Owner builders
Paul and Anna Morgan.
Carpenters
Shane Magree, John Kunert.
Photographer
Peter Bennetts.