Klein Bottle House
McBride Charles Ryan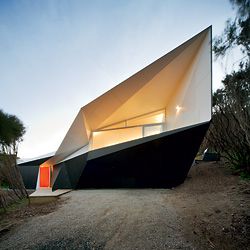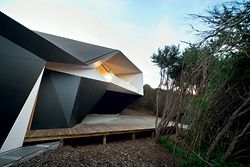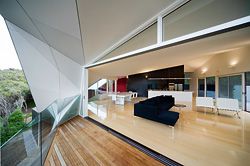 Jury Citation
This determinedly avant-garde house uses a complex mathematical model as a metaphorical generator for a new spatial experience. The spiral form of the house makes the most of what is potentially a difficult sloping site by slowly twisting out of the dark tea-tree at ground level and reaching up to the light-filled views. The carefully sculpted, angled space of the living area is both a revelation and a delight after the narrow, twisting stair that leads from the main entry. The swept path of the formal expression creates an interior that challenges our notions of space and the position of the body within it. Two distinctive outdoor spaces, incorporating a balcony to the view and a sheltered, north-facing courtyard, provide options for exterior occupation. The overall perception of the house is one of a distinctive new language for domestic architecture, a language that draws from mathematics to develop an architecture of excitement, intrigue and new possibilities.

Architect McBride Charles Ryan—design architect Robert McBride; project architects Drew Williamson, Fang Cheah; interior designer Debbie-Lyn Ryan.
Structural consultant Meyer Consulting.
Building surveyor Philip Chun and Associates.
Builder Mark Howlett and Rosebay Constructions.
Photographer John Gollings.