JURY CITATION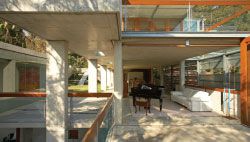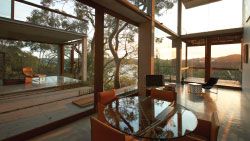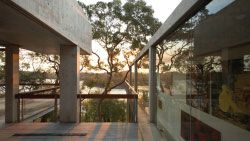 A remarkable relationship between client and architect has produced a house that has the intensity and strength of a spiritual place.
The house celebrates the owner's love of art and architecture and provides a rich variety of spaces for use by an extended family.
Two parallel pavilions, running at right angles to the treed hillside, create a landscaped courtyard and adjacent garden areas, which are axially related to the harbour below.
A restricted palette of materials consisting of concrete, glass and timber gives the house a frugal and almost monastic character, which matches the owner's passion for his art.
The strict discipline of fair-faced concrete permeates all spaces, with roof and intermediate floors having gently curved soffits that hold the spaces, yet allow a strong relationship of these spaces to outside by way of large glazed timber doors.
The landscape, the architecture and the site fuse to form a cohesive and powerful piece of architecture.
SPRINGWATER
Architect Stutchbury & Pape. Project architect Peter Stutchbury. Design architect Peter Stutchbury, James Stockwell. Structural consultant Structural Mechanics and Dynamics: Professor Max Irvine. Landscape consultant Stutchbury and Pape: Phoebe Pape. Builder Watpow Constructions: David Watson. Photographer Michael Nicholson.