JURY CITATION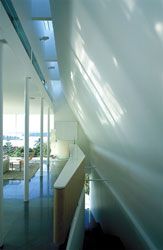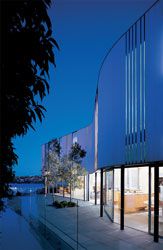 Built on a steep site in Sydney, this large north-facing family home has spectacular harbour views. The architects have resisted the temptation to open every room entirely to the view. Instead, the house offers a variety of viewing experiences: the unencumbered panoramic view, the view tempered by a landscaped foreground and the view as seen through a layering of spaces.
The home is split over three levels. The lower terrace, which will eventually be covered with vegetation, contains the secondary bedroom and support spaces. This creates a platform for the two-storey pavilion that incorporates public areas on the first storey and private areas on the second.
At podium level the spaces engage directly with the landscaped outside terrace and the lap pool, and space flows unimpeded through the slender, dark columns supporting the sensuously curved second storey.
The sculptural beauty of the house is emphasized by the floating mass of the second-storey enclosure. Clad in 40-mm-wide strips of yellow cedar interspersed with 20-mm-thick glass fins, the enclosure's skilfully detailed and crafted skin diffuses daylight throughout the upper levels and sends thin shafts of green light across the white interior. This light wall provides a counterpoint to the white canted and vertical enclosure of the southern and eastern walls.
Three large fissures cut into the roof plane and through the upper floor enhance the light and spatial experience and bring an unusual light to the living spaces below. These fissures and the two-storey high courtyard are cleverly used to organize the pavilion plan and also to provide unexpected views between public and private spaces.
Passive environmental control by ventilation voids has also been successfully integrated into this luxury house.
This highly original house inspires playful architectural invention and demonstrates an intelligent approach that is keenly aware of the complex potential of "the Sydney view".
Images: Anthony Browell, Brett Boardman.
Related topics