JURY CITATION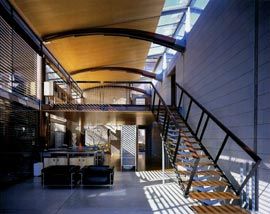 This beautifully realised coastal dwelling, which quietly enjoys its almost hidden prospect of the Sydney Harbour, is an exceptional piece of building craft and engineering.
From the external/internal relationships, structural design and passive environmental systems to the purpose-designed detail and building automation, it is difficult to isolate components of the whole for special recognition.
The three-level building has an asymmetrical composite timber and steel roof structure, which hosts a system of sliding roof panels that admit winter sunshine into the heart of the house. In addition, elegant elevating glass walls, with a unique solar heating system doubling as sunshading, confine or open the main living areas with minute flexibility.
The lower level is a superb retreat and work area of hand polished, off-form concrete. In heavy weather this provides an almost silent oasis of space, adjacent to the transparent lantern effect of the ramp-floored swimming pool.
A project of maturity and resolve, this house represents an extraordinary joint effort, and is testament to the rare opportunity created by clients who are desirous of considering the design, purpose and value of every possible detail from first principles.
Credits
Architect

Stutchbury & Pape

Project Team

Peter Stutchbury, James Stockwsell
Consultants

Builder Barradean Pty Ltd
Communications consultant Sandy Howard
Electrical and mechanical consultant Lincolne Scott
Environmental consultant Advanced Environmental Concepts
Hydraulic consultant ACOR
Interior designer Rena Shein
Landscape architect Phoebe Pape
Lighting consultant NDY Light
Mechanical consultant Johnathan Temple
Programming consultant Sandy Howard
Project manager David Hendler
Structural consultant Prof. Max Irvine

Site Details

Location Sydney, NSW, Australia

Project Details

Status Built
Category Residential
Type New houses

Related topics