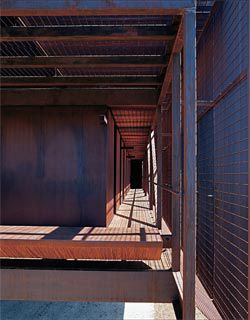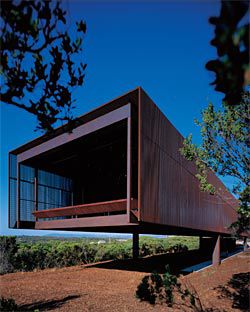 JURY CITATION
Singular in its intent and beautifully spare in its materiality, this exemplary house is as resonant as a finely tuned musical instrument. Questioning the convention of its type, this work investigates the essential relationship between architecture and nature. Perched delicately above the tree line of its coastal site, the singular form evokes strong emotions. The precisely limited palette – pre-rusted steel and rustic timber – is a powerful response to the setting.
Internally the house provides a haven from the ravages of coastal storms, and sets the occupants apart from, but in an intimate relationship with, the landscape. The whole of the house is encased in a fine metal screen, which affords a delicate filtering of light to the interior spaces. At each end of the dramatically cantilevered form views are framed from open decks. On the north wall, the screens can pivot away to reveal the view and increase the penetration of daylight.
The plan is simple, with the house clearly divided into discrete living and sleeping components. A connecting gallery encompassed by the external screen allows contact with the elements. Integration of structure into the fabric of the building has been achieved effortlessly through careful and inventive detailing, and a sense of drama results from the cantilevered Vierendeel trusses.
This work is a highly controlled yet poetic exploration of the beach house type. It provides an intelligent and skilled response to the climate, and further adds to the interpretation of the notion of shelter in the Australian landscape. It is a unique house without compromise and provides its occupants with an essential and delightful experience of retreat. It transcends the ordinary to create an inhabited artwork.
Related topics