The Adelaide Convention Centre redevelopment is officially complete, following the opening of the Woods Bagot-designed East Building, the final stage of the $397-million project.
The East Building replaces the original Plenary Building, which was the first convention centre to be built in Australia in 1987. It follows the July 2015 completion of the West Building, also designed by Woods Bagot.
Woods Bagot senior associate Simon Tothill said the design of the centre references the geological forms of South Australia.
"While the West Building was inspired by the dramatic geology and colours of the nearby Flinders Ranges, the weathered organic shape of the new East Building reflects the weathered contours of the Remarkable Rocks on Kangaroo Island," he said.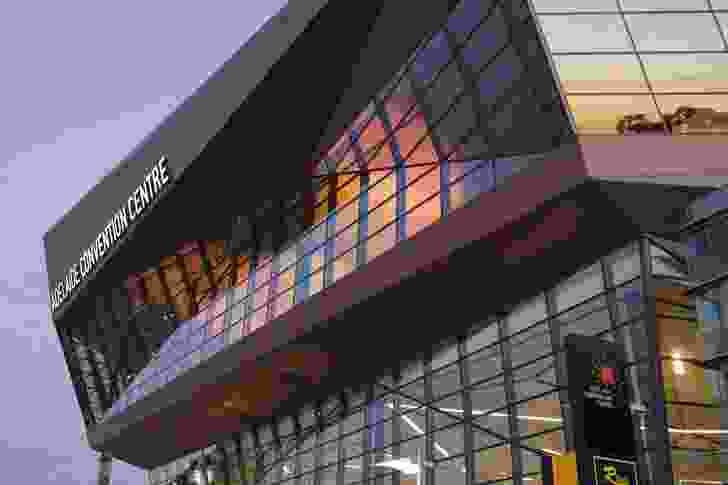 More than 10,000 individually hand-formed zinc tiles – developed for the project in South Australia ­– cover the building's exterior. According to a statement from Woods Bagot, their soft red pigments reference "the rocky outcrops of the regional landscape."
The interior scheme is also informed by the state's environment, with an aerial "Starry Night" backdrop, comprised of more than 35,000 fibre optic lights, referencing the night sky of the South Australian outback.
The centrepiece of the new East Building is the 3,000 square metre Plenary Hall, which has a 3,500 seat capacity and can be divided into more than 15 configurations to accommodate a range of conferences, exhibitions, banquets and other events.
The building includes a number of features that heighten its flexibility of use, including operable walls, two 320-seat rotating auditoriums with hinged, tiered seating that when lifted, reveals a flat floor for exhibitions or banquets.
Woods Bagot Director Thomas Masullo said the building would offer a memorable guest experience.
"Adelaide's advantage in the conference and events sphere required a centre that marries the experience of the state with the talent of the city," he said. "Together the ensemble of buildings completes a visitor experience that is completely South Australian – dramatic, creative and authentic."
The redevelopment of the centre also saw the construction of an 800-square-metre paved plaza fronting North Terrace, and an aerial walkway, or "Skyway," that connects the venue's three buildings at an upper level, providing panoramic views of the Riverbank.
The entire convention centre, comprising of the East, Central and West Buildings, now boasts a footprint of 20,000 square metres. The three buildings are designed to operate either as standalone facilities, with their own dedicated entrances, or combined to function as one venue.
South Australian premier Jay Weatherill said, "This expansion and redevelopment of the Convention Centre establishes another premium Riverbank venue for events and conferences, and also provides yet another reason for people to come and visit our great state."
The first major event to be held in the new East Building will be the 68th International Astronautical Congress in September, which is expected to attract more than 3,500 delegates, including tech billionaire Elon Musk, CEO of Tesla and founder of SpaceX.