You're in the city, on the street, surrounded by sandwich-clutching, latte-sipping workers; slaves to the rhythm of the office. But you slip away, up a flight of stone steps and through heavy, wooden double doors behind an elegant Romanesque sandstone facade. Suddenly, all is darkly glamorous. It's the Stones' song Paint It Black, brought to life as a restaurant.
You don't so much as arrive at the new incarnation of Rockpool as enter another world – a world of layers, mezzanine dress circles, rows of polished glasses, champagne trolleys, glossy bars, dark-vested waiters and blood-red wines.
Once you're seated, the generous square of double-clothed table and the fully upholstered black leather dining chairs send an immediate message: relax; stay as long as you like. At night, the light pools around you, running off like water. Sitting here, it feels as though there are no other tables in the room, or in the world.
Newly ensconced in the magnificent 113-year-old heritage-listed Burns Philp Building in Sydney's financial district, Rockpool represents a renaissance for one of the city's most historically significant buildings, as well as one of its most enduring and original restaurants.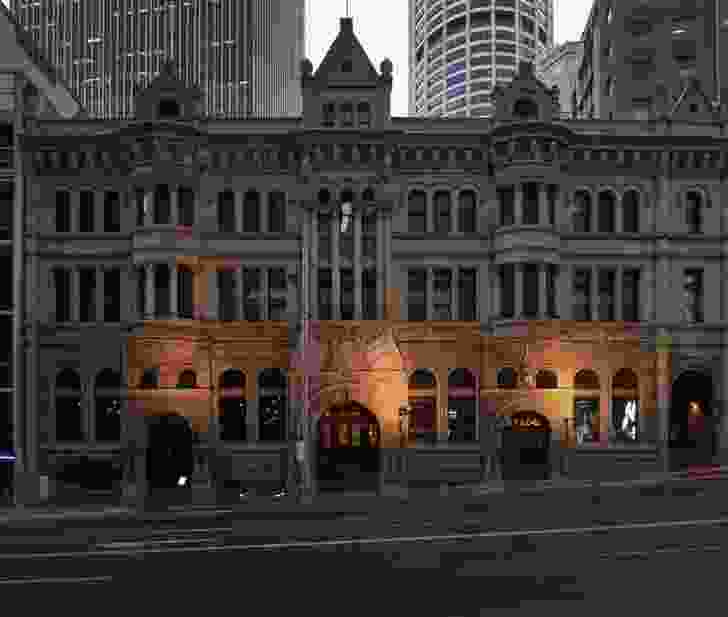 When renowned chef Neil Perry and long-term business partner Trish Richards opened the original Rockpool in a handsome George Street terrace in Sydney's The Rocks almost twenty-five years ago, the alluring interweaving of the best local Australian produce with Asian technique, world-class kitchen skills, towering ambition and an uncompromisingly modern interior quickly defined Sydney dining for the world. By the year 2000, the Sydney Morning Herald Good Food Guide was calling Rockpool the birthplace of modern Australian cuisine. Last year, for the thirteenth time, the restaurant received three chef hats – the highest accolade possible – at the Sydney Morning Herald Good Food Guide Awards. This is not a history you want to throw away lightly – yet you don't want it to stop moving forward either.
Designer Grant Cheyne was very aware of the challenge, especially with a crazy-fast turnaround required. "The design of the original restaurant was very 'of the moment' in 1989, and there is a legacy in that," he says. "But fine dining has changed, and nice design is everywhere now. We seem to have forgotten about elegance and grandeur. And restraint."
Cheyne reveals that Perry's original brief for the existing conventional, white and columned space was to "make it dark and sexy." Well, Cheyne can tick that off the list. The moody shadows, darkly textured walls and matt-black, pressed-metal ceiling combine with a backing track of 1930s jazz and a mesmerizing monochrome image of wafting smoke by photographer Earl Carter. This cloud of smoke works its way across the restaurant's visual identity, with menu covers evoking poet Henry David Thoreau's "light-winged smoke" in upward flight as if curling from an incense stick, "departing dream, and shadowy form of midnight vision, gathering up thy skirts."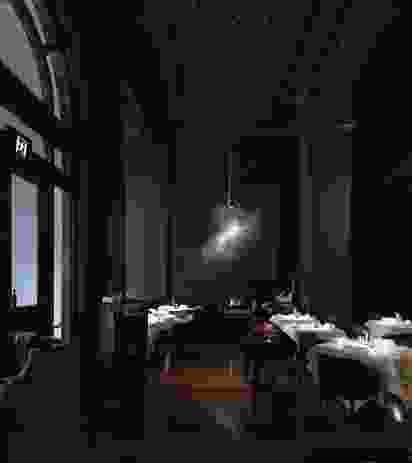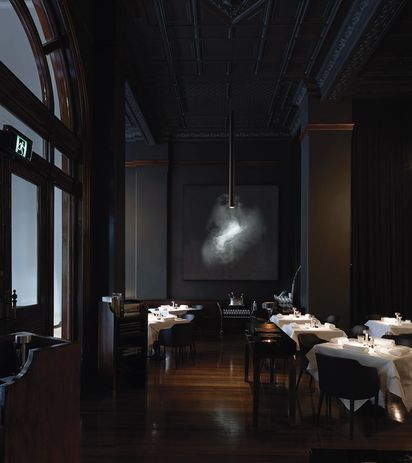 Dramatically positioned 3.5-metre-high custom-designed pendant lights, designed by Cheyne and made by Adam Hoss Ayers, anchor the space, and are seemingly shipped in straight from Xanadu, the mythical mansion of Citizen Kane. With its sheer, black curtains and the kitchen framed as a set piece hosting a cast of seventeen, Rockpool is an unapologetically theatrical space, evoking a beguiling Upper East Side New York vibe.
Perry calls it one of the most beautiful and striking dining rooms in the country. "The key to Grant's design is not over-designing," he says, then laughs. "Besides, I didn't give him much to play with after the kitchen was designed and equipped."
Head chef Phil Wood's handcrafted, Asian-influenced food simply glows in the space; all luminous colours, gentle structure and textural contrast. This is classic modern cooking at its finest, from Rockpool's classic "rich and noble" congee, and "thousand layer pork" furled around duck parfait and a scampi biscuit, to a tingling ice princess of a crisp meringue vacherin with pandan custard, coconut parfait and jasmine rice ice-cream that seems to almost shimmer without need for a spotlight. It's exciting, confident, sophisticated and occasionally cheeky food, with as many layers as its new surroundings.
The brilliant, funny and wise Sydney Morning Herald restaurant critic (and my husband) Terry Durack said, "Did Neil Perry miss the memo about the death of fine dining?" He went on to score the new Rockpool eighteen out of twenty, the equivalent of a three-hat award.
Not so much referencing the past as working with it, the thoughtful design of this pioneering and proudly Australian restaurant transforms the historic building into a TARDIS, ready to take fine dining into the future, and us with it.
"We're very much making it a twenty-first-century experience," says Perry. Mission accomplished.
Products and materials
Walls and ceilings

Walls and pressed metal ceilings painted in Dulux Low Sheen Acrylic in 'Domino.' Kitchen upper walls and ceilings painted in Dulux Wash & Wear Low Sheen in 'Silver Grey.' Kitchen walls clad in Altro Whiterock Satin in 'Cesco' and Altro Whiterock Chameleon in 'Liquorice.' Elitis Chance wall covering from Seneca.
Windows and window treatments

Velvet and sheer curtain from Simple Studio.
Doors

All non-glazed doors painted in Dulux Semi Gloss Acrylic in 'Black.'
Flooring

Stained woodwork, trim and flooring stained in Feast Watson Stain & Varnish in 'Chocolate Walnut' with clear satin sealer. EC Group WovenWire chain carpet from Above Left used on both levels. Grey ironbark timber floorboards stained in 'Wenge' from Dean McLaughlin Timber Flooring.
Lighting

Chandeliers designed by Grant Cheyne and made by Adam Hoss Ayers. Fittings by Masson for Light. Decorative fittings by Laura Kincade. Small pendants by Ici et La. Linear Matrix lightboxes in bathrooms from Spicon. Custom light fittings powdercoated in Dulux 'Monument.'
Furniture

Brigida dining chair in black leather and Pedrali Liberty cast iron table bases from Hughes Commercial Furniture.
Other

Large rear-lit photographs by Earl Carter. Cast iron columns and metal railings painted in Dulux Ferrodor in 'Natural Grey.' Black granite and Porto D'oro marble countertops with polished finish.
Credits
Design practice

Grant Cheyne Design
Sydney, NSW, Australia
Project Team

Grant Cheyne
Consultants

Builder Ozline Shopfitting and Building
Kitchen design Chris Love Design
Project manager Ozline Shopfitting and Building

Site Details

Location Sydney, NSW, Australia

Project Details

Status Built
Design, documentation 4 months
Construction 1 months
Category Hospitality, Interiors
Type Restaurants

Source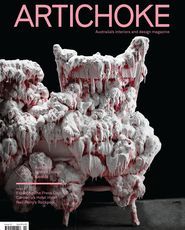 Issue
Artichoke, June 2014
Related topics