A weekend charrette involving a bunch of happy campers from Base Architecture resulted in a love and understanding of this expansive, semirural site. Perched high on a hill with a foreground of the sleepily curving Logan River edged by farmlands, mangroves and bush, it takes in distant views of Moreton Bay and the towers of the Gold Coast. An unprepossessing farmhouse boasting old sticks of furniture provided additional fuel for the campfire, while Shawn Godwin and "team Base" set about sketching and exploring. By the end of the weekend, they'd plastered the farmhouse walls with butter paper and proposed an axial plan that captures both the delectable views to the south and the climatic advantages of the north. The positioning on a high, central point of the thirty-three acres was a given.
Since completion, further paeans to the project have been produced, including a book and a video. It's the sort of trajectory exclusive to a building that has involved the clients and designers in a full-blown passion and a rewarding and symbiotic collaboration.
"The owner jointly administered the project," says Shawn. "He kept a close eye on all the trades and maintained a keen interest in every detail. He has a passion and tenacity that are well supplemented by his deep understanding and experience in joinery and concreting. He took everything to the next level – it was fantastic working with him."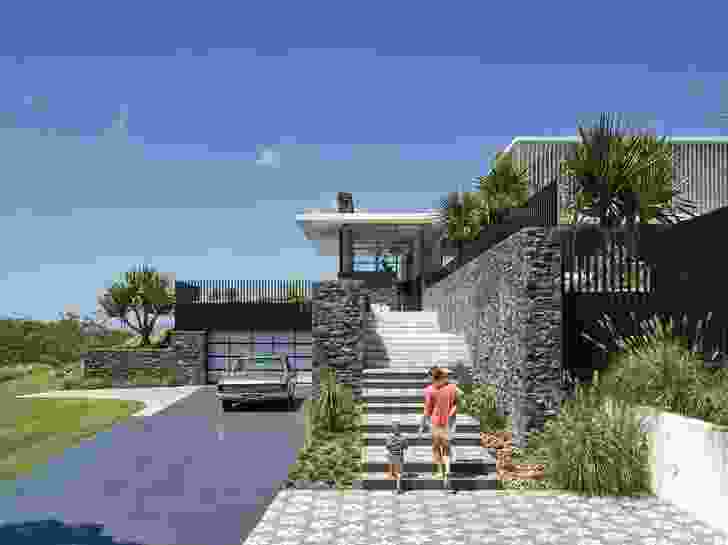 The client's love of mid-century design helped drive the aesthetic. Concrete ledges project from the landscape, grounded and pinned to the earth by plinths of local rock. A rooftop concrete terrace mitigates the strong winds in the area. Extensive glazing frames the views, detailed and wrapped in warm New Guinea rosewood.
As the home progressed, the owner became more enthusiastic about creating his own park-like grounds around it. A small golf course is carved out of the bush (with a sizeable 16,000 square metres of turf laid) and a secondary pavilion nestles further down the hillside to accommodate a car collection and a work- shop. A skate bowl sits to an edge of the shed. Blockwork and concrete detailing receive the same careful attention as the main home. Playfulness and personal interests are equally honoured – a seductive music lounge features retro Danish pieces among other memorabilia and a sizeable Johnny Cash record collection ready for the turntable. Beyond, the bush and riverside mangroves remain pristine and are used regularly by the owners for camping, fishing and mucking about in boats. The waterway is a mere fifteen-minute boat ride from the treasured fishing grounds of South Stradbroke Island's Jumpinpin channel, a regular haunt of the family. All in all, the home and lifestyle capture something of the spirit of a Huckleberry Finn-esque childhood of adventure, freedom and plenty of shenanigans.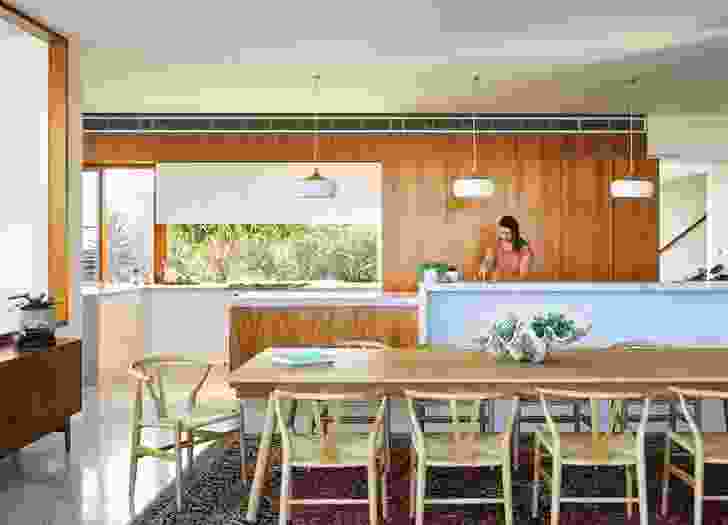 Despite the generous site and park-like surrounds, the home's interior proportions are pleasingly human in scale. A cosseted array of rooms that cater to the young family of six rejects ostentation and focuses on practical and soothing gathering spaces. The home's hub, as per tradition, is a kitchen and dining nook that forms a surveillance point with views to an adjacent poolside dining room to the east, over a sunken lounge to the south and, crucially, to the "schoolroom" and playground on the north. A room dedicated to homeschooling sits at the pivotal point between the two wings. Each room is granted public status and enjoys a clear linear sequence that defies hierarchy. Detailing throughout is also non-hierarchical, with due attention given to craftsman- ship and a uniform organic palette of timber, Carrara marble, brass and glass.
While there was ample opportunity to explore the grandiose, Shawn and fellow design architect Chris Kolka resisted in favour of restraint and a joyous celebration of the family's quotidian ways. Luxurious appointments relate to favourite activities: a spacious laundry/sewing room lined with marble and detailed in brass is an enviable retreat space. The sunken lounge is intimate, its rocky backdrop a testament to masterful stonemasonry, where timber library shelves are designed to meet the jagged profile of the bluestone. A secret door concealed within the rock wall opens into a James Bond-inspired "man cave" of a study. A rampart-like entry to the home between stone walls is fast succumbing to encroaching greenery spilling over from garden beds. The eyrie of the main suite leans toward luxury in a more conventional sense, with its full-surround glazing and adjacent rooftop garden. But here, as in all parts of the house and garden, quirky personal touches and preferences have dictated, rather than architectural statements. A Hills Hoist installed in the kitchen garden says it all.
This is a personal project for which the architects have sensitively and intelligently interpreted one couple's vision for their family's home and future.
Products and materials
Roofing

Stramit Longspan in Zincalume; rendered concrete deck.
External walls

Shiplapped rosewood in clear polyurethane finish; quarried bluestone; rendered blockwork in Resene 'Quarter Blanc' and 'Triple Dune'; battened fibre cement sheeting in Resene 'Quarter Blanc' and 'Triple Dune'.
Internal walls

Plasterboard in Resene 'Quarter Blanc'; quarried bluestone; rosewood chamferboard in clear polyurethane finish.
Windows and doors

Custom rosewood frames; Aneeta sashless windows; Breezway louvres; low-e glazing.
Flooring

Honed Carrara marble.
Lighting

Marz Designs Bright Beads pendant lights.
Kitchen

Liebherr integrated fridge and freezer; Ilve freestanding oven and integrated dishwasher; Astra Walker tapware in 'Bright Copper' finish.
Bathroom

Astra Walker tapware in 'Bright Copper' finish; Alape Metaphor above-counter basin; diamond mosaic wall tiles in matt white from Amber Tiles; honed Carrara marble tiles.
Heating and cooling

Vanguard Blinds operable screen.
Credits
Architect

Base Architecture
Qld, Australia
Project Team

Shawn Godwin, Chris Kolka, Joel Hutchines
Consultants

Builder CGH Constructions
Engineer Westera Partners
Landscape Cactus and Hill Landscape Architecture
Lighting Caribou

Site details

Site type Rural
Site area 141640 m2
Building area 470 m2
Category Residential
Type New houses, Residential

Project Details

Status Built
Design, documentation 12 months
Construction 20 months

Source