Rodney Beames Memorial Award for Art in Landscape Architecture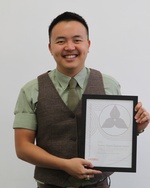 Enoch Liew has won the 2012 Rodney Beames Memorial Award for Art in Landscape Architecture for his project Socialscapes.
Liew is a graduate of University of Adelaide's Masters of Landscape Architecture program. His winning proposal – Socialscapes – analyzed recreation, food, nightlife, retail and cultural activities on King William Street, Adelaide, using social media to determine the way people interact with the street and where urban growth could be supported. This data was used to inform a layered design proposal for the street.
Finalists for the 2012 award were Isabelle James for Shadow Lines (Penneshaw, Kangaroo Island), Rhys Vincent for Infrastructure of the Sublime (Adelaide's Western Suburbs, South Rd Corridor) and Aaron Lubcke for his project speculating on the Torrens Lake Southbank Redevelopment.
This award, made annually to a final-year Masters of Landscape Architecture student at the University of Adelaide, commemorates the contribution of Rodney Beames, a landscape architect (formerly of Hassell) who promoted art in the landscape. The award is sponsored by the Australian Institute of Landscape Architects (AILA) and Hassell Design Practice.