Good retail design has a gravitational pull. It sucks you in off the street. March Studio's hole-in-the-wall entrance to Melbourne laneway store Sneaker Boy fuses underground subway culture with the high-tech circuitry of an orbital space station. LED tickers line the walls, tapering into the distance and underlining an array of fashionable, limited-edition footwear that, a giant leap ago, might have resembled moon boots – and, at $2,500 a pair, probably cost as much.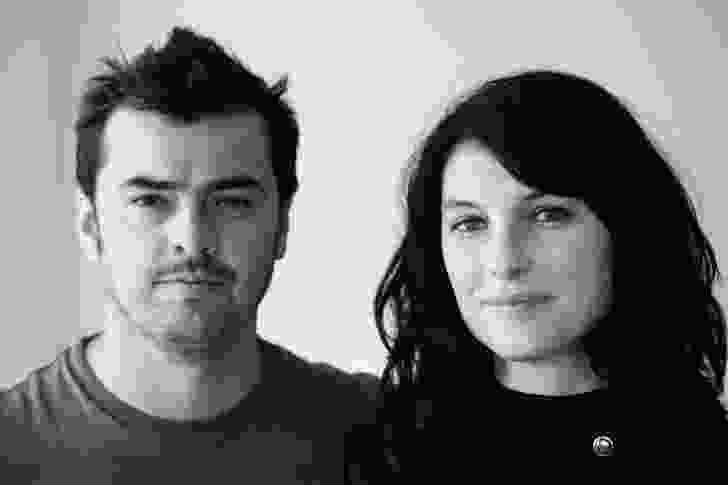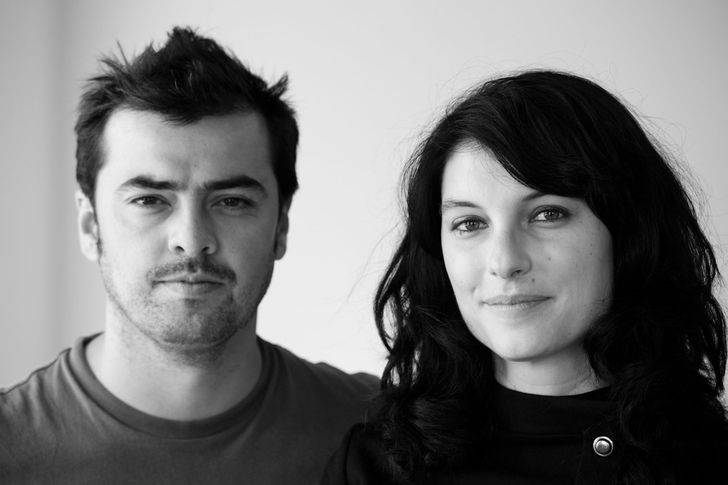 "Every design needs a hook," says March Studio principal Rodney Eggleston. While touchstones would be uncovered by riffing on sneaker history – sales skyrocketed in the 1980s during a New York transit strike – it was the store's unique selling proposition that supplied the biggest hook for the design concept.
Sneaker Boy is both real and virtual. It is a physical store with online sales. Customers download an app, visit the store, scan a barcode, try on a pair of shoes and order online. The shoes are then shipped from Hong Kong to anywhere you want.
While the store displays what Eggleston calls "retro-futurist detailing" inspired by Luc Besson's 1985 cult French film Subway (the store's disc-shaped seating is based on seating in the Paris Métro, featured in the film) and Stanley Kubrick's seminal futuristic film 2001: A Space Odyssey, March Studio was also inspired by the mind-expanding reality of the present future: the giant cables of Google's server rooms. Sneaker Boy's facade alludes to pixels and its circular entrance to a section of cable – motifs that underline shifts in the retail landscape caused by the rise of virtual selling.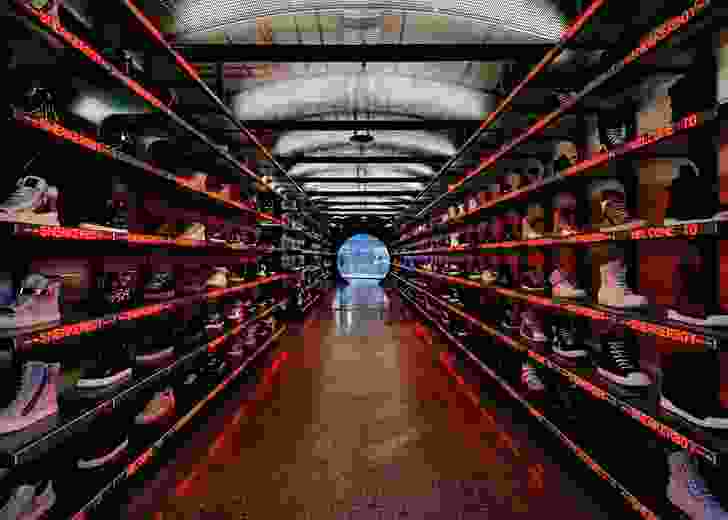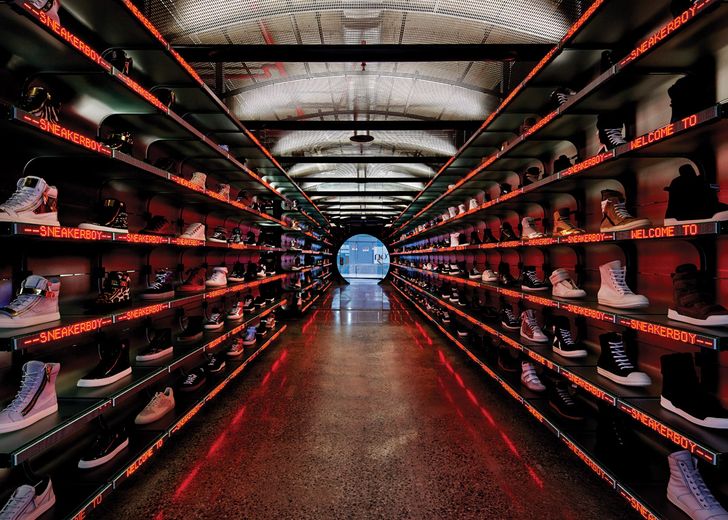 Indeed, it is the wider impact of the online business model on the retail industry that attracted the Melbourne-based studio to the assignment. Before they took it on, Eggleston quips, they were "a bit over retail."
Time is the trouble. The reality of retail design is that clients need the job done quickly – Sneaker Boy took four months from design to finish. "As soon as they start paying rent, they want everything finished on the spot," says Eggleston. "It's exhausting. We're fortunate that we have a building team that we can rely on. And the builders are like, 'can't you get us more time?'"
Since it was established in 2007, March Studio has been synonymous with Aesop stores, having completed thirteen around the world. But it's also adept at housing and has designed three residences. "And we'd like to get into multiresidential," says Eggleston. The team of six designers faces the familiar business dilemma of being on the cusp: needing to expand, but uncertain whether the gamble will pay off.
"It's really nice to have the two streams going," Eggleston continues. "A house takes two and a half years and, in that time, you've done fifteen other jobs. There are two paces operating, which is essential for our industry. If we just did houses we'd be sitting around waiting for planners to get back to us. It also keeps the business running to have a cash flow. But definitely being able to test ideas quickly and experiment with different materials keeps it interesting."
Indeed, March Studio's signature is an abiding interest in materiality. Once it has the hook, its designers undertake a poetic material response. With Sneaker Boy they wanted to explore glass, while at Gazi (formerly Press Club), chef and proprietor George Calombaris's intention to hang a painting of Saint George in the entrance to the revamped Press Club inspired March Studio to emulate its Byzantine gold halo. Giant brass lampshades will hover above every booth in the up-market restaurant.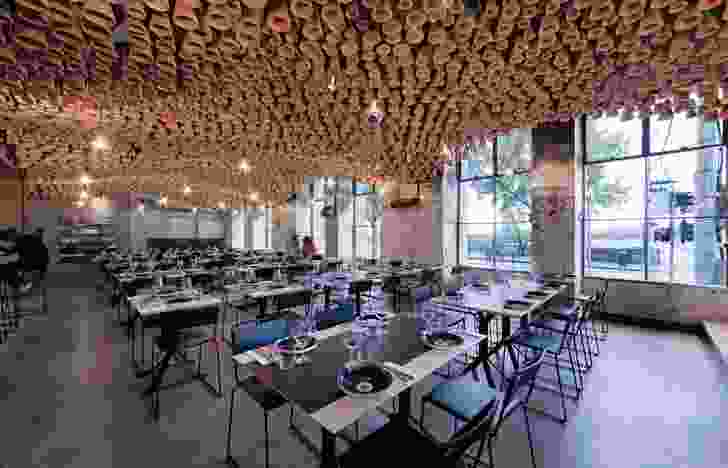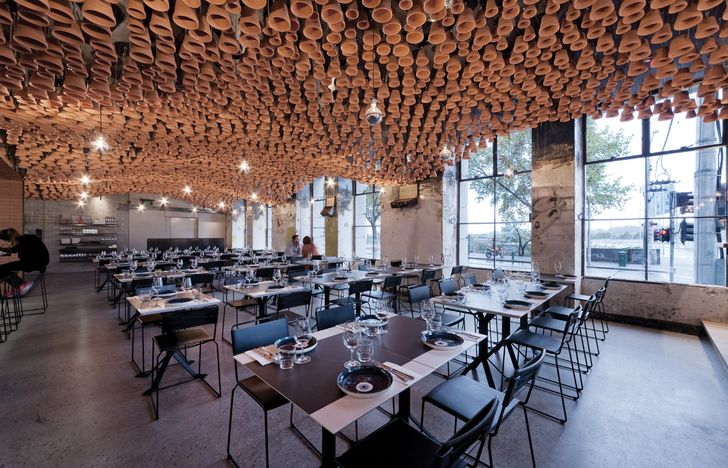 For Aesop's Swiss store, the team used the ubiquitous honey-coloured hoarding boards found around every Swiss building site to line the store. The Swiss were startled. Using found objects, they constructed vistas nurtured by the memory of Rosalie Gascoigne's golden landscape assemblages.
"It was so out of the average Swiss person's context – they thought it was still under construction," says Eggleston. "It was a really good way of getting a hook and introducing the brand. It's design as a marketing tool.
"As a business, you can spend on advertising, but Aesop was more willing to take a risk on the design and let the design be at the forefront [as a means to] develop the brand. It's using architecture to create interest and spark a conversation, exploring the role architecture can play in getting people inside and responding to the product."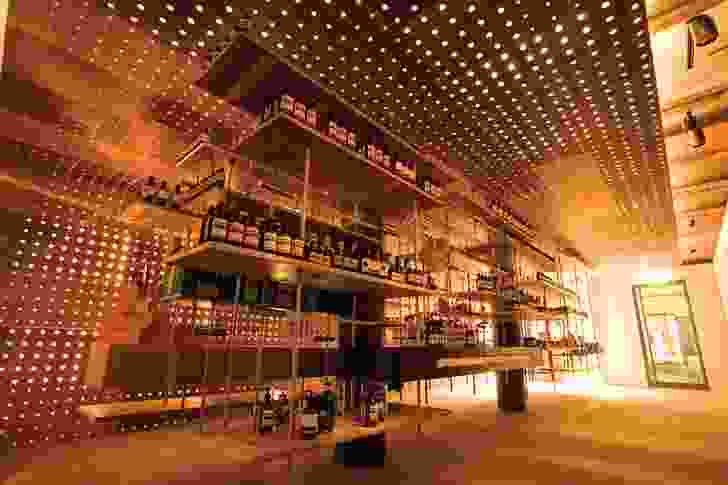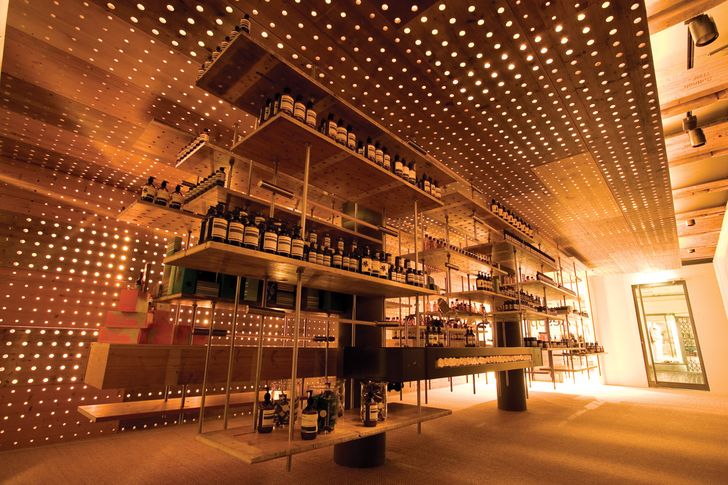 For Nishi in Canberra – an ambitious project featuring work by numerous architects and designers, including Fender Katsalidis Architects – March Studio's task was to create the grand foyer stairs, drawing people into the hotel. Recycled timber of various lengths was used from around the site. In spite of the humble materials, the effect is, like Sneaker Boy, one of travelling through Kubrick's accelerated space and time. "It had to draw people in and feather the different designs that had been used," Eggleston says.
Aside from both designs' vertiginous pull through the space, building techniques also link Sneaker Boy and Nishi. To complete these massive puzzles on time and affordably, March Studio designs much of the intricate shelving and walls in-house before shipping it off for fabrication and sending it to the site for assembly. "Our obsession is in the buildability, and talking to the trades to make those things happen in a way that is traditionally not the architect's role," he explains.
Their studio is less dramatic than their retail fitouts, but no less concerned with materiality. Situated in a light industrial area of North Melbourne, the interior is surrounded by samples – rubber, brass, glass. From the rafters, rattan hangs like spaghetti.
"We were trying to convince the owners that we could turn the bakery into a breadbasket," says Eggleston of the studio's design for Baker D. Chirico's second outpost (one in Fitzroy, one in Carlton). In the end, the owners opted for timber shelving – the best solution to allow the bread to cool. But this prosaic explanation belies the award-winning snug cave March Studio created for the boutique bakery.
"It's trying to do something that hasn't been done before," says Eggleston. "To explore new types and new forms, taking objects that might not be traditionally used – challenging perceptions of what we deal with every day."
Source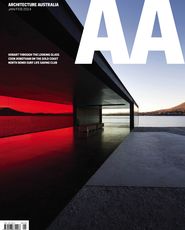 Issue
Architecture Australia, January 2014
Related topics