Rooftop Pavilion (NSW) by Andrew Burges Architecture
Jury comment
In Australia, the term "heritage" generally embraces late-nineteenth- and early-twentieth-century buildings. With the original house built in 1938, this project sets a benchmark for judging interventions into our valuable heritage fabric. This design has been completed with intellectual rigour, using the issues of contemporary heritage building as the anchor for an adaptive reuse proposal.
Illustrations, analytical drawings and studies clearly demonstrate the understanding and imagination applied to this project by the architect in response to the client requests. This house has transformed a sound but prosaic building by expanding the usable space within the confines of the original structure as well as providing harbour views. The recessive lightweight zinc-clad addition atop the original brick structure completes a successful and integrated architectural form and sensitively considers and responds to its neighborhood context. The architect has crafted a highly functional and sculptural spatial arrangement within a tightly constrained envelope, forming an arresting and engaging backdrop for contemporary living using a notable heritage starting point.
Award for Heritage supported by Heritage Council Victoria.
Credits
Architect

Andrew Burges Architects
Surry Hills, Sydney, NSW, Australia
Project Team

Andrew Burges, Louise Lovmand, Sofia Husni, Celia Carroll
Consultants

Builder ANT Building
Engineer SDA Structures

Site Details

Location Sydney, NSW, Australia
Category Residential
Type New houses

Project Details

Status Built

Source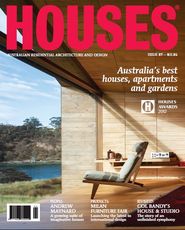 Issue
Houses, August 2012
Related topics