Authenticity is a word often trumpeted as an essential goal we should all strive for in our digital and physical lives. In the built world, and in hospitality design in particular, authenticity in the user experience is something we all strive to achieve – but what does that realistically mean in a world where there is an expectation for the user experience to be constantly updated, on trend and consistently relevant?
Authenticity in interior design, particularly in the world of hospitality, means providing environments that are genuine and relevant to the people who experience them by providing a meaningful connection to the people, the place and the products served.
The Hotel Rose Bay, built in 1929 in an interwar Art Deco style, has seen a number of interiors refits during its ninety-year history. The interiors had over time become detached from the building itself, its physical environment and perhaps the expectations of the people who live in and visit this affluent harbour- side suburb. The hotel had been under the custodianship of the same family for many years. Sensing the need to reconnect the hotel to the community and the many visitors to the area, the family engaged Jonathan Richards of Richards Stanisich to respectfully reinterpret and reconnect the hotel interior to suit its current and future needs.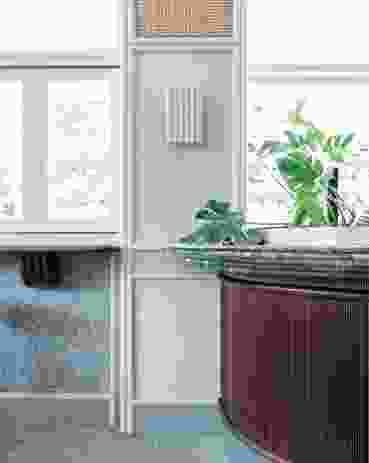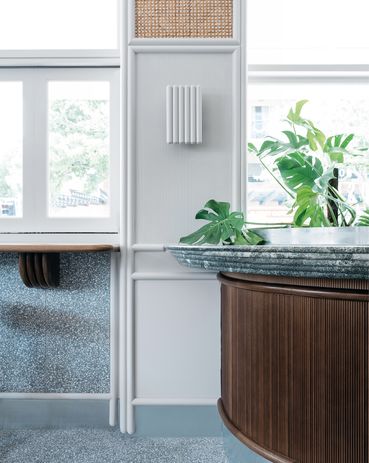 The design team set about creating a contemporary pub that reflected the proud history of the building. "This redesign shows that the proprietor loves the place," says Richards. The selection of finishes and their assembly into a suite of well-considered details shows a thorough and respectful consideration of the building's past. The wholeheartedly contemporary result is still able to acknowledge the past without slipping into an assembled pastiche or restoration.
The choice of finishes references the Art Deco origin of the original hotel building. Terrazzo, solid timber, rattan paneling and ceramic tiles are all used with repeated dowels and rounded bullnose details to deliver a soft-edged robustness to the interiors. These elements are adapted throughout the furniture, wall paneling, lights and screens.
The hotel interior is a series of connected spaces that cater to the differing needs of the hotel patrons at any one time. A central spine contains the bar and kitchen, with a sports bar space tucked off to one side. The windows on the two street frontages have been reconfigured so that they now can be opened up to enjoy light and air in the dining space on warmer days. The main space of the hotel has been transformed in a three-in-one approach. The three interconnected spaces – the front bar and two dining spaces behind – all use the same palette of materials, with subtle shifts in furniture type and floor material occurring from one space to the other. Each of the three spaces is served by a coffered rattan-lined ceiling feature that allows services to be hidden but also easily accessible. The coffers also allow the use of an uplighting strategy that transforms the rattan panels into light sources in themselves. This creates a soft, balanced light and a feeling of warmth when the weather is cooler. In hotter weather, the colour temperature offers a cooler counterpoint to the harsh summer sun outside, providing a feeling of solace.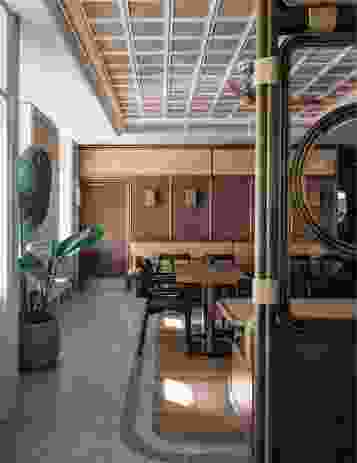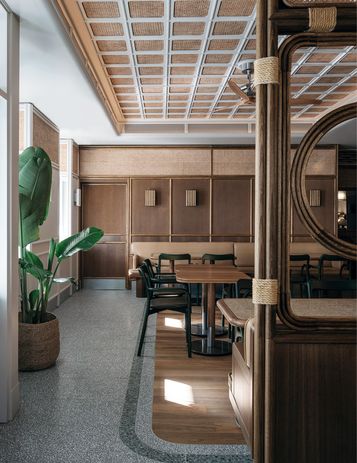 There are cheeky hints at the waterside location with the use of coir rope to wrap the circular columns like boat fenders. In the timber screens that separate the main spaces, circular "porthole" details also hint at the "P&O" style that was popular during the late 1920s and '30s – the golden age of cruise ships during which the original pub was built.
The result overall is a balanced set of spaces that operates at a number of levels, ensuring the rejuvenated hotel stays true to its origins while providing a nuanced experience that balances the requirements of the operators, the locals and visitors alike. In Richards' words, "Ultimately that's what makes pubs work — the owners being there, proud, serving the public." The spaces that the owners and the design team have created exude a feeling of care in the way they have been assembled. The particularity in the choice of materials results in a genuine feeling, not just of authenticity, but a real connection between the hotel owners and their diverse range of patrons.
Products and materials
Walls and ceilings

Custom-made rattan ceiling and decorative screens in open-weave cane webbing by House of Bamboo. Spectralux Riva ribbed timber veneer in 'Bamboo (light)' used in sports and public bars. Kitchen ceilings painted in Dulux Ceiling White +Plus Kitchen and Bathroom in 'Vivid White.' Surface Gallery terrazzo wall and floor tiles in grey and green (front-of-house), and ceramic white rectified tiles (kitchen). Porcelain Bear Federation coved tiles in 'Gloss Ivory.' Porter's Paints Aqua Gloss Enamel in 'Jute' used in ceilings and wall panelling. CSR Martini acoustic ceiling panelling. Prestige Roofing and Cladding zinc sheet skirting boards used in public bar, restaurant and sports bar.
Joinery

Solid spotted gum bar front. Tasmanian oak solid timber dowels, used in main bar and mirror joinery, and decorative screens. Euro Marble honed and sealed granite bar top in 'Parsley Green.' Storage cupboard benchtop and cupboards in Laminex 'Alpine Haze.' Profiled zinc bar edge from Prestige Roofing and Cladding Supplies. Zinc pipe kick rail. Briggs Veneers crown-cut spotted gum veneer. Pelle Leathers Ascona in 'Caribou' (banquettes) and 'Tapas' (sports bar banquettes and columns).
Flooring

Modieus custom carpet used in main bar. Precision Flooring engineered spotted gum floorboards. Epoxy floor coating in 'Lead Grey' from Clifford Flooring (kitchen and bar).
Windows and doors

Bathroom doors painted in Dulux Aquanamel Gloss in 'Spiralina.' Bathroom doorframes painted in Porter's Paints Aqua Gloss Enamel in 'Jute.'
Lighting

Custom-made lighting throughout.
Furniture

Custom-made high, low, communal and private dining tables, finished in spotted gum, brushed zinc metal sheet and Worldstone Solutions terrazzo in 'Multicolor Verona SB141.' Sam Hecht Branca chair for Mattiazzi from HG Furniture Solutions. Expormim Coqueta chair and Gres high stool from Ke-Zu. Metrica Thomas Barstool 65 for SP01 from Space.
Bathrooms

Porcelain Bear Federation coved tiles in 'Gloss Ivory.' Ceilings painted in Dulux Ceiling White +Plus Kitchen and Bathroom in 'White Duck Half.' Brodware tapware. Surface Gallery terrazzo wall and floor tiles in green.
Other

Sisal rope from Rope Galore used in columns and decorative screens. Locker Group expanded metal mesh used in air-conditioning grills.
Credits
Design practice

Richards Stanisich
Sydney, NSW, Australia
Project Team

Jonathan Richards, Georgia Harvey, Yvette Dunn
Consultants

Builder Fugen Construction
Project manager Brompton Group

Site Details

Location Rose Bay, Sydney, NSW, Australia
Site type Suburban

Project Details

Status Built
Design, documentation 12 months
Construction 6 months
Category Hospitality, Interiors
Type Bars, Cafes, Hotels / accommodation

Source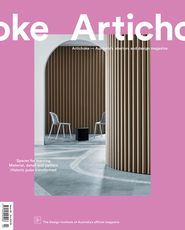 Issue
Artichoke, September 2019
Related topics