Architect Adolf Loos is taking a lakeside stroll in a small alpine village. The sky is blue and the lake a shimmering green mirror that doubles the clouds, mountains, church spires and rooftops. Loos is admiring the serenity of his surroundings when he rounds a bend and is confronted by the unexpected sight of a newly built, architect-designed villa. The effect is as if long fingernails have suddenly been raked down a chalkboard or the needle shunted off a spinning record. The tranquillity and cohesion of the setting have suddenly been ruptured. Describing this encounter in his seminal 1910 essay (simply entitled "Architecture"), Loos asks: "Why is it that any architect, good or bad, desecrates the lake?" In the early days of the twentieth century, Loos was already concerned about a growing divide between architecture and the wider world. It wasn't a question of whether the new architecture was good or bad, Loos reasoned: modern processes, ideologies and aesthetics were creating an irreparable rift with the old world, with that timeless realm of nature, agriculture, craft and tradition.
Not only has this problem continued to trouble architects, but the lake's desecration now resonates as both metaphor and ecological reality. Thankfully, Mauro Baracco and Louise Wright have a lake repair strategy. "Since we've been making buildings and cities in Australia it has mostly been to separate us from the natural environment," said the duo earlier this year in announcing "Repair," their theme for Australia's pavilion at the 2018 Venice Architecture Biennale. Appointed as the Australian exhibition's creative directors, they propose to investigate "how architecture can play a role in repairing the places it is part of." While their eponymous Melbourne architectural practice is renowned for producing small buildings of uncommon sophistication and elegance, Baracco and Wright have a zoomed-out, wide-screen perspective on land use, settlement and ecology that spans built work, exhibitions and curation, teaching, writing and research. Common to all of these endeavours is the pursuit of "spatial continuity" between inside and out, architecture and landscape, built and natural. Repair might be possible if we can l earn to think of buildings as one small part of a spatial and ecological continuum.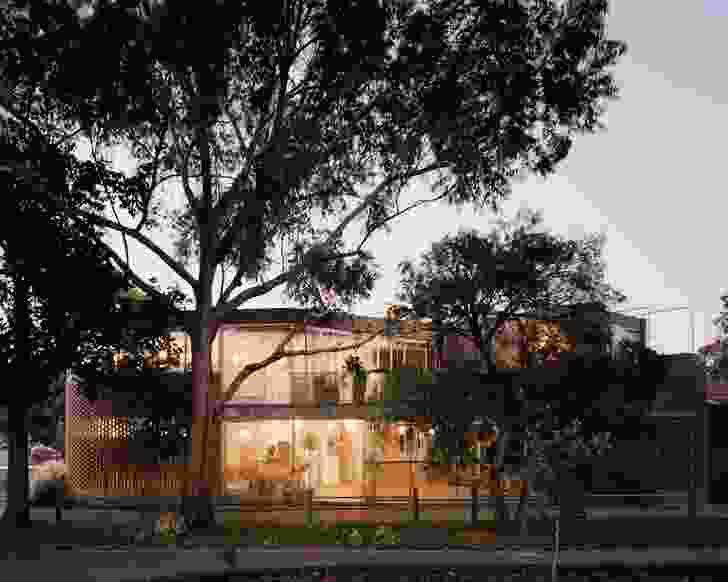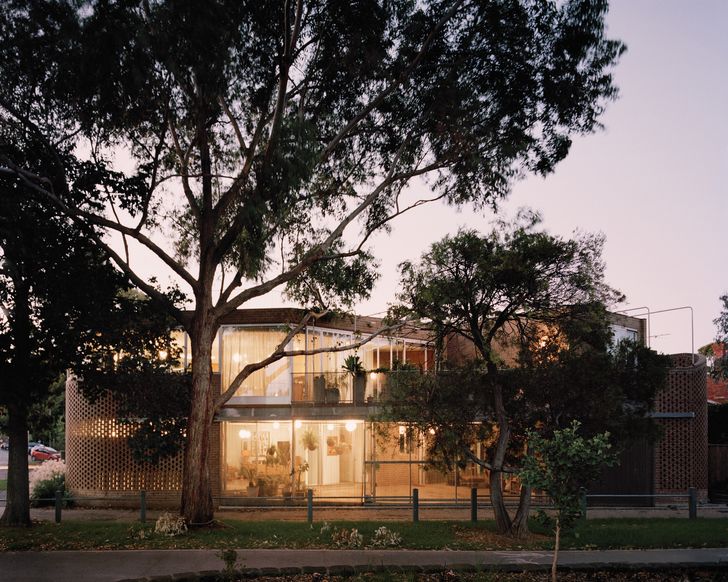 This reparative approach to site, context and ecology is beautifully encapsulated in the architects' own Garden House (Architecture Australia, Sept/Oct 2015). Occupying a sliver of land left over from successive farming and housing subdivisions in Victoria's Western Port, Garden House is a minimal encampment comprising little more than a standard kit shed structure, timber deck, kitchen, stove and platform bed. The elevated deck leaves the ground clear for floodwater, while translucent polycarbonate walls and roof provide only partial enclosure and no sense of separation from the surrounding garden. Indeed, the house is to be but a temporary presence in its landscape. Wright and Baracco began visiting the site long before construction began, carefully tending to its remnant native vegetation. Over time this vegetation is expected to encompass the house and ultimately to replace it altogether. Eventually there will be no villa, as it were, and only lake.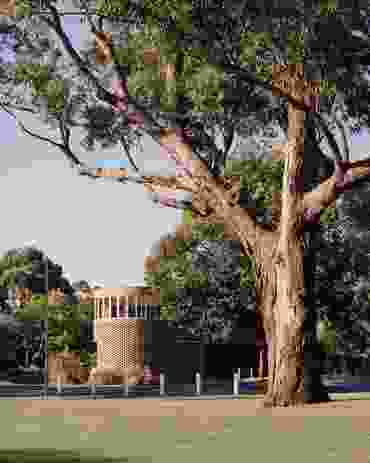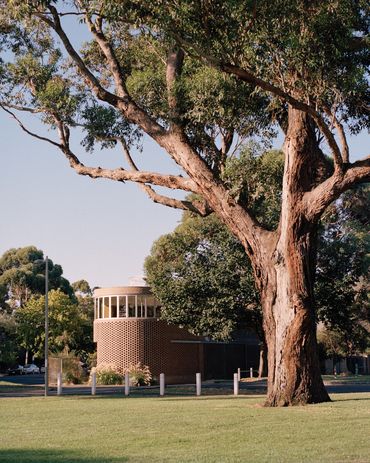 Whereas Garden House is radically exposed and temporal, Rose House 2 is a more conventional project at first glance. But that first glance is deceptive: it is precisely what you do and don't see that makes the project remarkable. The project is located in Melbourne's Fitzroy North, in a picturesque neighbourhood of Victorian terrace houses and stately Edwardian mansions. Bordered by streets on two sides and a public cycleway on a third, the wedge-shaped allotment protrudes like a headland or promontory, into the curved boulevard and green expanse of parkland beyond. With few tall surrounding trees and no buildings on the opposite side of the street, the site is visible from a considerable distance across the park.
The site's former occupant was a nondescript suburban bungalow enclosed by a driveway, garden and low brick wall. In replacing the bungalow, the architects have used almost the entire footprint of the site, with no boundary wall and no setback other than a narrow strip of garden down one side. There is little to separate the new building from its surroundings. Demarcated with a lightweight and permeable fence, and level with the pavement, the garden seems less a discrete space and more an enlargement of the footpath. At the narrow end of the plot, the building's envelope is not pointed but gently rounded. Mushroom-hued brickwork dilates into a porous hit-and-miss pattern in order to stretch around the curve. Steel window openings are not inset or extruded, but set flush with the rounded facade. In all, the building presents an unbroken elevation that runs counter to the bend of its street and can be seen from afar and in the round.
Designed to provide flexible accommodation for a professional couple and adult offspring, the project consists of a main three-bedroom residence and an attached two-bedroom townhouse. The project's name is doubly appropriate: built for a repeat client, Rose House 2 combines two houses in one. Both dwellings have two levels above ground and one below, and each has a distinct street address, parking and private outdoor space. Balancing prospect and refuge, the building's envelope is the result of careful compromise between the architects' desire for continuity with the street and the inhabitants' need for privacy. Each dwelling has a central kitchen and bathroom core. More typically employed in apartments, the core diverts circulation to the perimeter of the plan and brings inhabitants into close contact with the outside. Partly obscured behind a retractable steel curtain, garage spaces double as covered outdoor rooms that can be opened entirely to the cycleway. On the main dwelling's upper level, a serene and generously proportioned living space (surely one of Australia's most beautiful new rooms) features a long strip window with a high sill, providing panoramic views over the park while protecting occupants from view. From there, a spiral stair ascends to an unexpected rooftop lookout.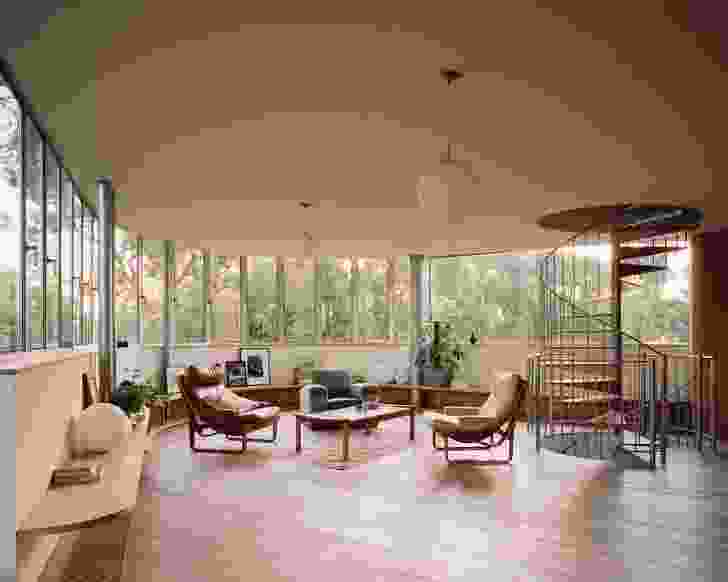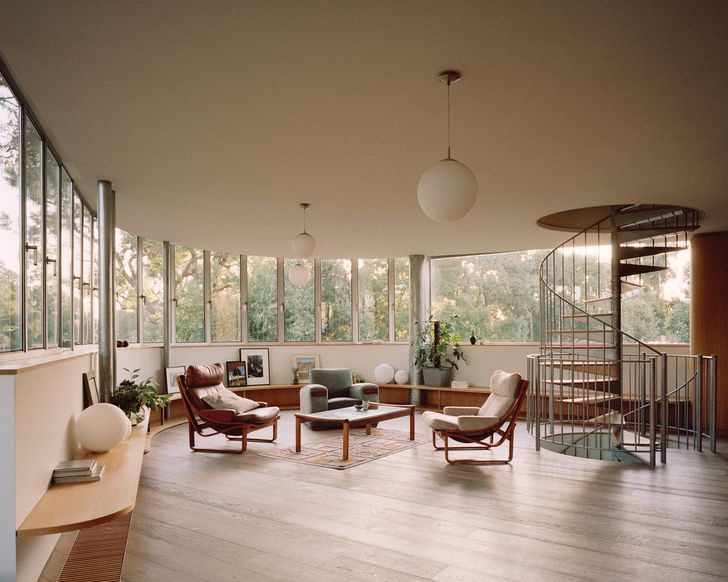 In their recently published book on Melbourne modernist architect Robin Boyd, entitled Robin Boyd: Spatial Continuity, Baracco and Wright provide a list of Boyd's spatial techniques that could equally be read as their own: "outdoor spaces as 'outdoor rooms' … roofs extended to be facades … outdoor landscapes and vegetated ground brought 'inside' … garages/ carports as entry halls … front yards as backyards … undercroft spaces as additional landscape … rooms 'un-divided'" and living rooms as bedrooms. By dissolving the distinction between inside and out, public and private, building and landscape, villa and lake, the architect becomes responsible not only for the small tract of land within the site's boundaries, but for the vast territory beyond.
Source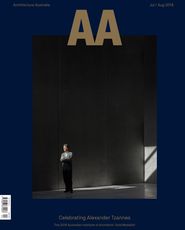 Issue
Architecture Australia, July 2018