It has been proclaimed from the rooftops, from the newspapers and, no doubt, from the queue outside Melbourne's Chin Chin – fine dining is dead! It's just that no-one told the people at Crown Casino. Sure, I know what you're thinking – Crown and the zeitgeist parted company not long after the casino opened its doors – but with its latest new opening, Neil Perry's Italian fine diner, Rosetta, the flouting of fashion seems wilful. Rosetta is big, it's opulent, it's expensive; the service is formal and deferential, with neither visible body art nor ironic facial hair to be found; the food is sublime; and bookings are not only available, they're essential to avoid disappointment.
Of course, the Crown complex has always been something of a special economic zone within Melbourne, and restaurateurs here generally play within a very different set of rules. For international high-rollers and local business leaders, big and opulent are non-negotiables, and a particular set of interior design signifiers are required to make clear a restaurant's credentials for fine dining – high ceilings, oversized furniture, sumptuous materials and finishes, and many other things not entirely on trend elsewhere in the city. Within this largely conservative context, BKH has delivered a dining space that erases any ambiguity around Rosetta's status for the top end of town while also slipping in a sly nod and wink here and there for the kids from Generation Meta.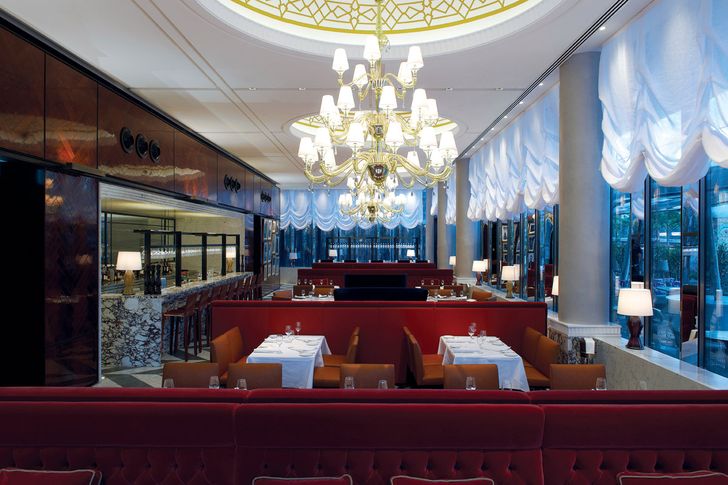 Unlike other restaurant premises along the Southbank promenade, which line up side-by-side in classical retail-strip fashion, Rosetta stands alone, enveloped on three sides by a distinctive fluted glass facade inherited from architecture practice Bates Smart. The design team has made use of this excess of glass not so much for outlook or access to natural light as for the strangely cocooning effect of the rhythmical, rippling facade and its distorted interior reflections. Indeed, while Rosetta's large outdoor terrace enjoys a view across the Yarra River to the city skyline, the dining room turns its gaze inwards, providing diners with a sumptuous mise en scène.
The well-drilled floor staff, dressed in immaculate linen jackets, glide through the space like extras in a Fellini film. Above them, three glittering chandeliers hang from individual ceiling domes, which reclaim space from the ceiling void to a height of almost six metres. Theatrical gathered curtains have been custom made to match the dimensions of the curves in the glass, and it's easy to imagine them falling to the floor promptly at the end of service, drawing the show to a close for another night.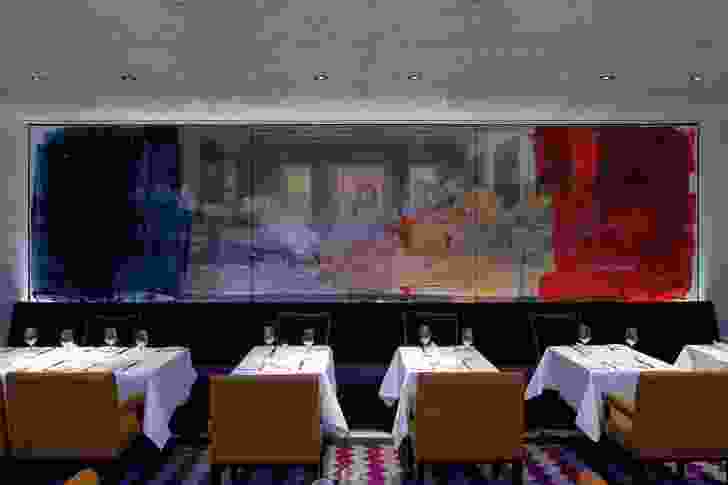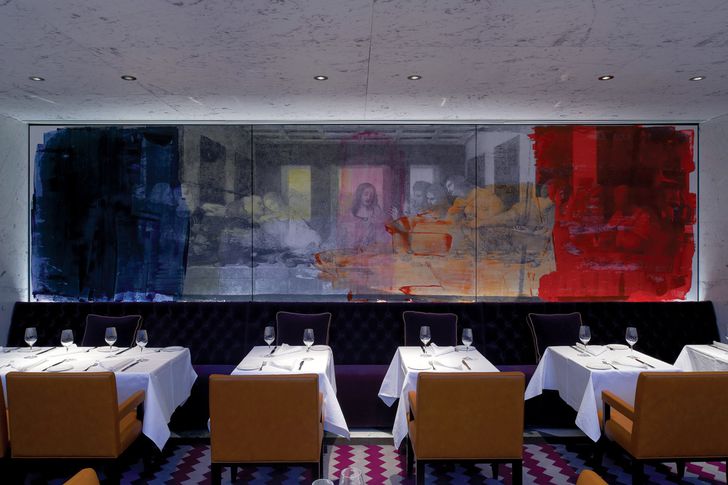 This feeling of the restaurant as a "set" is heightened by its contained and clearly defined footprint. The dining room is essentially an open rectangle, divided into discrete zones by rows of banquettes upholstered in a richly hued combination of red leather and red cotton velvet. A mixed collection of high-backed, navy blue and white armchairs; tan leather dining chairs; uncovered, circular marble tabletops; and white linen-clad rectangular tables mitigates any sense of repetition or uniformity, and adds a slightly eccentric character to Rosetta. It's not exactly the eclectic vintage mash-up made familiar through countless inner-Melbourne hospitality fitouts, but the exaggerated proportions of the armchairs, the sensuous, sumptuous upholstery and, above it all, the domes and chandeliers, add up to something intriguing and faintly whimsical, like the setting for some kind of adult fairytale.
Organization and order are retained within a symmetrical furniture grid, which is in turn aligned with and locked down to the mahogany parquetry wall that frames the open kitchen. The mahogany is a luxe material choice to be sure, and one that reinforces Rosetta's premium status, but the wall's role in unifying the space is equally as important to the success of the fitout. The wall also delivers another of those whimsical, fairytale moments. At one end, it's hung with a gallery of black-and-white portraits of famous Italians. Pavarotti, Sophia Loren, Sylvester Stallone as Rocky, and many more besides, look out over the room like a strange, glamorous extended family.
Around the corner, a large, brashly coloured digital print of The Last Supper lends a more explicitly modern character to the hidden private dining room. It's not a small space but, next to the grandeur of the main dining room, and with its low, marble-clad ceiling, it cossets diners in a niche, the wings to the side of the main stage. The third dining area is the alfresco terrace facing onto the promenade, where boldly patterned cushion coverings and wicker chairs conspire to push the ubiquitous Italian theme to the very edge of the Mediterranean (or even further, onto the deck of a passing cruise ship).
But this is the true beauty of BKH's work here. To some, it will speak of luxury, abundance, sensuousness and satiation; others will see an interior with the dials deliberately turned up to the extreme, flirting with irony but never going all the way. Like its near namesake the Rosetta Stone, this restaurant speaks in more than one language. Bravo!
Products and materials
Walls and ceilings

Stained American cherry veneer wall panelling. Columns finished with Oikos Marmorino Naturale lime putty. Plaster ceilings. Carrara marble stone reveals.
Windows

Base Build fluted-glass facade. DAAC Holdings custom curtains and blinds.
Doors

Blackened-steel and aged-brass door framing. Burley Katon Halliday custom-made door pulls. Fersa hardware.
Flooring

Carrara marble flooring. Brintons Carpets herringbone-pattern carpet in 'Atlantic Grey'. Tsar Carpets Rose entry carpet.
Lighting

Barovier & Toso lamps and chandeliers. Custom-made brass picture lights. Iguzzini, Masson for Light, Litesource and Lucent Lighting internal lights. Bega garden lights. Lumascape Lighting Industries external lighting.
Furniture

Custom-designed banquette seating upholstered in red cotton velvet and leather from Pelle Leathers. Entry and dining room banquettes in Donghia mohair velvet. Outdoor banquettes upholstered in Pacifica white vinyl with custom-printed fabric cushions. Spinneybeck punched leather to host station. Mario Bellini Cab bar stools from Cassina. Custom dining chairs and tables. Martingala rattan armchair by Marco Zanuso from Bonacina Pierantonio. Sika Design Amanda outdoor dining chair.
Bathroom

Vola tapware. Caroma, Villeroy & Boch, and Paco Jaanson sanitaryware.
Heating

Underfloor heating and heat map to canopy.
Other

Artwork by Sixhands. Zuber Le Paysage Italien wallpaper to bathroom foyer.
Credits
Architect

BKH
Potts Point, Sydney, NSW, Australia
Project Team

Iain Halliday, Adam Williams, Julia Heazlewood, Conrad Perry
Consultants

Acoustic consultant Watson Moss Growcott
Builder Walton Constructions
Hydraulic engineer Umow Lai Melbourne
Kitchen consultant Chris Love Design
Lighting Point of View
Project manager Jinton
Services and Structural engineer Aurecon

Site Details

Location 8 Whiteman Street, Southbank, Melbourne, Vic, Australia

Project Details

Status Built
Design, documentation 6 months
Construction 3 months
Category Interiors
Type Restaurants

Client

Client name Rosetta
Website rosettaristorante.com

Source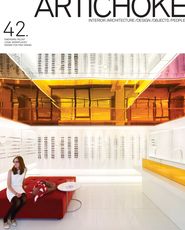 Issue
Artichoke, March 2013
Related topics