A group of students from Monash University's Art Design and Architecture (MADA) have created a series of wearable objects inspired by Victoria's well-recognized infrastructure projects.
The Melbourne Gateway designed by Denton Corker Marshall, colloquially known as the "cheese stick" and "rib cage" for its iconic angular beams that frame the CityLink tollway, is one of the projects that have been reimagined for the human form by the students.
The undulating, "dune-like" roof of Southern Cross Railway Station by Grimshaw Architects has also been tailored for the body in the form of headwear.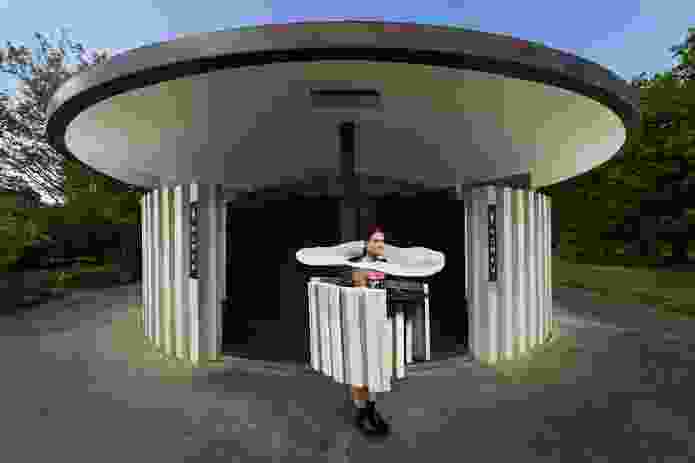 Other structures include a lesser-known public toilet in the Royal Botanic Gardesn designed by Roy Grounds, as well as public toilets in Box Hill Gardens by NMBW Architecture Studio and by the side of Goulbourn Valley Freeway in Shepparton by BKK Architects.
The students' creations explore the relationship between form, tectonics and the movement of the human body.
They will be exhibited in a one-day-only runway show at MPavilion on Saturday 11 November at 5pm.
The 2017 project is the fourth iteration of the Wearing the City studio. Past students worked with Melbourne's residential buildings, interiors and public buildings.
The Wearing the Infrastructure City creations are:
Calder Woodburn rest stop: Goulburn Valley Highway, Shepparton (BKK Architects) – Kimberly Botha, Marcus Shanahan
Melbourne Gateway (Denton Corker Marshall) – Hsia Yu-Hsia, Si Theng Chiew, Xu Zhang
Southern Cross Station (Grimshaw Architects) – Madeleine Hurst, Melanie Gordan, Christian Santos
Round Toilet (Roy Grounds) – Rachel Saunders, Athiqah Ummi Salma, Jasmine Lau
Box Hill Gardens (NMBW Architecture Studio) – Raisa Kabir, Antony Zoides, Jian Lim
Wearing the City began in 2014 and was inspired by a legendary 1931 costume ball of the Society of Beaux-Arts Architects in New York. More than 20 of the city's pre-eminent architects of the time dressed up as a building they had designed, including William Van Alen as the Chrysler Building. The tradition still lives on in many of New York's architecture schools.
Related topics