Update: Since this article was written in early 2011, the Australian Jockey Club has become the Australian Turf Club and Fitzpatrick + Partners has undertaken a new masterplan.
"Zoned open space, but effectively a gated community" is how Jonathan Seward, the head of properties for the Australian Jockey Club (AJC), describes Royal Randwick Racecourse. In 2005, the club engaged BVN Architecture to redress this and other issues by preparing a development control plan/masterplan and staged works for the eighty-nine-hectare site in Sydney's eastern suburbs. This marked the first review of the entire racecourse in its 150-year history. BVN's conclusion? "The existing facilities fail to meet contemporary standards for patron access and amenity, back-of-house serviceability, communications, and security."
Royal Randwick sits in a band of regionally significant open space that includes Moore Park and Centennial Park and is a major catchment basin for the part of Randwick south of the course. With the Botany Sands aquifer only six metres below, the site also serves to capture water that flows to the bay.
It is something of an anachronism to have horses and a racetrack just a few kilometres from a CBD, and this association and attraction of the rural within an urban setting plays a large part in Royal Randwick's appeal. But with the exception of Alison Road, which is under the jurisdiction of the Roads and Traffic Authority (RTA), the course is bound on all sides by suburban streets, with few visual connections from outside.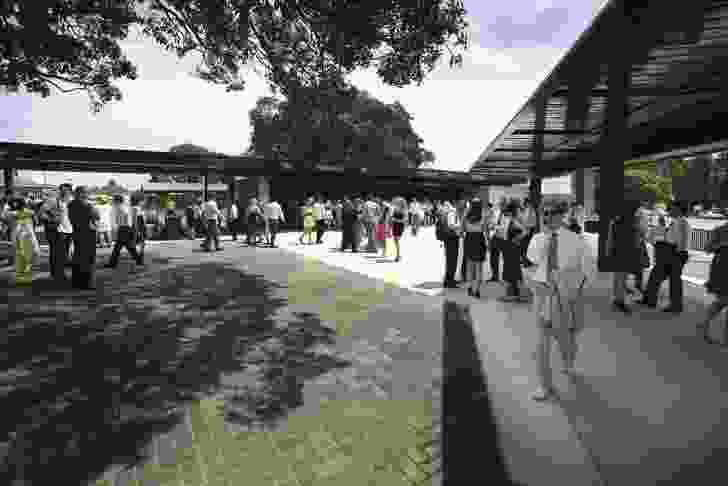 The site itself has two racetracks. Closest to the grandstand is the course proper, then the smaller Kensington track is used for minor races. Underneath the course sit tunnels where additional car parking is located. Many of the remaining open areas are used for drainage purposes as part of Water Sensitive Urban Design (WSUD) aspects of the project.
Being the premier racecourse in New South Wales, the AJC is a major employer in the local area. Over five hundred thoroughbred horses are stabled on site at any one time and seven hundred horses may train there, with all the staff that involves. The AJC has its own staff, including the only mounted security guards outside of the police force in New South Wales.
There are a few paradoxes about the racecourse and the AJC that need clarifying. Despite the association with betting, big prize money and its attendant luxurious lifestyle, the AJC itself is a not-for-profit organization and any monies raised must be reinvested in prize money and facilities to support better racing. With the advent of multimedia and off-site betting, racing attendance has declined over the past twenty to thirty years worldwide, making the quality of the race day experience ever more important for the people who do visit the site. Attention is also being paid to ways the site can integrate and attract other functions to sustain it between race days.
The staged masterplan prepared by BVN and its team of thirty consultants will take around ten years to implement and provides a reorganization of site infrastructure (including stormwater and overland flow, gas, water and power) based on strategic principles rather than built form. "It required the ability to accommodate significant change while maintaining coherence to the agreed structure for ongoing development," BVN says. There are three stages, with Stage 1 relating to the spectator precinct and Stage 2 focusing on facilities and amenities.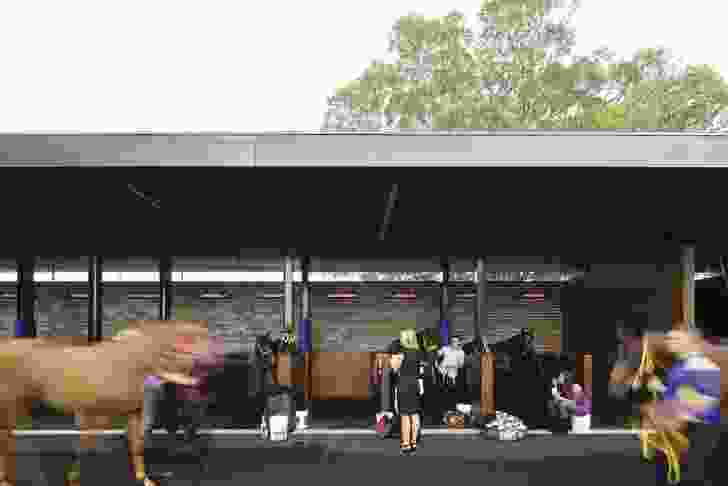 Assessing Royal Randwick for Stage 1, Peter Burns from BVN described a site where "everything was on top of each other." Given this, BVN's initial ideas focused on separating out the different modes of transport to make each area work better, especially for buses. All access/egress modes were formerly located along Alison Road. BVN's masterplan separates access into different modes – bus, horse float, taxi, private car, pedestrian – for redistribution around the racecourse. Buses on Alison Road, Ascot Street for taxis, horse floats on High Street, and private car access and parking in field. Even on a large site such as Royal Randwick, access is a complex issue to resolve, especially with the added complication of a parcel of STA land and a former tram station being sold off for the development of townhouses within the overall site curtilage.
By separating out these transport modes, the Alison Road entry and ticket area now has a clear sense of arrival. This opening up of the site involved significant level changes and drainage works, including the removal of a high brick wall along Alison Road.
In a site with so many facilities and competing requirements, spatial clarity is an important layer of the project. A new spine that will help give order to the spectator area is proposed in the masterplan, although it will take major building works to achieve. Tree avenues will structure and direct people and horses through the site and provide shade.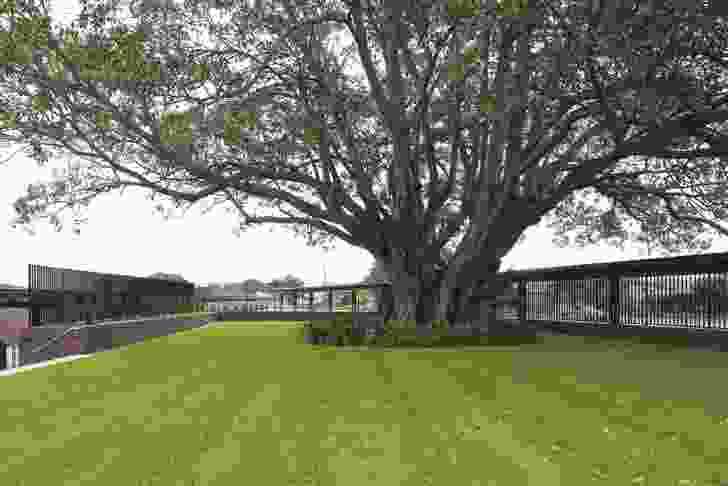 The principle of transparency and clarity applies across the project. Many extraneous elements have been removed, race day stalls (where horses are located to be saddled and prepared for their race) have been relocated and new ones constructed along with new testing labs for Racing New South Wales. The focus everywhere is on visibility of every horse. For example, Burns explains, they have created "outdoor rooms using dividing walls" around manicured lawns where visitors can picnic on event days within close proximity to the day stalls.
In physical terms, the AJC has been bold in its commitment to the restructuring. BVN's approach to new structures is to complement heritage buildings, the equine character of the site and the crowds on race days. Burns describes using "a neutral but robust palette so that the colour of the people and fashion can stand out." Annual planting, often in sponsors' colours, is added during race days to add to the carnival experience. Namoi Valley Federation Blue brick, used locally in Randwick, is on display throughout the site. New race day stalls, entry structures and fencing are bold and austere, forming a clear group of memorable forms throughout the site that help with orientation.
Royal Randwick Racecourse has been transforming slowly over the past few years into an accessible space that competes with nearby Fox Studios and other venues. It is being brought into the twenty-first century while still retaining its appeal as a rural retreat within the city and the premier racecourse in New South Wales.
Credits
Architect

Andrew Cortese, BVN Donovan Hill
Architect

BVN Donovan Hill
Australia
Project Team

Glenn Scott, Peter Clarke, Peter Burns, Anita Morandini, Namaste Burrill, Gero Heinmann, Adrian Gessner, Sergio Corona, Josh Henderson
Consultants

City strategy coordinator DEGW
Civil engineers Taylor Thomson Whitting, Cardno Young
Construction ProBuild
Construction contractor Daracon Group
Electrical and mechanical engineer ITC Group
Heritage Godden Mackay Logan
Hydraulic engineer Aurecon
Land surveyor Rygate Land Surveyors
Landscape architect Knox and Partners Landscape Architects
Pedestrian analysis Aurecon
Planning consultant Conics
Project manager Coffey Projects
Quantity surveyor WT Partnership
Stormwater and flood management WMAwater
Structural engineer Taylor Thomson Whitting
Traffic and transport Halcrow MWT

Site Details

Location Randwick, Sydney, NSW, Australia
Site type Urban

Project Details

Status Built
Website http://www.bvn.com.au/projects/randwick_racecourse.html?OpenDocument&idx=Type&pcat=Masterplanning&tpl=ext
Category Landscape / urban

Client

Client name Australian Jockey Club
Website ajc.com.au

Source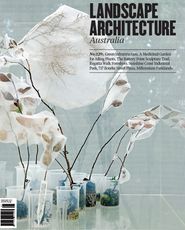 Issue
Landscape Architecture Australia, February 2011
Related topics