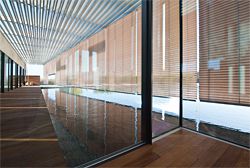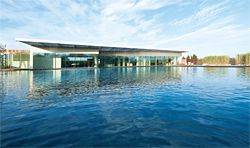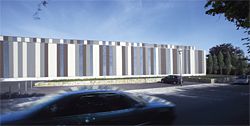 1 Commissioning, procurement and delivery.
Commissioning – this is the third time round for Bolles+Wilson for this client. Procurement – a handshake. Delivery – intense detailing, daily site supervision.

2 The brief and the response.
The brief – an industrial box, 60 x 60 metres, with a warehouse and distribution centre, offices and a rooftop landscape/waterscape. Our response – extreme pragmatism for the warehouse, panic for the 60-x-60-metre reflecting pool on the roof. How to level the infinite edge detail to tolerances of less than 1 millimetre over 60 metres.

3 Working across cultures.
We spoke and specified in German, thought of our building as an industrial-scaled Japanese teahouse, brought in an international tsunami expert to deal with the waves and imported 4,000 bamboo sticks from China.

4 What did you take away from the project?
Quite a few bamboo sticks –4,000 was too many. In future projects we will continue to thematize the roof – everyone can see it on Google Earth.
Architect Bolles+Wilson —Julia Bolles-Wilson, Peter Wilson; construction supervision Klaus Kuchenbuch.
Structural engineer, building physics, sound and thermal protection ahw Ingenieure.
Steel construction WERO Metall-Bau-Montage.
Service engineer TIGEV-Ingenieurgesellschaft.
Fire protection Dipl.-Ing. Richard Wolejszo.
Client Rainer Scholze.
Photography Markus Hauschild (first 2 images), Rainer Mader (3rd image).
Related topics