The new home of rugby league, Rugby League Central, designed by HBO+EMTB, has been opened by the Federal Minister for Infrastructure and Transport, Anthony Albanese, and NSW Minister for Sport and Recreation, Graham Annesley.
Adjacent to the Sydney Football Stadium and the Sydney Cricket Ground in Moore Park, Sydney, the 3,600-square-metre, three-storey building brings together five rugby league organizations from different cultures and with diverse histories – NRL, ARL, NSWRL, NSW Country League and ARL Development.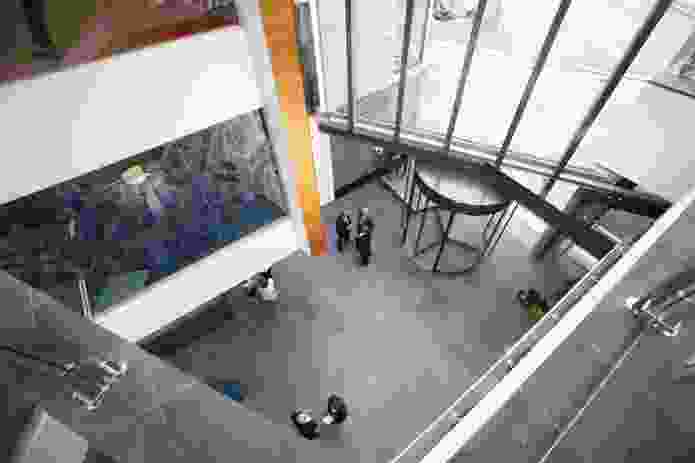 A three-storey oval-shaped core, symbolizing a rugby league football, forms a three-storey atrium that runs the full height of the building. The interior facilitates cooperation, interaction and commonality of purpose while recognizing and celebrating the individual histories and achievements of the different organizations. Workspaces are largely open plan, with each organization having its own regional cluster with graphic cues, including team colours and large-scale images of players in action. Throughout the building, the chevron is used as a unifying symbol, as it is used by all bodies in rugby league. It is prominent in the foyer in several timber feature walls, in glazed areas on different floors and on the exterior fin of the building.
Additional facilities include an interactive learning centre for youth education and community development uses, a rooftop entertaining terrace, basement parking, two meeting rooms – one for Indigenous rugby league, the other for State of Origin – and a special-purpose judiciary room that also doubles as a conference or media room.
Stadium-style seating, goal posts and carpet incorporating football field markings throughout the building evoke the feeling of being at a match.
HBO+EMTB is a multidisciplinary company that was created with the amalgamation of Hoadley Budge Olphert and Edwards Madigan Torzillo Briggs in 1994. The firm now has more than twenty offices across the Asia Pacific region.
Related topics