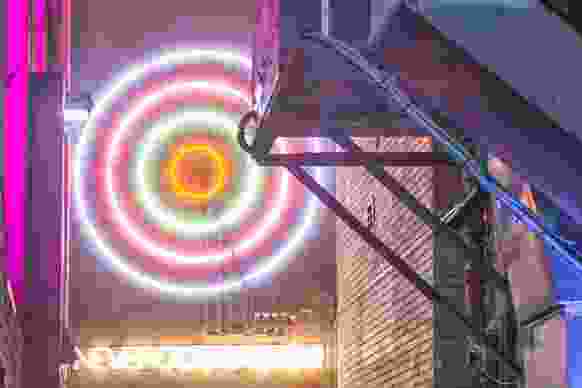 The Sydney Architecture Festival launched on 1 November at Grasshopper bar in Temperance Lane. This tucked away watering hole is the official CBD hub for the festival duration, and is that little bit easier to find thanks to its new neon lighting installation by Steenson Varming – commissioned for the festival. The bar is also the venue for a public talk about laneways, pop-ups and public art, on Saturday 9 November. This year is the biggest SAF program ever. Last week we reported on three hidden gems, here we present a roundup of exhibitions and film, slightly off the beaten track, well worth the trek.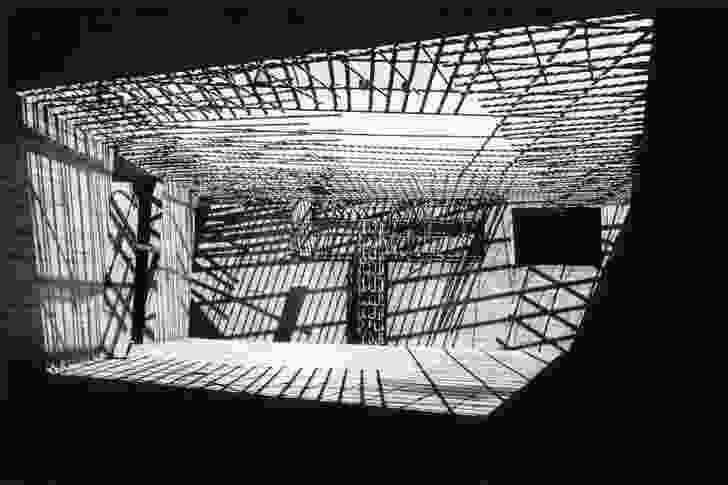 David Moore Photography Retrospective
Drawn from the extraordinary archives of David Moore (1927–2003), this free exhibition commemorates both the creation of the Sydney Opera House and Moore's own legacy as one of Australia's most enduring and published photographers. Moore documented the Sydney Opera House construction over seventeen years from 1962 to 1979. His daughter Lisa Moore has curated this retrospective with a focus on the light plays of the structure, as well as revealing Moore's signature graphic composition and his affintity with the construction workers. Moore is Australia's most renowned and widely travelled photojournalist and his extraordinary archive covers both his homeland and the many countries and subjects he visited over a sixty-year career.
1 November 2013 – 26 January 2014
Customs House
Free entry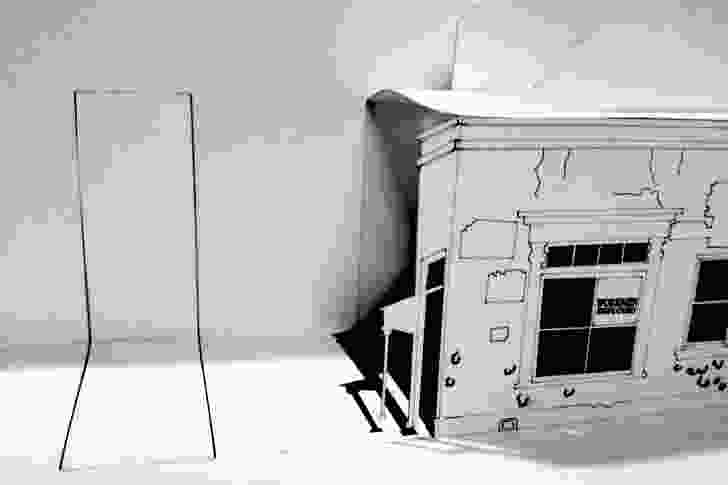 Expanded Architecture at The Rocks
The results of a month-long residency by artists, architects, film-makers and creatives in a disused building on Cumberland Street, The Rocks, are exhibited for one night only on 8 November, 6–9pm. Site-specific projections, installations and performances depict the cultural history of this important foreshore precinct. RSVP to expandedarchitecture@gmail.com for a place.
Expanded Architecture at The Rocks
8 November 2013
Cumberland Street, The Rocks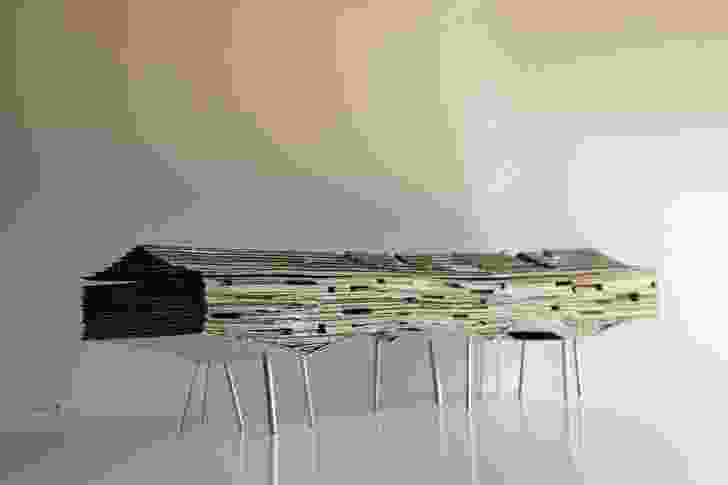 Model Practice
This exhibition of architectural models by some of the city's most interesting small and large practices demonstrates the power of "hand thinking" – drawing and model-making – in solving complex design problems. Works range from thinking or generative design idea models, to multiple iterations of a building or parts of a building, to detailed final models. Exhibitors include: Andrew Burns, Bates Smart, Benn & Penna, BVN Donovan Hill, Carterwilliamson Architects, Chenchow Little Architects, Cox Richardson, Francis-Jones Morehen Thorp (fjmt), Fox Johnston, Louise Nettleton, Neeson Murcutt Architects, Sam Crawford, SJB Architects, Turner & Associates Architects and Woods Bagot. Curator Shaun Carter & co has lined the mezzanine suite in Foster's Lumiere on Bathurst Street with rolls of butcher's paper and some dangling tungsten bulbs to stark and silencing effect. It's a generous space with lots of room around the models allowing you to walk around and lose yourself among them, and it's interesting to read the "hours taken" on each model's title card. Some standouts for me were Carterwilliam's upscaled 1:25 models that make you want to jump inside, Benn & Penna's exquisite porcelain models with buttery lines and muted glaze, Andrew Burns' Crescent House model reproduced in the full material palette of charred wood and water-cut steel. A once-only "handthinking" workshop is being run in parallel at the Willoughby Incinerator Art Space on 9 November.
Model Practice
1–10 November
Lvl 2, Property Display Centre, 105 Bathurst Street.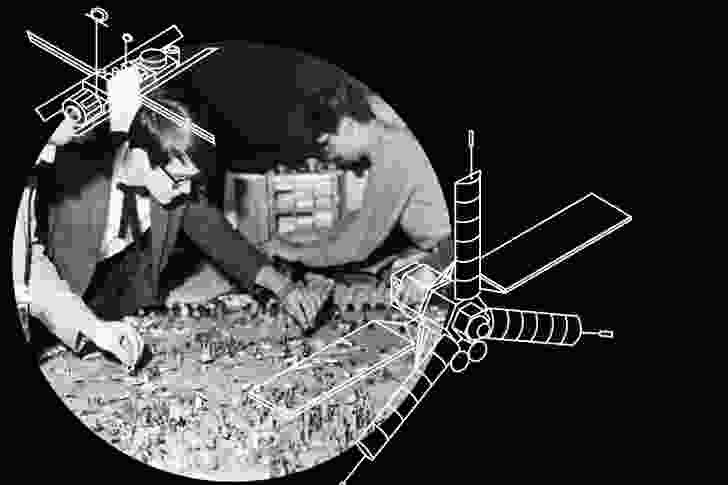 Open Agenda
The annual UTS exhibition (plus publication and lecture) of three outstanding enquiries/propositions for the built environment by this year's graduates brings together David Neustein's Refreshment Service (future ruins or self-obliterating architecture), Samaneh Moafi's A () Holey Territory (architecture of encampment in Iran) and Lucy Warnock's tongue-twistingly titled A_rchitectural Espionage and the Superpanopticon_ (exploring the role of architecture in social surveillance). The exhition is curated on the first floor of the old Paramount Pictures building in Surry Hills, an art deco jewel recently refurbished by Fox Johnston. As a trio of exhibits, they are so compellingly different as to be delightfully merged. Mies van der Rohe's Glass Skyscraper project inspired David Neustein's tower of glass bottles which were used for serving drinks at Saturday's launch and befoire being washed and reassembled into the piece. Samaneh Moafi's finely wrought drawings and collages of labyrinthine environments of oppression couldn't be a more sobering contrast to Neustein's teetering folly, while, perched on matt-white tripods, Lucy Warnock's models of surveillance systems (à la Julian Assange) is the blending spice that ties the other two exhibits together. Warnock's beautifully crafted models of timber and acrylic with suspended "iCloud transmitters" are of "hypothetical projects, not real ones", she advises: but sci-fi is only fiction until science finds a way.
Open Agenda
1–8 November
Paramount Pictures Building, Surry Hills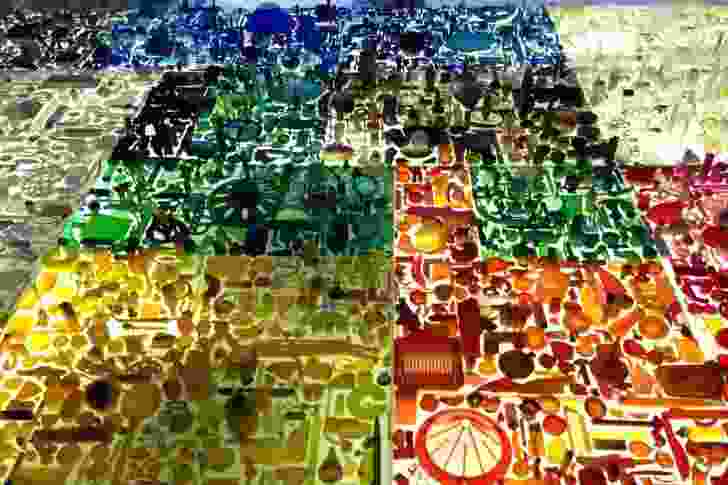 Reassemble
Not strictly a festival event, but a very Sydney event nonetheless, this beautiful exhibition, on until 10 November at the Bondi Pavilion, is a group show of art by architect Thierry Lacoste, artists Melissa Selby-Brown and Katherine Norman, and others. For one year they collected found objects and plastic trash from the beach and streets, arranging and reinterpreting them into vignettes, totems and sculptures. The stunning three-metre high lightbox of colour-coded plastic detritus makes a wonderful backdrop and counterpoint to Selby-Brown's drawers on which she has – in painstaking detail – painted what she imagines the contents of these drawers to have been; think 'Sewing', 'Tools', 'Kitchen', First aid', 'Toys', 'Odds n ends', etc. This basic beachside gallery has seldom looked so good.
Reassemble
Until 10 November
Bondi Pavilion, Bondi Beach
Rural Habitat
An exhibition of photographs, multimedia and models of Mexican and rural indigenous communities within a purpose-built pavilion on Customs House Square. Developed by Mobile Workshop Architects and the NGO Vasco de Quiroga PS XX1, Rural Habitat is a social development initiative that encompasses: a dwelling, the growth and progress of communities, improving health by providing technology that enables harmonious interaction with the environment. While the project reflects one community's attempt at ecological and cultural development, the exhibition expresses some of the City of Sydney's own visions for a green, global and connected Sydney.
Rural Habitat
1–17 November 2013
Customs House, Sydney, with a talk at the AIA Tusculum auditorium on 4 November
Streetcamp
Dutch architecture collective FOUNDation Projects teams up with Sydney's Make Space For Architecture to build two street pavilions using only found materials, unwanted furniture and street finds. These pop-up pavilions will be built in Residents Park, Glebe, 1–2 November then unveiled over drinks and nibbles the following afternoon/evening; High Street Millers Point, 5–6 November, unveiling on 8 November. Both pavilions will then relocate to the city centre on 10 November to springboard community discussion.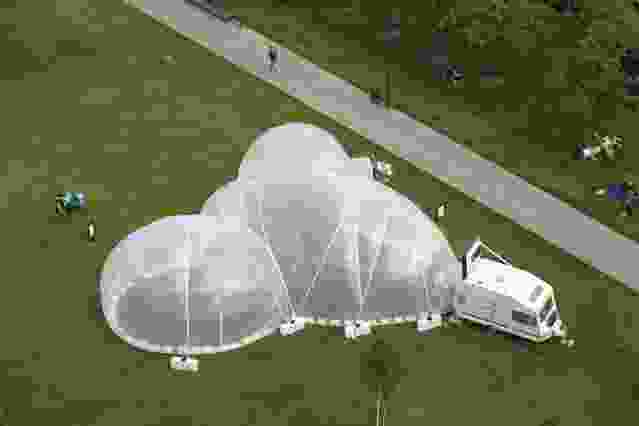 User Generated Architecture – Raumlabour Berlin
Raumlabor berlin is a contemporary architectural collective that draws on the utopian architectural experiments of the 1960s and 70s, exploring spatial politics in the urban landscape. Read curator Joni Taylor's interview with Raumlabor's Christoph Mayer.
User Generated Architecture
1–15 November 2013
Tin Sheds Gallery, University of Sydney
Tour • film • talk
Open studios tour
Surry Hills architecture studios and collectives will open their doors on Friday 1 November, starting from Bar Cleveland, Smart Design Studio, SJB, Scale Architecture, Andrew Donaldson Architecture & Design, and Aileen Sage Architects.
Sociopath: Spatial Experiments in Film
Melbourne collective SIBLING has curated a series of films to be screened at the New Golden Age Cinema in Surry Hills on Saturday 2 November, 2–5.30pm. The works explore the influence of architecture and social spaces on human behaviour. Films include Sweet Parliament Home by Andrés Jaques Architects; Soft Sell by Liz Diller and Ricardo Scofidio; Pageant by Liz Diller and Ricardo Scofidio; Buildings by Vito Acconci with Julia Loktev; The Encounterculture by SIBLING with Nicole Rose; Space, Land and Time: Underground Adventures with Ant Farm by Laura Harrison and Elizabeth Federici and Off-Air Australia by Ant Farm. Included is a tour of the newly refurbished Paramount Pictures Building.
Super Sydney Colloquium
In 2012, Super Sydney asked Sydneysiders for their ideas of how to improve the city. To keep the Super Sydney conversation going, the ABC's Quentin Dempster hosts a panel discussion and exhibition at the Sydney Opera House about with architect and urban designer, Tim Williams, Ien Ang, professor of cultural studies at University of Western Sydney, external affairs director of the Sydney Opera House, Brook Turner, and David Redhill, chief marketing officer with Deloitte Australia.
The Sydney Architecture Festival runs from 1–13 November 2013. See the full program online.
Related topics