Flinders Lane. Fed Square. Chapel Street. Sydney Road. Smith and Gertrude streets. These are all possible answers to the question, "What are the places that make Melbourne Melbourne?" Southbank Promenade, however, is not a possible answer. With its tidy pavers, its super-buskers, its Nobus and Pradas and Burberrys, and its pigeons, this riverside walk is as globally generic as Melbourne gets. Not quite a "non-place" – the term coined by French anthropologist Marc Augé to describe the characterless places of transience that have proliferated with globalization, such as airports, malls and corporate hotels – but on a mild, tourist-filled Saturday afternoon in spring, not far off.
The tension, then, where this geo-cultural tangent brushes against the curved facade of Melbourne's esteemed Hamer Hall, is palpable and for designers and flâneurs alike, intriguing. Some might lament the missed opportunity to play with these ideas when leasing out a prime river-level dining tenancy, or to just stamp something emphatically Melburnian on the place but, in built reality, the choice of an established restaurant brand from Sydney was not a bad one. Saké Restaurant & Bar bridges the gap between the specific and the generic, in terms of both food and design.
Executive chef Sean Presland's modern take on sushi is perfect for the place – is there a more culturally specific yet international cuisine? And with this, their third Saké fit-out, designers Rachel Luchetti and Stuart Krelle of Luchetti Krelle have refined an established look and feel based on Japanese-influenced joinery techniques, rich timbers, a contrasting palette of highly processed and raw textures, and familiar Japanese decorative motifs. Thanks to their deft touch, Saké's Melbourne outpost feels more "bespoke" than "rollout," yet still satisfies the corporate imperative of brand consistency.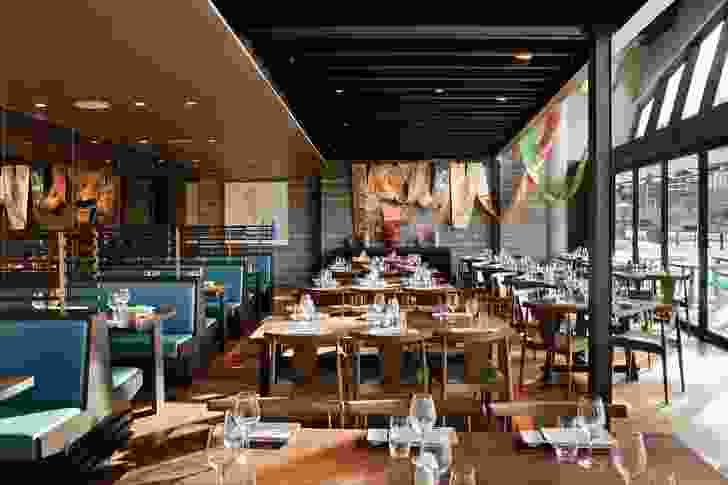 Open kitchens are a feature of all Saké fitouts. In Melbourne, the open kitchen is the throbbing heart of the restaurant: passers-by see the chef's whites, the (on-brand) red hachimaki headbands and the flash of sushi knives; diners perch at the granite bar, close to the action, but with enough buffer to avoid being drawn into the hustle and bustle; and patrons in the more formal main dining space enjoy the contrast between the brightly lit industry of the work zone and their own softly illuminated mise en scène.
Light is crucial to the fitout's success. Directional downlights illuminate table settings, meals and artworks, and highlight textured finishes such as a raw rendered wall, without washing the space with too much indirect light. At night, the restaurant feels dark and intimate, the oak and spotted gum joinery glows, and awareness of spatial boundaries, such as the operable glass wall that opens out to the promenade, and timber screens that delineate private dining areas, dissolve in shadow. A significant element of the brief was to accommodate pre- and post-show diners from Hamer Hall (double doors from the small sake bar provide direct access) so this sense of theatre is a neat fit. Upstairs in the smaller mezzanine dining space the outward view changes from one of pedestrians to that of the city skyline across the Yarra. A gold mesh balustrade, tilted to match the building's facade, adds another touch of theatrical glamour.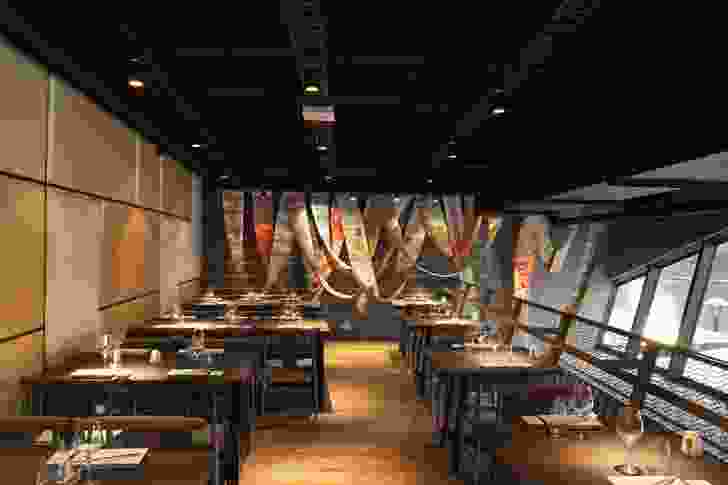 During the day, the ambience is quite different – thanks to a northern orientation, the restaurant feels breezy and sun-filled and is irresistible to passers-by. In this sense, the restaurant's relationship to its context moves between Melbourne at night (the drama, the theatre) and the world during the day (the riverwalk and its smorgasbord of languages and accents).
Japanese fabrics, traditional pottery and empty sake barrels swinging from the ceiling in the saké bar ensure there's no confusion about the food being offered. In a different location, these flourishes might have been pared back, allowing the rest of the fitout to speak (quietly) for itself. But, given the promenade location and national brand imperative, these moments of telegraphed Japanese-ness are a necessary, minor compromise. On the whole, Saké Restaurant & Bar is sophisticated, soulful and subtle – it's emblematic of two converging worlds, and will appeal to theatregoers and busker-watchers alike.
Products and materials
Walls and ceilings

Hebel panel wall for kitchen partition. Evolve plain flat kitchen wall tile from Academy Tiles. Dulux Metallic Effects paint to ceiling. Clarence House Flowering Quince wallpaper from The Crowson Group. African Mazista slate tile to bathroom from Bellstone.
Joinery

Laminboard in white to selected internal joinery by Laminex. Natural European oak solid timber to bathroom vanities and door handles, smoked European oak for tabletops and sushi bar ledge from Global Ventures Australia. Granite stone to sushi bar feature hob, foot rest and bar facade in emerald green from WK Marble and Granite.
Doors

Dorma and Madinoz full-height glass pivot entry doors. Centor sliding door system to private rooms.
Flooring

Precision Flooring Uniwood Provincial Series wideboard stained oak. Coved expoxy floor to kitchen, clearing station and bar areas. Solid timber stairs. Bellstone North Country slate tiles in bathrooms.
Lighting

Modular Duell surface mounted adjustable lamp, Y'on directional downlight, Lotis downlight, LED strip lighting, Lotis tubed diffuser, Lotis tubed pendant, Grannos floor-based uplight, custom directional wall washer, Mr X directional spotlight all from JSB Lighting. Mini Mikado feature pendant from Ke-Zu. Inlite Megalum downlight.
Furniture

Andreu World Smile dining chair and stool, Emu Ivy outdoor chair from Ke-Zu. Custom spotted gum stool from Ironwood. Avatree Eastern Red Door Imports blossom tree.
Kitchen/bar

Franke undermount sink and Milli Flow basin mixer from Reece. Liebherr bar fridge.
Bathroom

Q3 toilet with Caroma Walvit water wafer Mk3 dual flush toilet pan and cistern and White Stone mini hand basin from Reece. Electronic touch-activated taps from Enware.
Other

Spectrum leather upholstery fabric to booth seating from Pelle Leathers. Maharam Focus upholstery fabric in Regatta for cushion covers from Kvadrat Maharam. Bambu fabric in Citron Glace on wall from South Pacific Fabrics. Hanging fabric from Elliott Clarke.
Credits
Design practice

Luchetti Krelle
Surry Hills, Sydney, NSW, Australia
Project Team

Rachel Luchetti, Stuart Krelle, Thomas Obeid
Consultants

Builder UTJ Interiors
Engineer Aurecon, C. R. Knight & Associates
Lighting JSB Lighting, Ke-Zu
Project manager John Kollannur, Urban Purveyor Group

Site Details

Location 100 St Kilda Road, Melbourne, Vic, Australia
Site type Urban

Project Details

Status Built
Design, documentation 3 months
Construction 3 months
Category Interiors
Type Restaurants

Source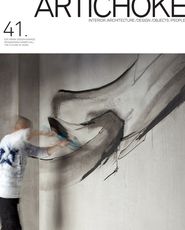 Issue
Artichoke, December 2012
Related topics