Some years, the designs on display at the Salone Satellite – a showcase of young talent all the way at the end of a mile-long concourse at Milan's Salone del Mobile fairgrounds – could rival the exhibits by big name brands at the heart of the show. This was one of those years. Under the watchful eye of Satellite founder and curator Marva Griffin, seven hundred young designers and twenty design schools from around the world – including Kjell Grant's Melbourne Movement and first-time exhibitor the University of South Australia – showed elaborate, hand-made pieces and production-worthy prototypes. The polished and press-savvy newcomers were hopeful that their participation in the well-regarded (and highly competitive) event would launch their careers just as it had for the likes of Matali Crasset, Xavier Lust, Lorenzo Damiani, Patrick Jouin, Harri Koskinen and Front.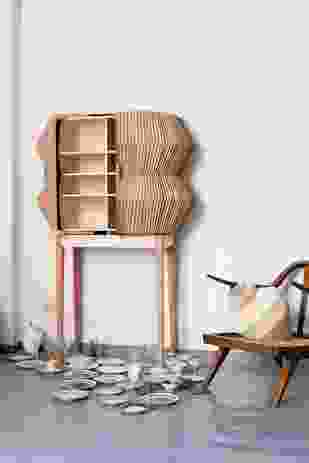 "I remember of course Carlo Contin," says Paola Antonelli, Senior Curator of Architecture and Design at New York's Museum of Modern Art. In 1999, Antonelli spotted a fruit bowl composed of lacquered wooden spokes Contin designed to ingeniously twist open into a dramatic centrepiece. The next year MoMA put it into production. "The Satellite bowl has become one of the staples of MoMA's Design Store."
The show stopper at this year's Satellite – and unanimously awarded first prize for its surprising use of materials and its light, gestural expressiveness by a jury that included Antonelli and renowned architects Mario Bellini and Franco Raggi – was German designer Elisa Strozyk's Accordion cabinet. Designed with artist Sebastian Neeb, the oval-shaped body of the cabinet, perched on long, skinny legs, opens like an accordion due to its flexible surface composed of veneer wood on textile.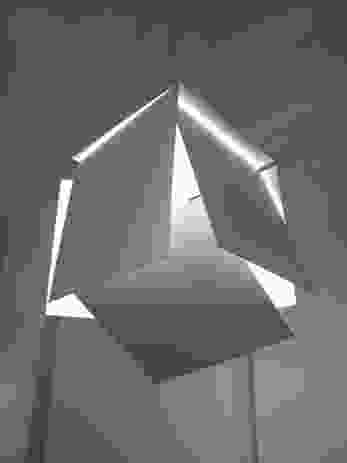 Robert Hoffmann's simple but dramatic Modular light received second prize. The German designer has exhibited at design shows in Cologne and at home in Berlin, but was at Satellite for the first time this year. "People from all over the world come to Milan," says Hoffmann. "It's great to get that different feedback on your own work."
But while the fourteenth edition of the Satellite was the largest ever – its first edition in 1998 featured just over one hundred designers – it now faces competition from Ventura Lambrate, another exhibition area outside the fairgrounds dedicated to up-and-coming talent, where prestigious design schools including the Design Academy Eindhoven and the Royal College of Art have exhibited. With a range of different possible venues and sixty thousand visitors this year – the same number as the Satellite – Ventura Lambrate has quickly become a design destination on the outskirts of the city.
"The first place I visited this year was Lambrate," recalls Antonelli. "But the truth is, Marva puts so much passion, love and enthusiasm into the Satellite – as a designer you are guaranteed that the most influential manufacturers and writers will visit it and spend real time there."
Strozyk exhibited at Lambrate in 2010, but it's her prize for the Accordion cabinet at the Satellite that has people remembering her name – perhaps for years to come.
Other exhibitors included Design Tree, Jannis Ellenberger, Innovo and Soojin Kang.
Source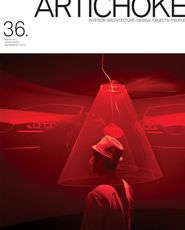 Issue
Artichoke, September 2011
Related topics