The Art Gallery of New South Wales's $344 million Sydney Modern expansion project, designed by SANAA, has been granted planning approval.
The project will double the current exhibition space in the gallery, which will enable it to show more of its collections and host exhibitions from around the world.
SANAA won an invited competition for the project in 2015. The original competition brief had called for a new building to be physically attached to the existing 1897 Vernon building of the AGNSW, designed by government architect Walter Liberty Vernon.
However, the approved design is an entirely standalone building linked to the existing building by an art garden, which will include outdoor artworks and landscaping that will complement the adjacent Royal Botanic Gardens Sydney.
The design consists of a series of pavilions cascading towards the harbour, following the topography of the landscape.
The proposed building include a new entry plaza, exhibition spaces, retail and food and beverage facilities, visitor amenities, art research and education spaces, multipurpose spaces, roof terraces and landscaping, and the adaptive re-use of a former naval fuel bunker, built in 1942 to store furnace oil, which was pumped to the naval base at neighbouring Garden Island.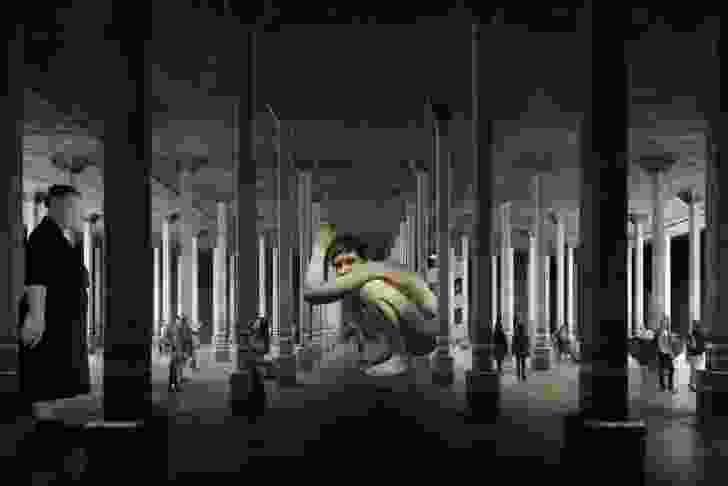 The expansion will allow the gallery to double its student and teacher visitor numbers to 200,000 annually.
SANAA's Kazuyo Sejima said, "We are very excited for the new gallery to commence construction. It has been wonderful to be able to create such an important public building in Sydney that will give visitors a special sense of place and the opportunity to experience the shared joy of art and ideas."
The expansion project will also be the first public art museum to achieve a 6 star Green Star design rating thanks to its rainwater harvesting facilities, solar panels and seawater heat exchange system for air-conditioning.
"[This] is a testament to the high-quality design of the Gallery's expansion and our commitment to environmental sustainability," said the gallery's director Michael Brand. "This is helping to set a new standard for what art museums can achieve globally and is a wonderful outcome for the Gallery's Sydney Modern Project," Dr Brand said.
The gallery submitted its state significant development application in November 2017 with modified design from the original international competition-winning design. Construction is expected to commence in early 2019 and is due for completion in 2021, in time for the gallery's 150th anniversary. SANAA will work with executive architect Architectus and landscape architect McGregor Coxall to deliver the project.
The NSW government has committed $244 million to the project and the remaining $100 million will be funded through private donations.
Related topics