Young Scandinavian talent recognized at 2016 Maison&Objet Paris
For each of Maison&Objet's four shows every year, six up-and-coming designers are awarded the Talents a la Carte and and get the exclusive chance to exhibit their work at the show to professionals from around the world. For the Maison&Objet Paris show, on 22–26 January 2016, six Scandinavian designers have been chosen to showcase their impressive work.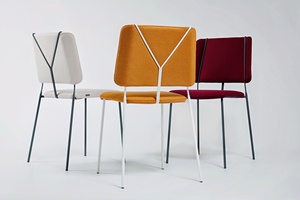 Färg & Blanche
The French-Swedish design studio Färg & Blanche was founded in 2010 by designers Fredrik Färg and Emma Marga Blanche. Fredrik completed his masters degree in design in 2008 and Emma graduated in 2006. Known for their experimental stance where each expression informs the other, they work across a wide variety of fields, collaborating with established Scandinavian furniture brands and producing their own collections and limited art pieces for galleries around the world. Their sense of experimentation with materials and production methods, in particular in textiles, can be felt throughout Emma and Fredrik's work, which often has a tailored, yet playful touch. They have collaborated with Comme Des Garçons making exhibitions in Tokyo, Seoul and Paris and have created a number of acclaimed exhibitions, including "20 designers at Biologiska" 2011 and "Inside Scandinavian Design" 2015.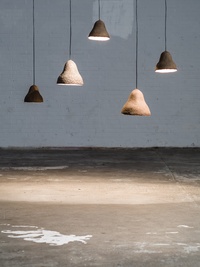 Jonas Edvard
A design graduate of the Royal Danish Academy of Fine Arts (2013), Jonas Edvard is an independent designer developing new experiences with design objects through the research and development of raw unprocessed materials. Based in Copenhagen, Denmark, Edvard's aim is to create sustainable furniture using materials that explore the potential of a global green economy. Jonas Edvard's work is characterized by a profound focus on the qualities of already existing materials, diving into their history and ranges of uses, to create functional products with a simple and honest approach. Edvard has received numerous prizes and grants and has been featured in several exhibitions, including the permanent collection of the Danish Design Museum and the Trapholt Museum.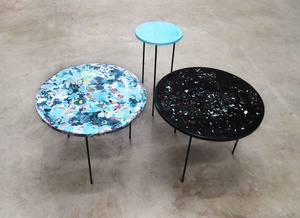 Troels Flensted
Born in 1987, Troels Flensted graduated from Central Saint Martins College of Art and Design in London. After graduating in 2014, he moved back to his native country Denmark and started his own studio. His experimental studio explores the potential within material behaviours, colours and alternative manufacturing processes, and finds inspiration in the aesthetics and undiscovered possibilities deriving from combining the three. This approach has led to exciting projects and commissions for both private and corporate clients.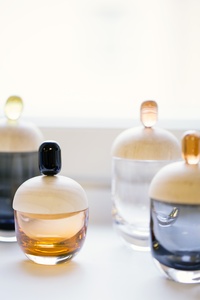 Katriina Nuutinen
Katriina Nuutinen was born in 1983 in Helsinki, Finland. She graduated from the School of Arts and Design at Aalto University in Helsinki with a masters degree in 2011. Nuutinen's work is an outstanding example of modern Finnish glass design, inspired by the captivating interplay of glass and light. She specializes in glass and ceramics, but her work is also characterized by explorations with wood, metal, leather and textiles, as well as combining different materials. Katriina's harmonic work mainly consists of lights, interior accessories and tableware. However, her attraction towards concept designing, as well as furniture design is increasing.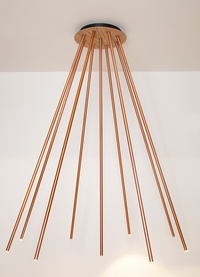 Kjartan Oskarsson
Kjartan Oskarsson is an Icelandic designer. He studied interior design at the Istituto Superiore di Architettura e Design (ISAD) in Milan, Italy in 1998 and graduated with a masters degree in furniture design from the Rhode Island School of Design in the US, in 2014. Over the past sixteen years, he has gained significant experience working on numerous interior, furniture and lighting design projects. In his most recent work, he has focused on designing and building lighting and lamps, using interactive techniques to push the user to explore new ways to connect with and discover the object.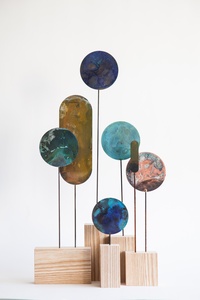 Kneip
Kneip is a craft, design and art studio founded by Jørgen Platou Willumsen and Stian Korntved Ruud, both graduates of the Oslo School of Architecture and Design. Jørgen Platou Willumsen completed his bachelor's degree in product design in 2010 and decided to take a masters degree in art to complement his education. Stian Korntved Ruud trained in product design at Akershus University College and the Oslo School of Architecture and Design, before doing an internship at Tom Dixon in London. Nature and craftsmanship are important sources of inspiration. Both designers are interested in telling stories through their objects, which are all handmade and produced either as small series or unique pieces. Jørgen and Stian work in a wide range of expressions and techniques and want Kneip to be moving towards a meeting point between art, design and craftsmanship.