The establishment of a specialist high school for the visual and performing arts, in the civic heart of Singapore and at the gateway to the arts and entertainment district, has given WOHA the chance to juggle many disparate uses and demands. The site is not large but the building would need to be; the climate is hot, humid and almost breezeless; the brief calls for public spaces, thoroughfares and performance theatres, yet also for secure, flexible teaching spaces.
The resulting building is massive and at first hard to read, a monumentally scaled base with three finger-like blocks on top and bridges at the highest of roof levels. Its podium, referred to as the "backdrop," is a shaded, cool, naturally ventilated public thoroughfare. A short cut between streets, it houses the performing arts theatres and even retail.
Designed as a "machine for wind," the podium channels and intensifies light breezes to make comfortable the gathering spaces where the public and students interact. Visible from this level is the "blank canvas," the three secure, flexible teaching blocks in which students' creativity can be fostered within minimal constraints.
WOHA has adeptly fulfilled a complex brief, initiated green measures, brought light into a deep plan, created neutral territories in which to demystify the arts and achieved an architectural expression that connects its podium to the historic scale of its surrounds and offers an alternative to the tower atop a podium via its three striated forms.
Materials are robust and energetically detailed, resulting in an architecture that is both welcoming and of civic value.
– Jury citation
We have been developing ideas for what tropical community or public space might be for a few years, and this project was a chance to bring them into reality. Temperate models such as plazas or lawns don't work due to the high humidity, high rainfall and high temperatures, resulting in the public realm moving to airconditioned interiors such as shopping malls. We felt that external tropical public space could work, but it had to be covered yet breezy, without dead ends, and surrounded by activity-generating spaces and nature. We tested out these ideas in SOTA, and the successful implementation has made us keen to refine and extend them in future public projects.
– WOHA
For a full list of awarded projects see 2011 National Architecture Awards – the winners and for more awards discussion see Rachel Hurst and Rory Hyde's responses to the awards and the jury overview by Karl Fender.
Credits
Architect

WOHA
Singapore
Project Team

Wong Mun Summ, Richard Hassell, Sim Choon Heok, Ian Donlan, Chan Ee Mun, Alina Yeo, Esther Soh, Teh Tien Hwa, Burapa Prommul, Jose Nixon Sicat, Kwong Lay Lay, Christina Ong
Consultants

Builder Tiong Aik Construction Pte Ltd
Civil and structural consultant WorleyParsons
Cost consultant Rider Levett Bucknall Singapore
Electrical and mechanical consultant Lincolne Scott Ng
Fire consultant ArborCulture
Land surveyor Tang Tuck Kim Surveyor
Landscape consultant Cicada
Lighting consultant Lighting Planners Associates
Theatre technical consultant Theatreplan LLP
Traffic engineers Duffill Watts

Site Details

Site type Urban

Project Details

Status Built
Category Education, Public / commercial

Source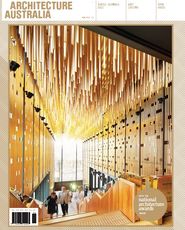 Issue
Architecture Australia, November 2011
Related topics