Sculpture by the Sea's founder David Handley smiles when asked about the relationship between artists, architects and designers, and the exhibition. "There's definitely an element of professional jostling. A lot of architects think of themselves as artists, and a number of artists appear to want to be architects," he says.
Each year from mid-October to early November, Sculpture by the Sea transforms the 2.5-kilometre Bondi to Tamarama coastal walk into an outdoor sculpture park enjoyed by half a million visitors. One of its sister events arrives on Cottesloe Beach in Perth each March, and another expands biennially to Aarhus in Denmark. Given the spectacular locations, it's not surprising that the event attracts a growing number of architects and designers keen to explore the possibilities of site-specific installations.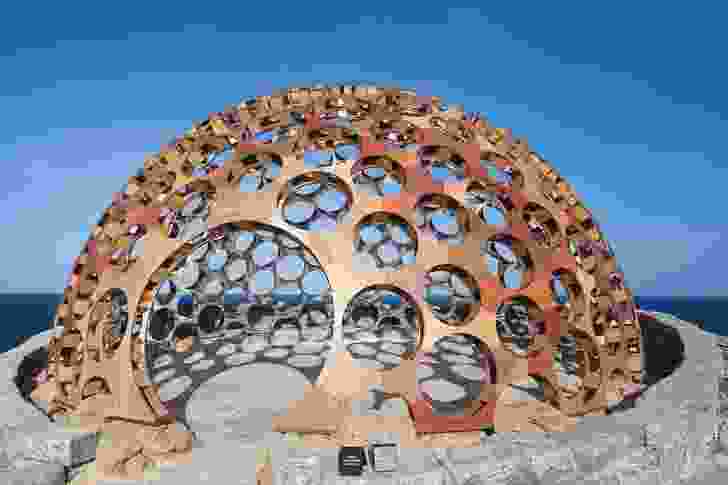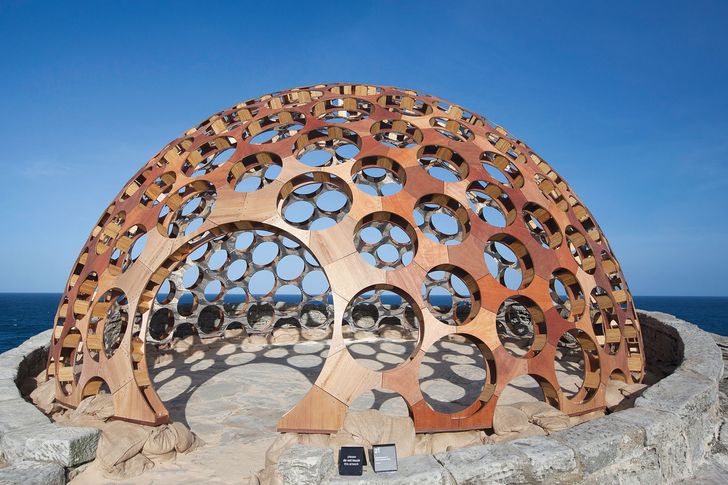 The 2012 program in Sydney featured a number of complex works. Rachel Cooper and Ivana Kuzmanovska's project, Mirador, explores the notion of double space. Standing within the Mirador, visitors to Sculpture by the Sea were afforded infinite perspectives of the surrounding beachscape and ever-changing skies. Rachel and Ivana are recent graduates of the Master of Architecture program at the University of Sydney, where they seeded their project in the digital lab. "We started with the idea of a heterotopia and wanted to create a space where you could be completely lost in the moment. So we took the idea of a mirror and multiple kaleidoscopic reflections and looked at the ways that could be captured in one modular structure," recalls Rachel.
Mirador's igloo-like form references Buckminster Fuller's geodesic domes and is technically a four-frequency truncated icosahedron constructed using flat panels of ply and slightly smaller mirrored perspex pieces that lock together with struts to form a double-skin perforated dome.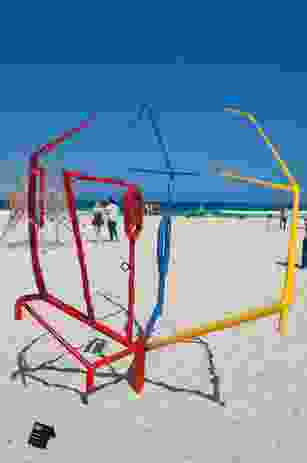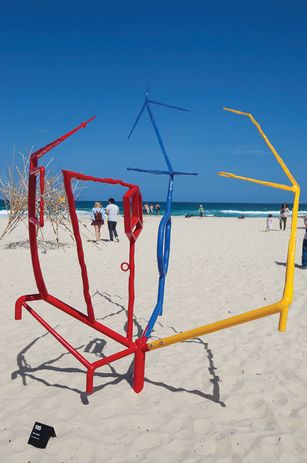 For artist Peter Zappa, a singular perspective is the key to unlocking his work The Change Room. Three steel limbs branch out from a single stem and it is only at a particular point that they align to outline a bathing box. Using primary colours, Peter plays on the perception that a simple sketch has come to life in 3-D form.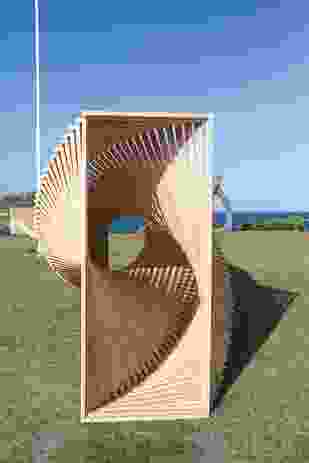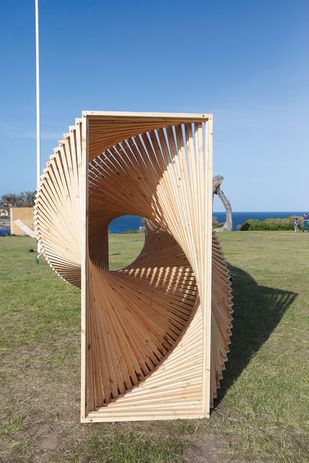 Norwegian artist Hilde Danielsen is interested in spatial art that creates surprising situations. Her goal in Upside Down Again was to take the simple doorframe and flip it 180 degrees over seven metres. By repeating the form and adjusting the angle of each frame, she has arrived at an elegantly torqued volume. "You never know what to expect when you enter a new door … You suddenly could be upside down and it could feel not quite right or it could end up being quite fun," she muses.
One of the joys of appreciating sculpture is admiring it from multiple angles as you move around it. What better challenge than to create installations that redouble this pleasure by simultaneously celebrating the intrinsic beauty of the outdoor setting.
Sculpture by the Sea – Cottesloe
8–24 March, 2013
Cottesloe Beach, Perth
Sculpture by the Sea – Aarhus
1–30 June, 2013
Aarhus, Denmark
Sculpture by the Sea – Bondi
24 October – 10 November, 2013
Bondi to Tamarama coastal walk, Sydney
Source
Issue
Houses, February 2013
Related topics