When an architect designs their own house they put their reputation on the line. It is their chance to show people what they can do if given free rein. Not necessarily free rein with budget, but free rein with ideas. Without the commercial limitation of their own fees, the architect can take the time to resolve and fine tune the design in a way that is not always possible when trying to balance fees earned with time spent.
For many architects this can be daunting. Half-finished architects' houses litter the suburbs. Stymied by inaction and the inability to commit, their dreams are thwarted by the fear that what they build for themselves just might not live up to expectations.
So it is always impressive when an architect not only completes their own house, but does it with a rigorous commitment to the initial idea.
Like many ideas-based house designs, Chris Elliott's was a long time coming. The site was purchased in 2001 and contained a modest single-storey cottage that was rented out for a number of years while design concepts percolated away within the studio. A development application was finally lodged in 2004 for a house for a family of four, but then the long and painful process of council approval, which unfortunately has become the norm in Sydney, began. Ill-informed interference from a councillor and a few noisy neighbours forced a number of unreasonable conditions to be imposed on the development approval, against the advice of the council's own planners. So it was off to the Land and Environment Court. More money and time was wasted before the Court agreed that the original application was sound and the offending conditions were removed.
However, the building process itself did not run smoothly, with the original builder going bankrupt part way through the construction. Now that the house is complete, there is no sign of any of these difficulties. The design has not been compromised and the workmanship appears seamless.
The site is a curious remnant sliver of land left when the Bronte Cutting was excavated to provide a gentle climb for the Bronte tram, which began service in 1911. It is a particularly narrow site, with a curved profile at one end that follows the cutting sweep. A view arc from the east to the south takes in unhindered views to the ocean and the white, sun-bleached forms of Waverley Cemetery. The house has become one of the visual markers and a talking point along the ever-busy Bondi to Coogee Coastal Walk, which passes directly in front.
The house sits on a sandstone plinth and is formed in brilliant white masonry. Large glazed openings to the narrow east and west elevations wrap partly around the ends. Privacy and sun control is left mainly to double layers of white curtains, one translucent, the other opaque. Along the long north and south elevations, carefully placed cuts and slits frame and control views, privacy and sunlight. These openings bulge out of the building's primary form, emphasizing the narrowness of the site.
While the site is relatively small, especially compared to the neighbouring sites, the house is ambitious in its scope and contains four bedrooms, three bathrooms, a powder room, two studies, a basement garage, an indoor plunge pool and generous living spaces, all spread over four levels.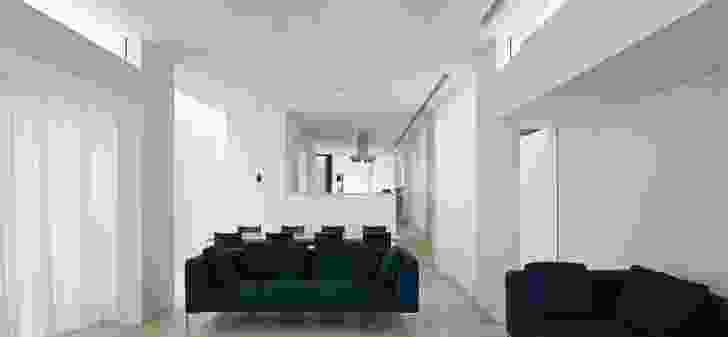 Internally, the house seems to have two very different personalities. The ground and first floors, which contain the living spaces and bedrooms respectively, are very rational and efficiently laid out for everyday living. Travertine tiles run through the ground floor and then switch to a recycled spotted gum floor for the bedrooms and smooth concrete in the bathrooms. Marble is used for kitchen benches and shop-sprayed polyurethane for cupboards and the like. Walls are white-painted render over concrete and masonry or soft curtains over glass. Apart from the timber and brass elements, the palette is very cool and light in colour.
In contrast, the attic and basement have a playful romance about them. The basement grotto, complete with wet-edge plunge pool and pond, is cut into the raw sandstone and has the moist echoey sounds of a cave. Shafts of direct and reflected light penetrate the depths through a north-facing void. It is also the only place where bright colours are applied.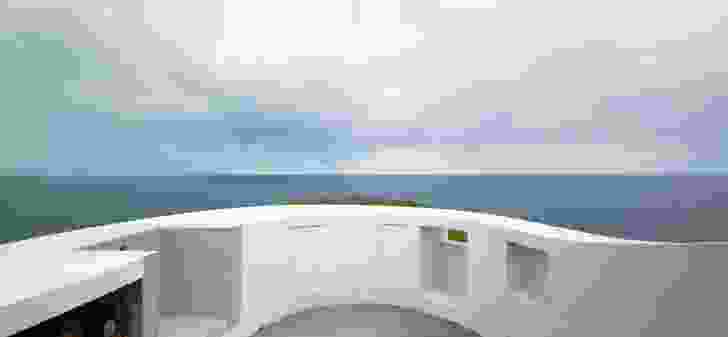 The study attic feels like the bridge of a ship, with its commanding position, timber and brass detailing, curving forms and window hatches. As in the cabin interior of a small sailing vessel, every niche of space has been carefully considered and utilized. The study opens to a small viewing deck focused towards the ocean views and sandstone cliffs. This space is accessed via a narrow stair that was inspired by the stairs in the Martello tower at Fort Denison in Sydney Harbour. The western end of the roofscape contains photovoltaic panels to generate electricity and a roof garden of pigface that is just starting to hang over the edges like it does on the natural rock shelf below.
Materials come alive in the bespoke detailing of the window and door joinery, where clear finished hardwood frames and natural brass fittings are carefully and beautifully realized.
There are a lot of ideas packed into this house. Probably enough ideas to satisfy several houses, but architects' houses can be like that. The excitement of being able to design unconstrained means that the house becomes a laboratory for experimentation, testing ideas that will be refined in houses still to be designed.
Products and materials
Roofing

Green (planted) roof on concrete slab; Origin Energy solar panels.
External walls

Cement render in Dulux 'White Base'; Hardman Joinery timber screen with Orgonoil finish; Carl Velarius sandstone, saw-cut and hand-hewn; carved sandstone bedrock.
Internal walls

Set plaster in Dulux 'Berkshire White', 'Flamingo Pink', 'Orange Bowl', 'Vera Cruz' and 'Flooded Gum' and Resene 'Chi'; Andrea Borelli Stucco Veneziano plaster in custom colour, waxed finish.
Windows and doors

Bruce Baker and Co. brass and blackbutt, natural and in Orgonoil finish; Simple Studio Creation Baumann Sinfonia, Umbra and Elliott Clarke Brussels Lipstick curtains; Silent Glass roller blinds; Artarmon Joinery Western red cedar basement doors; cedar and tallowwood roof terrace window and door assembly by Hardman Joinery.
Flooring

Onsite Simona travertine; Australian Architectural Hardwoods recycled spotted gum; polished concrete.
Lighting

Tobias Grau pendants; United Electrical Lighting recessed halogen downlights and LED lights; The Lighting Group recessed LED downlights and floor uplights; Luce and Light lamp.
Kitchen

Miele oven and rangehood; Siemens induction cooktop; Bosch dishwasher; Liebherr fridge; Panasonic microwave; Franke sinks; KWC Eve sink mixer; European Marble and Granite International Crema Marfil marble benchtops, honed and sealed; Corian benchtop (pantry); Refalo Joinery joinery in 'Berkshire White' satin finish; recycled spotted gum.
Bathroom

Kaldewei Bliss Duo Oval bath from Rogerseller; custom-designed Corian basin; Stark 111 toilets from Candana; Refalo Joinery custom-designed vanity and joinery with stringybark veneer; Rogerseller Logic tapware, showerhead and Luna Hob Swivel bath spout; Artizen accessories; Sicis Glimmer mosaic tiles in 'Watermelon' (ensuite), 'Sky Blue' (powder room) and 'Melon' (basement bathroom); Bisazza Verticolour blue mosaic tiles (second bathroom); Andrea Borelli Stucco Veneziano plaster walls; polished concrete floor.
Heating and cooling

Rotex under-floor heating.
External elements

Onsite Simona travertine; Australian Architectural Hardwoods recycled ironbark decking; tallowwood decking; Architectural Metal Consultancy and Fabrication brass gate.
Other

Zanotta dining chairs, side tables and bean bags; Bedont stools; Lowe Marley American oak table; B&B Italia Metropolitan armchair, and Charles, Charles Large and Jean sofas; Futura Scenik sofa bed.
Source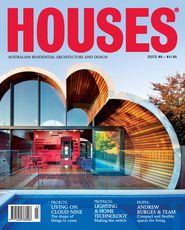 Related topics