Seal Rocks is a small coastal settlement on the mid north coast of New South Wales, where a nineteenth-century lighthouse stands watch over the vast Pacific Ocean and the few other elements of the village: two streets, a shop and a caravan park. There's only one winding way in, and between the scores of potholes you'll find quite a bit of road graffiti. Among the peace signs and love hearts fading on the bitumen you can also make out "The Last Frontier" and "Save Seal Rocks." These symbols and slogans leave you with no doubt that you are about to enter a world that the local community has fought hard to protect.
Needless to say it's an unpretentious place, with a humble streetscape that backs onto scrubby subtropical jungle. The owners of this project have a long association with the area, having holidayed at Seal Rocks since the 1960s and having been involved with a decades-long campaign to restrict development. After forty years their original fibro holiday home was succumbing to the vagaries of time and the coastal climate. The layout was also being tested by the now three generations using the house.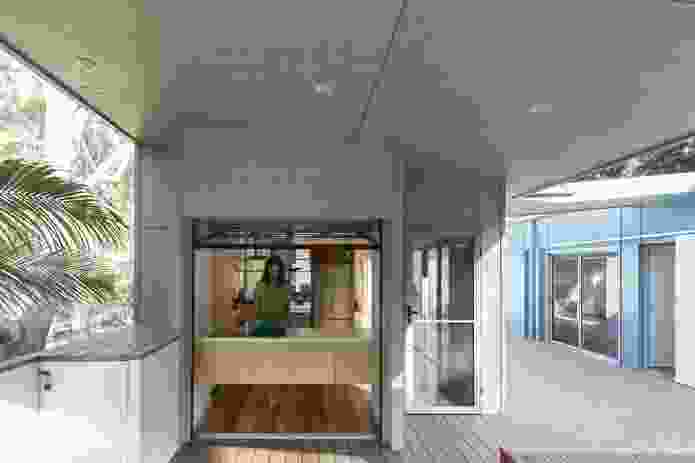 However, the owners didn't want to move too far from the kind of place that had served them well for so many years. When they saw Nathan Judd's own south coast weekender at Broulee featured in a Sydney newspaper, they immediately understood what the architect was trying to create – an updated version of the beach shack.
Nathan, a surfer, has had ample time to observe the antipodean response to leisure living and how this simple architectural typology continues to hit a nerve with many Australians. He's formed an opinion that the newer generations of coastal homes can often be too open and exposed, hindering the essential summer holiday activity of coming together. For Nathan, the building is the stage set for the holiday, not the main event, and it was the opportunities for interaction created in the Broulee Shack project that the clients asked him to re-create at Seal Rocks.
"They wanted a stripped-back coast house, somewhere you can tread sand in, chop fish up on the bench, a non-precious place," says Nathan. "They didn't see it as a status project but rather a very flexible and humanist space … In order to bring everyone together, it almost needs to be a little bit smaller than it should be, to make that happen."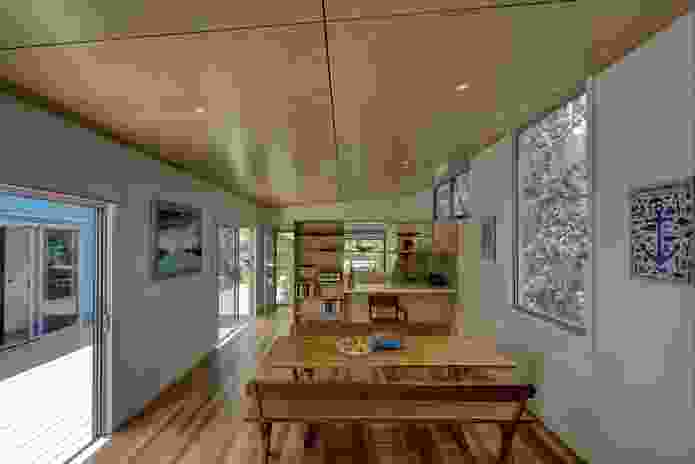 Set on a sloping site, the Seal Rocks project demanded a different arrangement of spaces from the Broulee Shack, but both projects employ a basic plan of a sleeping pavilion and a living pavilion linked by an open-air, communal, interstitial space. This elevated linear courtyard allows light and warmth to enter the living pavilion, particularly in the morning. It also provides a space that is open and engaged with the environment but private nonetheless.
With no access to town water or sewers, the site had to further accommodate a large rainwater tank and septic system. Following a thorough review of options, Nathan elected to strip the existing fibro building back to its joists, bearers and brick plinths, re-using the undercroft garage as the base for the living pavilion. In keeping with the overarching philosophy of the project, materials and construction were basic. A timber frame structure is clad with fibre cement panels finished with a clear sealer. Internally, ply joinery in the living pavilion and polished concrete floors in the sleeping pavilion complete this no-fuss picture of holiday living.
Nathan's restrained and respectful homage to the beach shack has one flight of fancy in its use of colour, a device the practice regularly uses. Looking back through old Reg Mombassa prints and books on 60s surf culture – a decade unafraid of colour – Nathan arrived at the aqua blue exterior feature wall as a way to counter the simplicity of the buildings. The effect is an exuberant arrival moment that instantly lifts the spirits.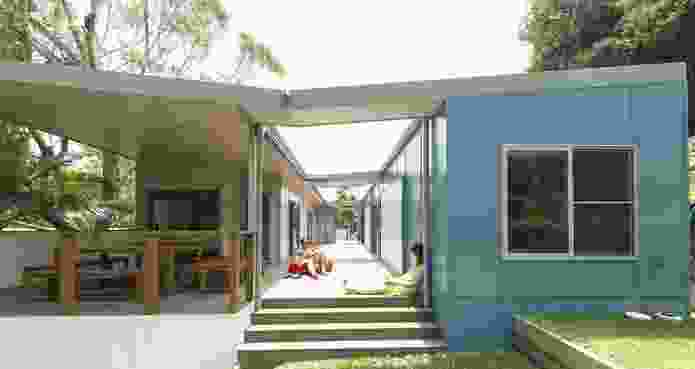 "I think when you go on holiday you can cope with something that you might find a bit too much in the everyday," says Nathan. "It's one of those times when you are happy to be exposed to things that you wouldn't be happy with in the city, like bright colours, getting sunburnt, getting rained on, getting wet. All those things that we try to avoid in our everyday lives, we end up craving on holidays in that really elemental connection."
This deep reflection by the architect on exactly what the owners hold dear about their annual beach escape has contributed significantly to the project's success. Nathan's personal response to the clients' brief should be further commended for being so sympathetic to the area and its tradition of uncomplicated coastal homes. It may be a mere shack to some, but for the family that regroups here each summer it's already a cherished heirloom.
Products and materials
Roofing

Bluescope Custom Orb in Colorbond 'Surfmist'; Bluescope Lysaght Half Round gutter and flashing in Colorbond 'Ironstone'.
External walls

James Hardie fibre cement in Wattyl Solagard finish or clear sealed with Duram Azcoseal; existing brick painted in Dulux Render Effects finish.
Internal walls

Boral plasterboard in Dulux Wash & Wear Advanced.
Windows

Trend Xtreme windows in Anodic Natural Matt finish.
Doors

Trend Xtreme doors in Anodic Natural Matt finish; Monarch Doors Sovereign Residential doors in Anodic Natural Matt finish; Brio roller system with painted aluminium frame.
Flooring

Boral mixed hardwood flooring in polyurethane finish; concrete with Berger Jet Dry AquaTread finish; ModWood decking.
Lighting

SAL Sunny Lighting LED downlight kit.
Kitchen

Everhard sink; Fisher and Paykel oven, dishwasher, cooktop and exhaust; Caroma mixer; Laminex Lamiwood.
Bathroom

Caroma Acqua basin and shower mixers; Abey showerhead and shower dropper; Argent Isis back-to-wall toilet; R.A.K. Bathware Lily under-counter basin.
Heating and cooling

Cheminees Chazelles CDF 800 R fire box.
Credits
Architect

Nathan Gibson Judd Architect
NSW, Australia
Project Team

Nathan G. Judd, Michael Draper, Shai Lambert
Consultants

Builder Sugar Creek Building
Engineer Murtagh Bond Structures Buro
Joinery Bulmer and Lemaire

Site details

Site area 508 m2
Building area 137 m2
Category Residential buildings
Type Houses, Residential

Project Details

Status Built
Design, documentation 6 months
Construction 9 months

Source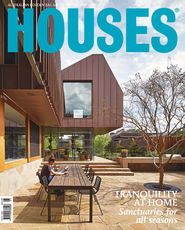 Issue
Houses, February 2015
Related topics