Sean Godsell Architects' MPavilion awarded first place in 2016 Detail Prize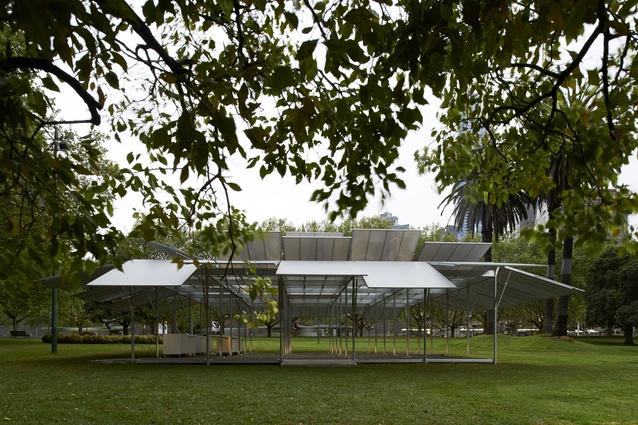 Sean Godsell Architects has won first place in the 2016 Detail Prize for the design of the inaugural MPavilion in Melbourne.
Germany-based Detail Magazine awards the Detail Prize every two years in cooperation with architecture trade fair BAU.
The Detail Prize aims to highlight opportunities, challenges and potentials for the construction industry, in particular architecture. The award seeks to strengthen architecture in public debate, strengthen the role of architects in public, and strengthen networking among architects, industrialists, developers and politicians. 
The prize is awarded to future-oriented, innovative and pioneering projects from different disciplines that have outstanding architectural and technical qualities. This year's competition received 337 submissions from 42 countries.
Second place was awarded to Brandlhuber and Emde, Burlon / Riegler Riewe Architekten for St Agnes in Germany and third place went to Morger Partner Architekten for Hilti Art Foundation / Huber Uhren Schmuck in Liechenstein.
For the first time, two Detail structure prizes were awarded. Knight Architects received an award for Merchant Square Footbridge in the United Kingdom, while Florian Busch Architects received a prize for the building K8 in Japan. 
The 2016 jury included Peter Ippolito (Ippolito Fleitz Group), Gilles Retsin (Gilles Retsin Architecture), Mike Schlaich (Schlaich Bergermann Partner), Enrique Sobejano (Nieto Sobejano Arquitectos) and Daniel Lischer (ALP – Architektur Lischer Partner AG).
The main Detail Prize comes with prize money of €3,000 (AU$4,400), while the Detail inside and Detail structure prizes receive €1000 (AU$1,470). 
Voting for the Detail Readers' prize is currently open and allows the public to vote for their favourite project from 13 entries chosen by the jury. Voting is open from 1 September to 14 October 2016. To view the projects and vote visit the Detail website.  
All prize winners will publicly present their projects and exhibit selected works from their offices at the Detail Symposium on 11 November 2016 at the Magazin der Heeresbäckerei in Berlin, Germany.
The prize-winning projects will be presented at an exhibition during BAU 2017 in Munich, Germany, from 16–21 January 2017.