The Vatican City has opened its first ever exhibition in the Venice Architecture Biennale.
Consisting of 10 chapels and a pavilion, which collectively form the Pavilion of the Holy See, the exhibition is described as a "spiritual pilgrimage," and celebrates the chapel "as a place of orientation, encounter, mediation and salutation."
The chapels are located in a wooded garden on the island of San Giorgio Maggiore, a short boat ride away from Piazza San Marco.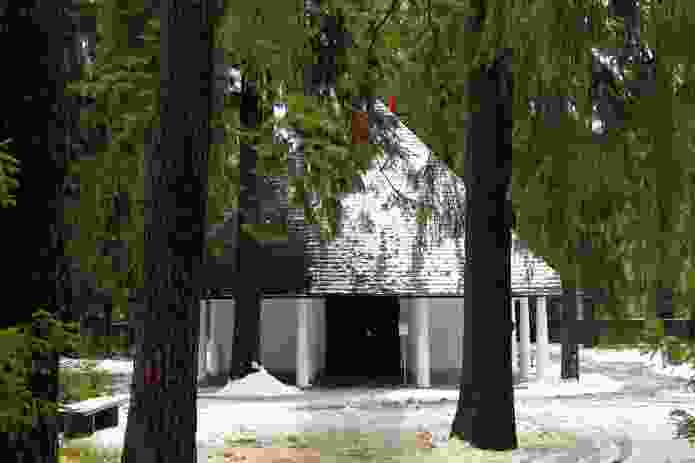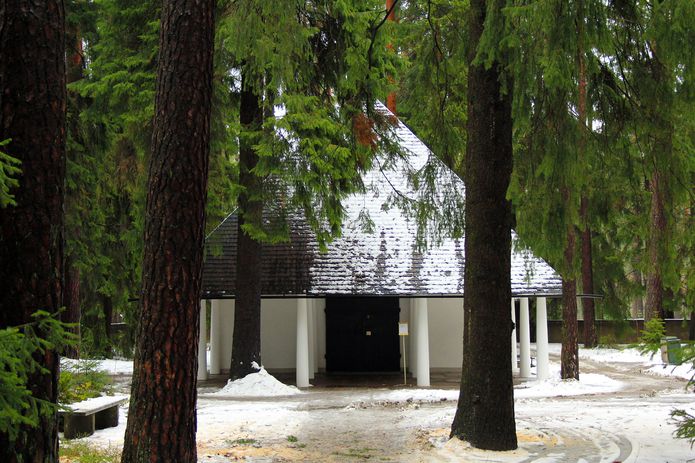 The exhibition, curated by professor Francesco Dal Co, is inspired by the Erik Gunnar Asplund-designed Woodland Chapel in Stockholm's World Heritage-listed Woodland Cemetery, itself designed by Asplund and Sigurd Lewerentz in 1920.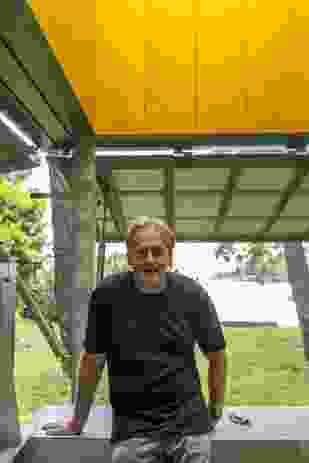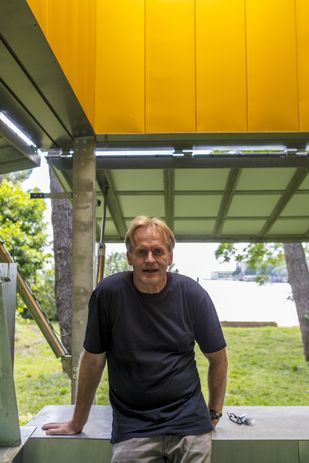 Sean Godsell Architects was one of 10 practices from around the world invited to design a chapel.
The Vatican said it chose architects who were "capable of applying different expressive languages, all strong characters from the standpoint of constructive experimentation."
The architects were given free rein to design a chapel without reference to the Catholic canon, with the only caveat that each chapel had to include an altar and a lectern.
Sean Godsell Architects' chapel is made from a steel-framed structure, constructed using four portals. The tall, rectilinear chapel, formed around a square plan and based on the dimensions of a shipping container, includes openings on each side, which tilt vertically like an awning. A metal-clad altar is contained within and the pews, which are made from recycled Venetian mooring poles, are placed in the nearby landscape.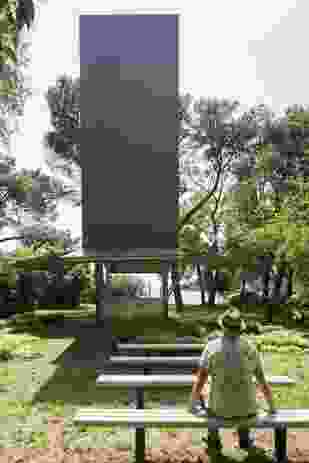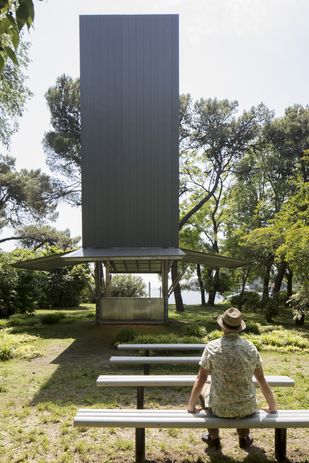 The structure was constructed off site and has been designed to be able to be assembled in a variety of settings and conditions, making it transportable and relocatable.
"I was educated by the Jesuits whose apostolic ministry was an integral part of my childhood," said Sean Godsell. "Jesuit missionaries brought not only the word of God, but also education, research and culture wherever they ventured and their existence instilled in me a sense of the church as a resilient, dynamic entity capable of surviving thousands of kilometers away from Rome. My design extends that idea to make a relocatable chapel that can be transported, erected, re-packed and transported and re-erected wherever the need exists."
Other chapels in the Pavilion of the Holy See are designed by Andrew Berman (USA), Carla Juaçaba (Brazil), Eduardo Souto de Moura (Portugal), Eva Prats and Ricardo Flores (Spain), Francesco Cellini (Italy), Javier Corvalán (Paraguay), Norman Foster (United Kingdom), Smiljan Radic (Chile), and Terunobu Fujimori (Japan).
In addition, Francesco Magnani and Traudy Pelzel designed an 11th structure, the Asplund Pavilion, which houses an exhibition of Asplund's drawings of the Woodland Chapel.
The Vatican is among six first-time national participants in the biennale. The other five are Antigua and Barbuda, Guatemala, Lebanon, Pakistan and Saudi Arabia.
The 2018 Venice Architecture Biennale will be open from 26 May to 25 November.
Read ArchitectureAU's coverage of the Australian pavilion, Australia's participants in the main exhibition and Australian projects in the European Culture Centre's satellite exhibition.
Related topics