One of the most ambitious schemes currently underway in the heart of Adelaide's CBD is the redevelopment of Adelaide Casino. The project is a proposed $300 million upgrade that forms part of the Greater Riverbank Precinct revitalization plan. Significant for its location, Adelaide Casino occupies three levels of the heritage-listed 1920s Adelaide Railway Station building on North Terrace, one of the city's most prominent architectural gems. With the expansion of its footprint, renovation of its gaming rooms and the recent addition of new high-end restaurants, the entertainment complex is further reinvigorating the city's West End. Unsurprisingly, it's where celebrity chef Sean Connolly chose to open his latest restaurant, Sean's Kitchen.
Connolly approached long-time collaborator Jeremy Bull to design the interior of this ground-floor New York-style brasserie, and the Sydney-based founder and principal of architecture and interior design studio Alexander & Co jumped at the opportunity.
"I remember walking into the space for the first time and looking up at this ten-metre-high vaulted ceiling that's almost one hundred years old and thinking, 'this is pretty cool,'" Bull says. "As a designer you don't often get to work with these types of spaces."
Having worked previously with Connolly on The Morrison Bar and Oyster Room in Sydney's George Street, Bull knew to distil the chef's ambitions for a high-end eatery into an uncomplicated and elegant dining experience. It helped that Bull was also given a generous budget with which to undertake the Adelaide project and a clear-cut brief that reflected Connolly's straightforward approach to food. The design concept aims to provide an experience akin to a walk down a Manhattan street, offering different concessions as part of that journey. "It tells the tale of moving through a city – the nostalgic idea of it – and I wanted to deliver on that suggestion in a way that was finely detailed and highly resolved," Bull says.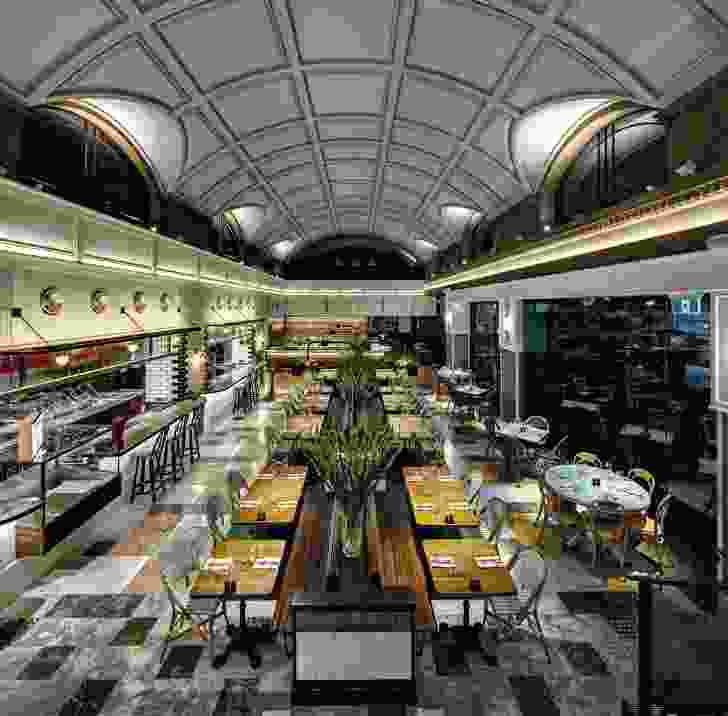 In the Market Place dining area, the design team deliberately kept all elements of visual interest, including the brass "streetlights," at a human scale to reiterate the original design concept. But while the existing vaulted ceiling has long defined the space, Bull decided to downplay it rather than draw more attention to it. "What we inherited was so ornate in terms of the paint detailing that it told its own story. What I did was give it a straight grey finish to knock it back," he says. "I didn't want to undo it, but I wanted the space to tell its own story – this is a Manhattan streetscape after all and we didn't want it to be all about the sky."
The narrow 330-square-metre restaurant is informally divided into zones that logically unfold from the bar area, called the Trader's Bar. Situated near the northern entry, the bar features brass fittings and has an ambience reminiscent of a gentlemen's club. Alexander & Co has given the entry sequence an added design flourish through the use of imported yellow marble on the floor, meticulously cut and laid in a repeated fan-shaped motif. "I'd come across some really beautiful civic stone patterning in my research, so I was keen to experiment. It was a chance to explore something fantastic as well as do something a little flamboyant," Bull says. The yellow marble is carried through to the dining area and although it references a civic typology, alongside the grey and white marble it becomes decidedly luxurious.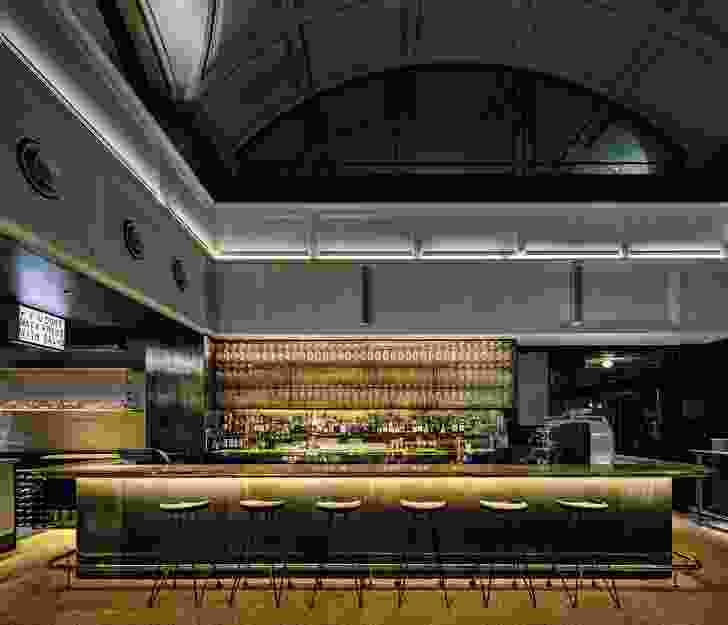 Alexander & Co cleverly juxtaposes this polished surface with recycled hardwood inlays installed on an angle beneath the centrally aligned custom-made "park benches" in the main dining area. While this mixed flooring serves to highlight the robust yet refined material palette, it also acts as a discreet wayfinding device that allows diners to contextualize the space depending on where they are standing. Rather fittingly, the predominantly white charcuterie at the southern end of the restaurant features white and black patterned mosaic floor tiles and a custom-made butcher's table. This colour scheme is echoed in the open kitchen's glazed brick (an unashamed reference to the New York City subway), providing a stark contrast to the interior's otherwise warm, golden tones.
The generous volume lends the restaurant a light, airy appeal that is reinforced in the wide circulation path around the central block of park benches. However, what is not evident from the restaurant's entry or eastern elevation is the mezzanine. "The upstairs Distillery bar serves a distinctly different purpose," Bull says. "I had to create an identity that separates it from the ground level." The intimate, smoky-coloured 200-square-metre space is broodingly dark, characterized by a charcoal finish on the low-height ceiling, solid walnut bar tops and a custom double-sided leather banquette. But while the mezzanine is hidden from view from the ground floor, the arched windows that overlook the restaurant connect it to diners. In doing so, Alexander & Co has orchestrated an elegantly refined scheme that oscillates between light and dark, maintaining a sense of cohesion through fine detailing and rich materiality.
Products and materials
Walls and ceilings

Internal walls of Market Place dining area are timber painted in Dulux 'Natural White.' Glazed bricks are 'Caviar' and 'Parchment' from Euroa Clay Products. Internal walls of Distillery bar painted Porters Paints Fresco 'Andromeda.' Timber cladding in 'Burnt Red' from Cedar Sales.
Doors

Domino Brass door handles.
Flooring

Fan-shaped mosaic tiles made from honed travertine from Academy Tiles. Algonquin Pattern black-and-white tiles from Olde English Tiles. Stone from MTP Marble Granite and Sandstone. Venture Plank timber flooring in 'Madrid' from Havwoods. Ebony wool carpet from Brintons.
Lighting

Chelsea outdoor wall light in bronze and Pillar Light with glass rod, both from Dunlin Homewares. Luna light from School House Electric.
Furniture

Eileen Gray Chair in 'Tan' from Anibou. No. 14 chair from Thonet. Bastille chair and Deco bar stool from Lincoln Brooks. W chair and timber table from Evostyle.
Credits
Design practice

Alexander and Co
Sydney, NSW, Australia
Project Team

Jeremy Bull, Anna Trefely, Agnes Roca, Rouda Taouk, Bianca Isgro
Consultants

AV consultant IPP Consulting
Builder Schiavello
Graphic design Gemma Warriner
Heritage consultant Dash Architects
Hydraulic engineer AECOM
Kitchen consultant MTD Group
Lighting Point of View
Mechanical, electrical and fire engineer AECOM
Project manager Jinton
Security IPP Consulting
Structural engineer Leo Noicos

Site Details

Location Adelaide, SA, Australia

Project Details

Status Built
Design, documentation 5 months
Construction 6 months
Category Interiors
Type Restaurants

Source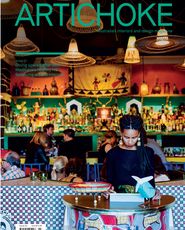 Issue
Artichoke, September 2015
Related topics