A conversation on research in architectural practice begins by making the word "research" more approachable. Research is a purposeful and intentional state of mind. It is the daily action of "searching and searching again," and thus has the very real chance of manifesting as a bold design philosophy and a foundation for design practice and culture. An architectural practice considering the creation of a research process, group or program must first determine how far they are willing to go to promote this culture. Is a practice willing to invest in research by reinvesting its profit to fund the exploration of hunches? Can it support the precept that failure teaches and shapes our work, especially when structured inquiry sometimes yields unexpected, disappointing and inactionable results? Will a practice cultivate research projects that are proactively instigated by its strategic aspirations rather than by a paying client? Will it impart to its staff the agency to ask questions and provide the resources necessary, such as materials, tools, research partners and leadership, to answer them? Will an architectural practice share the products of its research externally when it recognizes that a perceived competitive edge is eclipsed by the greater need for transformation in the profession? A practice will need to rigorously debate answers to these questions. Dare to answer "yes" to each one, simply for the sake of proceeding to the next step. Imagine how you will implement these decisions. Consider your practice's portfolio, design philosophy, organization and interests, and conspire to nourish research culture as an expression of your mission.
Thirty-plus years of building research culture at Kieran Timberlake have transformed the question "How can we afford to research?" into the retort "How can we afford not to research!" We've answered "yes" to each of these essential questions and have affirmed design research through planning, implementing, testing and maturing a platform accessible to each member of our firm that allows us to rigorously search and search again. The critical developmental milestones are numerous and include: our commitment to return profit to our practice to support proactive research (2003); the declaration of an ISO-certified design research process that is audited annually (2005); the decision to hire a dedicated, transdisciplinary research group (2008); the codification of a research query process for data collection, analysis, modelling and simulation, physical prototyping and original experiments (2011); the strategic growth of the research group to 10 percent of our overall staff (2012); the first successful public release of an internally developed architectural tool for use by the profession (2013); the further articulation of a design computation platform as a companion to our more established research platform (2015); and, most recently, the formalizing of a collective intelligence model in which every architectural project begins with a complementary team of architecture, research and communications staff (2016). We are not finished or aiming for stasis. We've learned that our design practice is thirty years in the making and still forming. It requires thoughtful reflection in order to learn from what we do.
And what exactly do we do? Quite simply, we ask and answer questions. And we expect questions to beget actions, actions to beget findings and findings to support design. For instance, the simple, direct question "What's going on up there?" led to the creation of a novel green roof survey method. Implementation of this method on five previously completed green roof projects provided actionable insight into the time-based dynamics of vegetation and challenged our internal discussion about green roof design, composition and performance on other projects. We've completed hundreds of queries in all phases of design, which loosely fall into the categories of processes, systems, materials and environment. Many queries are shared with our clients and consultants to support decision-making. Some are short-term studies, some are long-term projects that require peer review, and some address future opportunities, technologies and workflows.
The green roof example also illustrates a potential source of research opportunities: they can originate from a completed, inhabited project and they can originate from a hunch about the character of phenomena. Research opportunities also originate within the design process itself and often require the design of process. Research opportunities originate with our internal commitment to take on grand challenges. Research opportunities originate with our clients and their ambition for transformative architecture. We have never suffered a shortage of research opportunities. Once an opportunity is identified and a question articulated, the challenge remains to mature accessible techniques and methods and instantiate these as research habits. Our transdisciplinary research approach is supported by methods associated with environmental science, urban ecology, physics and computation, which are often paired with design methods, including drawing, modelling and prototyping.
Research, or searching and searching again, is integral to the art of making architecture. It is not, however, a cure-all or an item on a menu of provided services. Research is a project that requires dedicated time, people, champions and quality assurance. It requires a practice to internally debate which questions genuinely express its design philosophy and are worthy of its resources. In our experience, the successful implementation of a research process, group or program can foster a firm-wide culture of experimentation, where people are empowered to leverage their curiosity, make, fail, mature feedback loops and create knowledge in service of design. And what is the outcome? Research in practice achieves an essential, paramount objective: it increases an architect's design agency and the overall ambition and value of architecture.
— Billie Faircloth is a partner at Kieran Timberlake, where she leads the firm's research group. She has taught at the University of Texas at Austin School of Architecture and at Harvard University.
As a partner at US practice Kieran Timberlake, Billie Faircloth leads the firm's research group, a dedicated team of individuals leveraging methods from diverse fields such as environmental management, urban ecology, chemical physics, computer science, materials science, architecture and sculpture. Here she reflects on the firm's commitment to shaping and supporting research culture in everyday architectural practice.
Source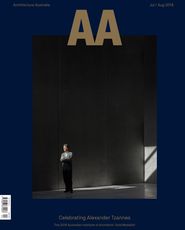 Discussion
Published online: 14 Mar 2019
Words: Billie Faircloth
Images: Kieran Timberlake
Issue
Architecture Australia, July 2018