Located in an extremely hot climate and in an area of increasing development pressure, Seaspray at Zilzie is a masterful response to a specific locale and program while also positing an adaptable, broadly applicable multi-residential model.
The planning maximizes shared natural landscape by compacting the building to a sinuous edge mirroring the course of the natural creek. The building seems so right it is almost visually absorbed into its place – low slung and modest, the colours natural and shadowy, settling into the vegetation and land forms. While the building politely defers to its neighbours, it has strong individual architectural character and offers real comfort and delight.
Architectural joy is extracted from a modest budget through the application of crafted detail to create the most human enjoyment. Good judgments have been made about resource expenditure, such as prioritizing social space over expensive car accommodation.
In this very hot and dry climate, the narrow townhouses planned tightly on a four-metre-wide grid offer great amenity. Porous ends north-east and south-west offer protected external living zones at both upper and lower levels. A soaring central atrium provides architectural interest and cooling natural cross-ventilation on even the hottest of summer days. Upper-level bedrooms, some of which in these long narrow plans would be internal, open like mezzanines onto the atrium court. The clever spatial configuration encourages flexibility and could allow work from home or residential/commercial opportunities.
The Seaspray apartments are highly successful and popular, have increased the understanding of and desire for the benefits of good architecture, and offer a model for tight, economical and ecologically responsible housing development.
– Jury citation
Credits
Project Team

Brian Donovan, Timothy Hill, Paul Jones, Michael Hogg, James Davidson, Ron Van Sluys, Robert Myszkowski, Jonathan Goh, Phillip Hindmarsh, Jodie Cummins, Peter Harding, Briohny McKauge, Kim Baber, Sandy Cavill, Martin Arroyo,
Architect

Donovan Hill
Australia
Consultants

Builder Hutchinson Builders Brisbane
Certifier McCarthy Consulting Group
Civil consultant Graham Marsh Pty Ltd
Electrical consultant Basset
Hydraulic consultant Steve Paul and Partners Brisbane
Landscape consultant Edaw
Mechanical consultant Coolit
Structural consultant Mills Engineers

Site Details

Location Cocoanut Point Drive, Zilzie, Qld, Australia

Project Details

Status Built
Website http://www.seaspray.com.au/
Category Hospitality, Public / commercial

Source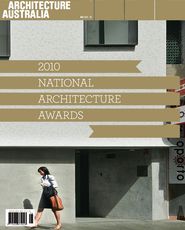 Issue
Architecture Australia, November 2010
Related topics