Designed by Brahman Perera with Jason M. Jones, Second Home is an elegant and serene cafe located in an Alistair Knox-designed warehouse in Melbourne's leafy outer suburbs.
For his eleventh hospitality offering, Melbourne restaurateur Jason M. Jones envisioned a cafe as relaxing as the most welcoming of residences. The aptly named Second Home is an unassuming pocket of calm activity situated in Melbourne's leafy north-eastern suburb of Eltham. It was a labour of love for Jones and his partner Brahman Perera, also the project's interior designer, who worked together on the design process to realize their concept for a laidback dining experience.
The interior's striking lack of pretension reflects the couple's personal taste and styling, but is also due in large part to the restrained architecture. Set back from the road, the brown brick building was designed by self-taught architect Alistair Knox as a light bulb factory in the early 1970s. Since that time, the generous 280-square-metre space has undergone a number of renovations, some of which compromised the integrity of the original design and its uncomplicated elegance.
"You couldn't get a feel for the architecture; it was very disjointed and closed," says Perera. "So we stripped it all back and took everything out that wasn't meant to be there." Opening up the space celebrates the original structure, revealing a double-height central volume and surrounding skylight windows. This respectful gesture works in the interior's favour and allows uninterrupted light penetration throughout the dining area. While most of the brickwork was plastered to further lighten the space, exposing the molasses-coloured timber beams and columns and polished concrete floor reinstated the interior's authentic warehouse aesthetic.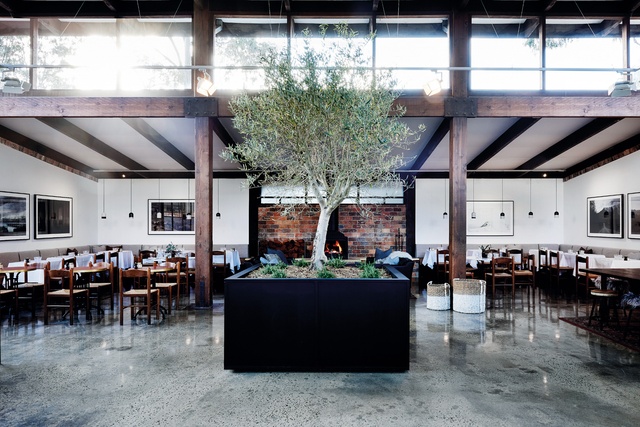 The result is appealingly bright and airy, rather than cold and cavernous, with a sense of intimacy injected into the front of house via thoughtful zoning. These subtly distinct nooks translate as lounge, sunroom, formal banquette area and communal dining space and are delightfully cosy in their arrangement. Perera has configured them symmetrically, maintaining an effectively discreet cohesion and synergy between built form and furniture.
Large statement objects and additions are used to break up the interior and moderate the potentially problematic issue of scale. "We wanted to have these monolithic pieces growing out of the ground," Perera explains. "But they still had to look intentionally new so it was possible to clearly see the distinction between architecture and insertion." The centrally placed olive tree and planter box cleverly diffuses the circulation path once in the sunroom, while steel-framed glass doors open out onto a courtyard and the custom shelving units-cum-waiters' stations (made from reclaimed scaff-olding) serve to elegantly divide the dining room from the entry.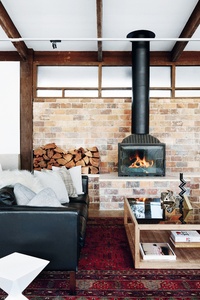 Situated in close proximity to the restored entrance, the bar and counter anchor the service area and frame the open kitchen, making the back of house a theatrical focal point in the overall scheme. Perera's keen attention to detail is especially evident in his choice of high-end finishes, including speckled grey terrazzo and over-sized floating white light fittings. But while this area is visually dynamic, it is foremost functional and enables a high level of efficient, practical operations. "This is a cafe after all," he says. "It has to function properly and we want people to see that."
The scheme incorporates twenty-five-year-old chairs sourced online from a restaurant in Adelaide, the couple's coffee table from their own home and a Jonathan Adler travertine-based lamp they bought and carted around as hand luggage on a recent trip to the US. These personal pieces sit comfortably alongside custom linen and leather banquettes and hand-finished brass-rimmed dining tables. It is an eclectic collection of furniture that captures both Perera and Jones' personalities.
Breezy simplicity and whimsy prevail in a fitout that is refined, yet never overworked. By honouring the building's original structure, Perera has used the architecture as a platform upon which to apply his subtle insertions and light touch. If the objective was to create a sense of home-away-from-home then the interior design achieves this in bucketloads, making for a warm experience.