Sustainability is a word we hear a lot in design and it is interesting to consider how one sustains a workplace relationship with their business partner, especially when it is just the two of you. At Artichoke Night School session sixteen, held in Sydney on 22 October 2014, Stuart Krelle and Rachel Luchetti of architecture and interior design firm Luchetti Krelle, and Patricia Bondin and Antonia Pesenti of boutique design studio Make Creative, divulged the ins-and-outs of sustaining a creative collaboration; but is it always a matter of agreeing to disagree?
The discussion started with the topic of personality types, and Krelle led the conversation into managing differences in personality, which he says is positive for collaboration. "If one person is moody, the other brings them back up. But every day we check our ego at the door and approach our work relationship like a real relationship – we work on it."
Luchetti emphasized the importance of trust in such a partnership. "The main thing … is that we have built trust for each other and the ability to let someone fight for what they want. There is compromise, and it is very organic in its working and even as time has gone on, our roles continue to change and how we collaborate has changed," she says.
Understanding your business partner's strengths, as well as your own, was a recurring theme in the discussion. "There are certain things that Patricia is really great at, like when we are on site she is happy to go into battle with a builder, whereas I take a back seat. We each let the other take the stage when we know they are going to do a better job," says Pesenti.
Well known for their hospitality interiors, Luchetti and Krelle presented some of their projects and shared their design ethos, formed through working together for seven years. "It really is like a marriage and you really go through a lot together," says Luchetti. The first project they completed as a duo, and one that they believe highlights the true essence of their collaboration, is Sydney restaurant Saké. "We really laboured this one. We worked seven days a week and all nights, everything was custom made. Saké really set the tone for our approach to design … you will notice that we never really have a particular style or brand. Instead we focus on approaching each client and brief with completely different ideas and we do not repeat details or use the same furniture twice if we can avoid it."
Negotiating who leads a project might seem like a balancing act, but both design duos agreed that this process happens naturally. Bondin explained that the way she and Pesenti negotiate projects is very organic. "In the past we have found that over-collabo rating design-wise does not produce the strongest results. Our studio receives a diverse range of project briefs and not all of them are suited to both of us – so naturally one person takes the lead."
So, is "two" the magic number?" The session ended with an audience member asking if the duos had ever considered becoming trios. And the studios agreed to disagree. Luchetti and Krelle believe they have the potential to open the collaboration up to their studio director, while Pesenti and Bondin are comfort able as a duo.
The Artichoke Night School series is presented by Artichoke magazine in partnership with Space Furniture. Night School session sixteen was held at Space's Sydney showroom.
Source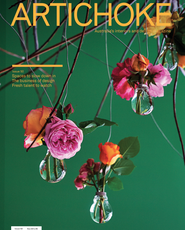 Issue
Artichoke, March 2015
Related topics