Seidler's only Melbourne tower earns heritage gong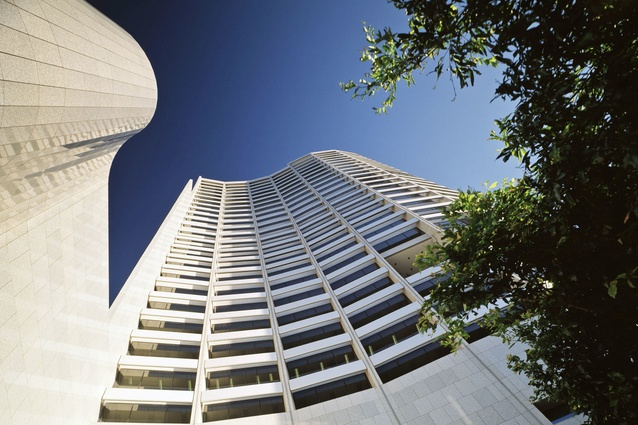 A Harry Seidler-designed office tower at 1 Spring Street in Melbourne, formerly known as Shell House, has been added to the Victorian Heritage Register.
"Shell House has been loved by architects, designers and the general public for a long time. It is the only high-rise tower designed by Harry Seidler in Victoria. It is a fitting corner piece to the Hoddle Grid and a landmark CBD building," said Stuart MacIntyre, chair of the Heritage Council of Victoria.
The 28-storey building was designed and constructed between 1985 and 1989. It was the Australian headquarters of the Australian arm of Royal Dutch Shell until 2003–04. The building is now occupied by various government offices and commercial tenancies.
"With an interest in geometry, simplicity of form and clear expression of structure, Harry Seidler designed the building using two counterpoint curved sections to maximize views to the south and east, to accommodate existing underground railway tunnels and to present a commanding entry point to the city," states the heritage report.
"Shell House is architecturally significant as an outstanding example of a late modernist office building in Victoria.
"Shell House is also significant for the clarity with which it expresses particular themes and motifs characteristic of Seidler's work. These include the use of opposing curvilinear forms and the generous planning of public areas, both externally an internally."
The building has received a number of awards including the Royal Australian Institute of Architects Victorian Merit Award and the national Commercial Award in 1991.
The lobby building contains a porcelain mural, Pulpit Rock, Bathers and Muzzled Dog (c. 1987) by Arthur Boyd. An outdoor sculpture, Shell Mace (1989) by Charles Perry, sits in the plaza.
Shell House is one a series of high-rise towers in Australia and around the world designed by Harry Seidler between the 1960s and the 1990s. It's also one of few post-1980 buildings to be added to the Victorian Heritage Register. Other Harry Seidler-designed, heritage-listed towers include Australia Square, which was added to the City of Sydney's local heritage register in 2012.