Seven professional architecture teams and a student have been named winners of the Queensland government's Density and Diversity Done Well ideas competition.
The competition challenged architects, students and building designers to create new housing options for a typical suburban block within a neighbourhood of 20 dwellings. The competition called for dwelling types for the "missing middle" – between that of high-density high-rise apartments and free-standing suburban homes.
The winners are, in ascending order of density: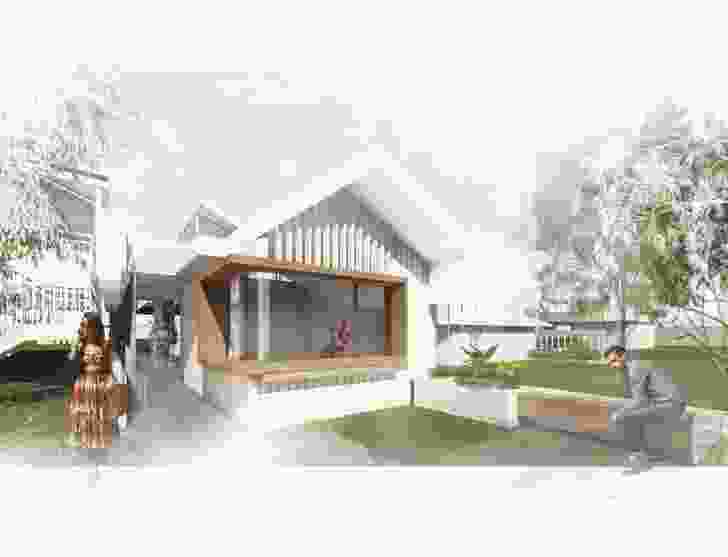 Linear Landscape House – Rebecca Champney, Nettleton Tribe (Qld)
Neighbourhood density: 40 dwellings
Described as a "thin" idea, Champney's concept proposes a narrow, linear house inserted into the often underutilized left over space between an existing house and the side boundary. The building could be used to accommodate a granny flat, home offices or flexible studio spaces and occupies a small footprint, while preserving front and rear garden spaces for the existing dwelling. "This nuanced side boundary response avoids a 'build to boundary' blank wall while maximising light, ventilation and privacy," said the jury.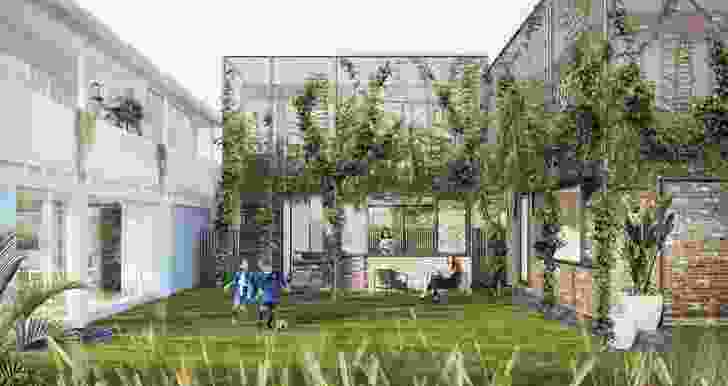 Dappled Dwellings – Trias (NSW)
Neighbourhood density: 52 dwellings
Trias proposes a concept which would see a typical post-war timber cottage raised off the ground and infilled with an entire dwelling underneath. Two micro dwellings are added to the rear, clustered around central courtyard. The dwellings would share amenities such as vegetable gardens, laundries, sheds and car spaces. The arrangement "lends itself to co-housing and intergenerational family situations," said the jury, who commended the concept for its "deceptively simple, compact and affordable idea."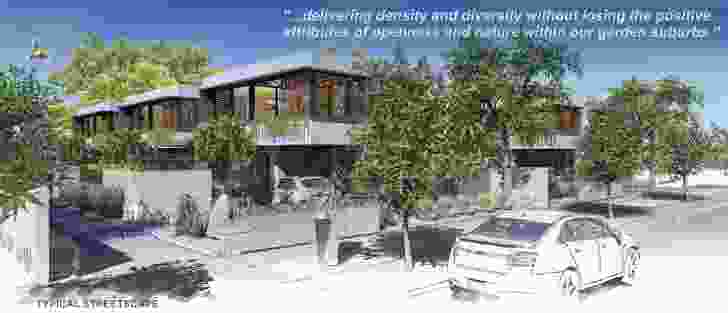 Eco-nesting – Arclogic Design (WA)
Neighbourhood density: 70 dwellings
Comprising a series of compact pavilions on micro lots of 180 square metres across two existing lots, this concept allows for freehold, villa-style living. The jury said it was "impressed with the attention to detail and incorporation of a range of energy and water efficient ideas, as well as flexible floor plan arrangements providing a choice in intergenerational and live-work opportunities." Across a neighbourhood, it also proposed multi-unit complexes on corner blocks as well as small public open spaces.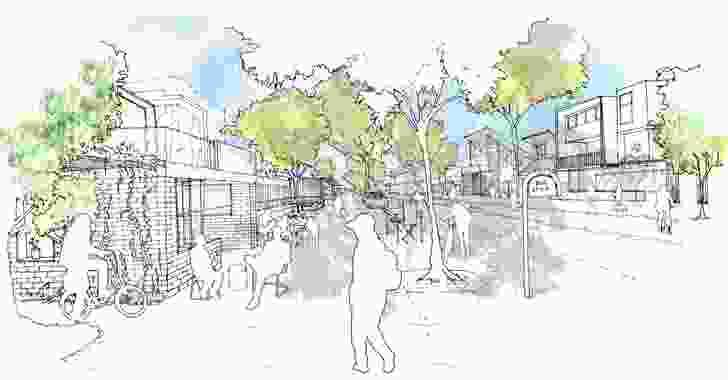 Paired Twin House – Kali Marnane and Tess Martin (Qld)
Neighbourhood density: 80 dwellings
This concept proposes to transform the "oversized and car dominated" Queensland street by replacing front gardens with shop-house type buildings that include studio apartments and work spaces. The lots could be subdivided lengthways to create two attached dwellings at the rear to achieve a density of four dwellings on an existing lot.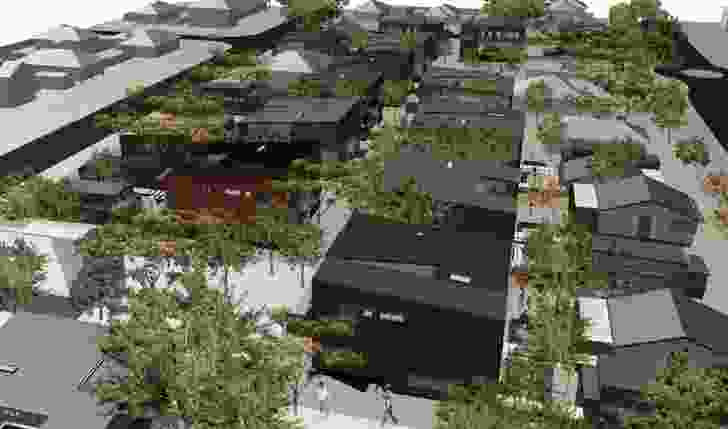 Woven Places – Bligh Graham Architects (Qld)
Neighbourhood density: 80 dwellings
Rather than splitting an existing lot down the middle, Bligh Graham proposes to unevenly subdivide a typical suburban lot to create four diverse dwellings that "weave" into the landscape. "This highly resolved proposal achieves a scheme of equal density but in a far more design and climatic responsive way," said the jury. "This a flexible and deceptively high increase in density."

Inter-Urban Diver-City – Gresley Abas Architects (WA)
Neighbourhood density: 100 dwellings
This concept replaces the suburban McMansion with four to six interlocking dwellings that range from one to four bedrooms within a three-storey building. "The concept merges three sometimes-maligned housing forms – the six pack, the McMansion and the share-house – into a new flexible built form that offers a place to live for singles, couples, small young families, established families and empty-nesters," said the jury.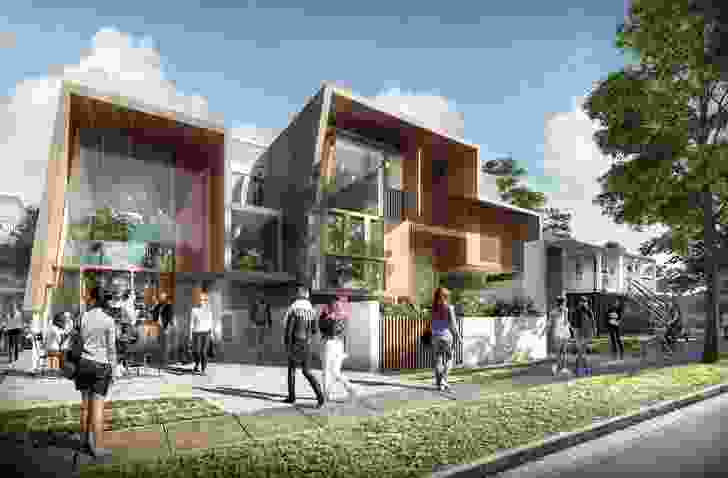 Laneway Tower-housing – Cox Architecture (Qld)
Neighbourhood density: 100 dwellings
Cox Architecture scheme builds on the traditions of the "six pack" multi-residential unit typology. It proposes three dwellings and a commercial tenancy on the ground level with a split-level, half sunken car park in between. A further four dwellings are tacked on top of each other. A seven-metre-wide laneway is create at the rear of the site to allow access to the car park from both sides. "The building height increases towards the centre of the block and to the laneway thereby reducing overshadowing and overlooking often associated with these types of incremental infill," said the jury. "Innovative carparking utilising half basements concealed in the overall building form delivers the potential for higher density without full basement construction."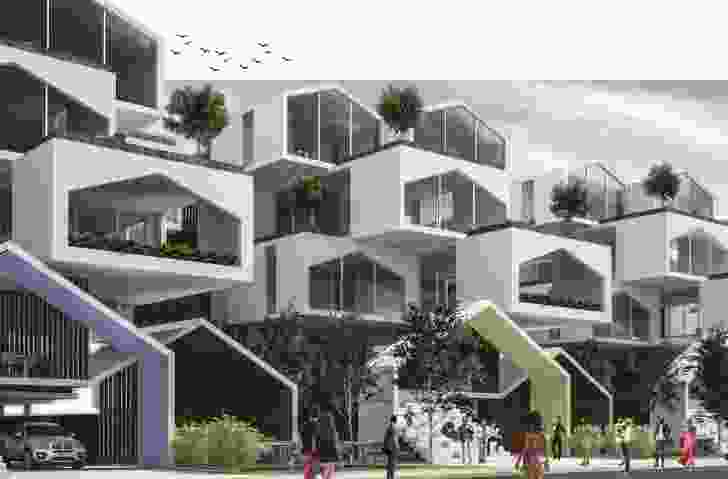 Student winner
Mani Saham, University of Art, Tehran (now residing in the Northern Territory)
Neighbourhood density: 40 dwellings
The familiar gable roof shape is a strong feature of this scheme which, as the jury described, "creates a strong urban pattern radically at odds with the traditional high density offering." The scheme integrates contemporary green roofs with live-work models of housing.
Professional winners were awarded $7,000 each and the student winner was awarded $1,000.
The jury also commended four professional schemes and one student scheme:
Urban Pixels – Urbis (Qld)
Side House Project – Sprout Architects (Qld)
Links and Thresholds – Anna O'Gorman Architect (Qld)
Retrofix – Arkhefield with Urbis (Qld)
Student Accommodation – Madeleine Arrow, University of Queensland
A further six received mentions:
Plus One – Zeglar Fergus (Qld)
Hyper-Flexible Terrace – DegenhartSHEDD with Roberts Day (Qld)
The Missing Mews – Joshua Tait (Qld)
Suburban 3-2-1 – Graham Anderson Architects (Qld)
The Green Commons – Urbis (Qld)
Green Roof – Code Green (NSW)
The competition was a joint initiative of the Department of Infrastructure, Local Government and Planning and the Urban Development Institute of Australia Queensland.
The jury comprised Malcolm Middleton (Queensland government architect, chair), Marina Vit (Urban development Institute of Australia Qld), Brit Andresen (representing the Australian Institute of Architects Queensland chapter), John Byrne (representing the Planning Institute of Australia Queensland chapter), Kerry Riethmuller (Department of Infrastructure, Local Government and Planning) and Malcolm Holz (Economic Development Queensland).
Related topics