Anglo Saxons have grown up with the expression "A man's home is his castle." Setting aside gender specificity, it is generally seen as a positive phrase, implying a place that offers prospect and refuge and maintains a sense of defensibility, but that is essentially a separate container protecting one family unit. On the other hand, "Mi casa, su casa" – my house is your house – suggests a dwelling that is always available to others, irrespective of circumstances. This project, perched on the side of a valley in South Hobart, by 1plus2 Architecture, seems to be about finding a sustainable middle ground between these two extremes of dwelling philosophy.
M + J are a professional couple with three young children. M is also a director of 1plus2 Architecture. D + K are a professional couple with one young child and another on the way. Several years ago, these couples met through mutual friends and realized that they were aligned in their thinking about lifestyle aspirations. M + J had just bought a large, neglected block in a valley at the foot of Mount Wellington and were beginning the process of bringing it back to life. The steep site offered bush within arm's reach, only a few minutes' bike ride from the city. Each couple was interested in creating a shared circumstance for living, seeing this as a more socially, environmentally and economically sound direction to drive the Australian dream of home ownership.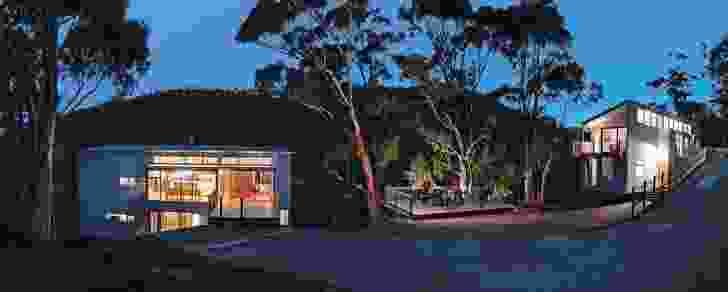 The collaborative result is a site that accommodates two houses, with similar structure, material palette and spatial program, sharing essential services and all available open space. Accessed via one entry drive, the buildings are sited about eighty metres apart on the two-and-a-half-acre block. M + J's home is on the lower section of the site, pushed as far into the valley as possible to allow D + K to share a vista to the river. Between the dwellings is a large shared deck that provides essential horizontal space for outdoor dining, barbecues and children's play. The steepness of the site works well for two-storey buildings – each has a minimal footprint, hanging out over the slope to leave enough space for a lower ground floor. This strategy maximizes access to external space, creates a series of distinct environments within each small home, and minimizes the "legginess" of the pole construction.
The buildings are simple boxes, framed in steel with studwork infill. The external shell is defined inside and out by unpainted cement sheet cladding jointed at a consistent 1,205 mm grid. This material behaves surprisingly in this context, offering solidity in the harder external light while revealing a soft, light-absorbing surface internally. Shadow detailing separates plaster from cement sheet and further defines the shell. In both buildings, the living space is on the entry level, with bedrooms on the lower floor. Bedroom sizes are very modest, if not "monastic" as M describes them, reflecting a common desire to prioritize living and guest space within each small building. As tree removal was minimal, the buildings sit within the canopy, feeling as though the bush and its families of animals are always within reach. M describes a magical moment watching a flock of pardalotes play on the branches just outside their sitting room windows ten metres up in the air.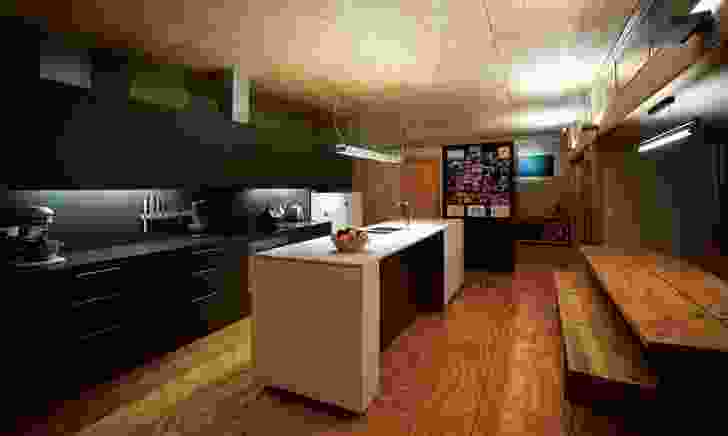 Both couples are committed to sustainability. As they should, the designs cover all of the environmental basics. A shared material palette and modular grid reduced wastage through the construction process, the skin of each is well insulated and double glazed, large water tanks are cleverly hidden beneath the shared deck, capturing both roof and greywater, and each home is solar-ready.
Beyond the environmental basics, the families wanted to establish a sense of social sustainability where they might be able to stretch outside of their own walls, creating opportunities for connections between each other and the local community. This approach has taken considerable work on everyone's behalf and will continue to do so. The process began with very direct and honest negotiations between the parties about values, approaches to conflict resolution and openness about financial circumstances. As both M and D describe, it is through these more difficult processes that the friendship has deepened: "You can skate across the surface forever with friends, or you can embark on a project like this which is not always easy, but digs deeper."
As an aid to building relationships, they have established what they call "social rhythms." Each Thursday they eat together, often with additional friends and new acquaintances, and they regularly look after each other's children. Whenever possible, neighbours are invited to join them. The central external deck is essential to the circumstance of meeting with other locals, as it offers a semi-public space, clearly separated from each home, where the families can socialize with new people while retaining a private inner realm.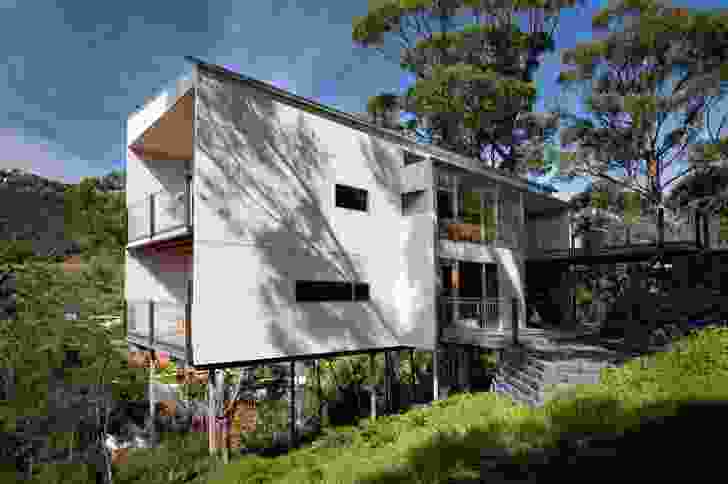 Given that much of suburbia occupies the ubiquitous quarter-acre, this project is by no means high- or even medium-density, but perhaps that's where the real sustainability can be found. In a culture that values privacy and separation, beginning with enough area and then defining distinct spaces that are either private, semi-private or semi-public enables these families to sustain their desired model. Nobody wanted a commune; rather an affordable, flexible version of "the dream" that takes a worthy step toward building community networks in a context in which all parties can feel comfortable and safe.
In one year of life so far, the shared deck has held countless organized and spontaneous gatherings (including a film night with D + K's cement sheet east wall as the screen), new faces have becomes friends, a kid's "park" is emerging, and the chickens are beginning to lay eggs to share. It's an appealing picture, is it not?
Products and materials
Roofing

Colorbond Spandek 'Woodland Grey' (House 14A); Colorbond Custom Orb, 'Woodland Grey' (House 14B).
External walls

Unpainted cement sheet.
Internal walls

Unpainted cement sheet; plasterboard, painted Dulux 'White Watsonia'.
Windows

Natural anodized aluminium frames 'Fairview' series, double-glazed; levers to awning sash windows (House 14A); powdercoated anodic dark grey 'Fairview' series, double-glazed; Lidco winders (House 14B); hardwood timber frames.
Doors

Clear finish to veneer doors (House 14A).
Flooring

Trudek yellow tongue substrate flooring; 12 mm plywood finished in tung oil; Tretford cord carpet squares; Quest Carpet Manufacturers New Zealand wool 'Coffee Bean' carpet.
Kitchen

Franke oven; Siemens combined induction and gas cooktop; Qasair exhuast; Bosch dishwasher.
Bathroom

Marbletrend shower base (House 14A); Reece fittings.
Climate Control

Fujitsu fully ducted heat pump system; Devi under-tile floor heating in bathroom (House 14A); Verisol insulated pleated blind; Daikon wall-mounted r/c aircon (House 14B); aluminium concertina foil batts double-layered behind Bradford wall wrap enviroseal reflective thermal insulation; Bradford Gold insulation, Anticon blanket and soundscreen.
External elements

Timber decking.
Artworks

Nicholas Harder (House 14A); Peck (House 14B).
Source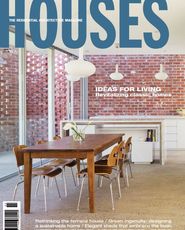 Related topics