Phillip Island Nature Park has unveiled the design of the new Penguin Parade Visitor Centre by Terroir.
The new visitor centre for the popular Victorian tourist destination will accommodate a scientific and education institute, retail and hospitality facilities, a theatre and an interpretation space.
The multi-pointed, star-shaped building will be sited at the junction of three distinct landscape types on Phillip Island's Summerlands Peninsula: basalt bluff, coastal dune and wetlands.
The design "is intended to visually embody the sense that the building is reaching out to the landscapes but also stitching the landscapes together," said Scott Balmforth, principal and director of Terroir. "So rather than the building drawing attention to itself, it's actually trying to create a sleeve within the landscapes around it."
"The sharp, angular form is also directly intended to, in a way, thin the building off. The form actually assists in creating a lighter appearance via the delineation between light and shade."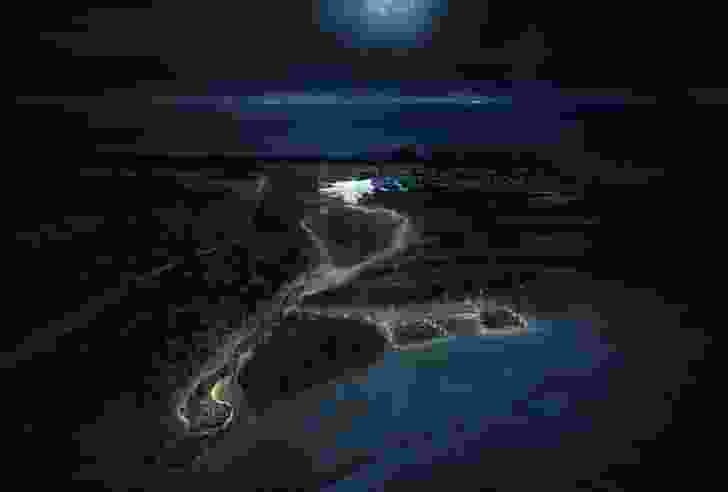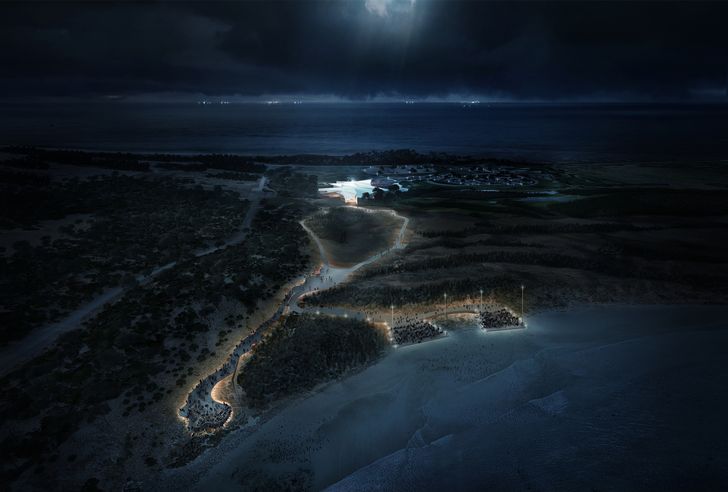 The interior spaces will feature a faceted timber ceiling. While it will resemble the external geometry, Balmforth said the interior design is "a response to the desire to have a primary timber structure holding the building up, particularly being a single storey building. We're doing a lot of exploration in cross laminated timbers to achieve that support. The internal environment is directly related to the structure and then it provides an intensity of the geometry."
The $58.2 million project is a key component of the 2012 Summerland Peninsula masterplan by Tract Consultants, which proposed a new visitor centre to replace the existing centre designed by Daryl Jackson, in 1988. The existing centre will be demolished and the site will be rehabilitated and returned to penguin habitat. The new visitor centre will be sited in the nearest non-penguin habitat area, 200 metres from the existing centre.
As well as the new visitor centre, the project will restore 6.7 hectares of habitat for little penguins, which can accommodate up to 1,446 breeding penguins. It will also provide 1.5 hectares of new wetland habitat.
The Victorian government provided $48.2 million for the development through the Regional Tourism Infrastructure Fund, while Phillip Island Nature Parks contributed $10 million to the project.
The new visitor centre is due to open in late 2019. It follows the completion of Penguin Plus Viewing Area, an eye-level underground penguin view facility, designed by Wood Marsh Architecture and Tract Consultants, which is also part of the Summerland Peninsula masterplan.
The design of the new visitor centre was overseen by the Office of Victorian Government Architect's design review panel and National Parks' panel of experts.
Related topics