Shearer's Quarters (Tas) by John Wardle Architects
Jury comment
This is an ambitious house that compels us to reflect on the inherent beauty of living. Set within a historic farming property in Tasmania, it is both a working farm building and a place of retreat. While this might seem like a contradictory pattern of day-to-day inhabitation, here it has been effortlessly reconciled. This deft touch has created a house that is an exemplar for contemporary residential architecture, simultaneously functional and beautiful. It is also a model for modest, small-footprint, environmentally responsive houses.
The form of the rudimentary shed is the vehicle for an inquisitive exploration of detail, form and context. Sited in a complex of buildings, but self-contained, its relationship to the existing 1840s cottage is in the farm tradition of small clusters of buildings, outbuildings and sheds. This apparently simple house has an effortless relationship to the built, cultivated and natural landscape. The material expression has a farm-sense quality, and draws heavily on recycled timber and convict-era handmade bricks. This is a finely tuned and beautifully synthesized building that is a reminder of the essential systems and patterns of domestic life.
Australian House of the Year supported by Cult.
Source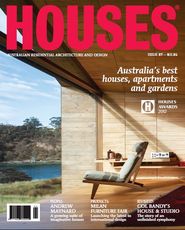 Issue
Houses, August 2012
Related topics