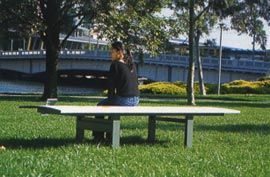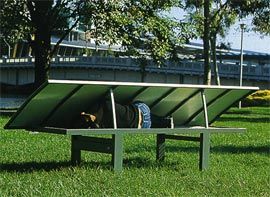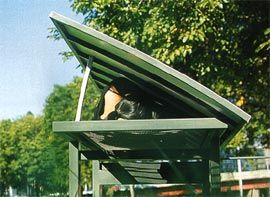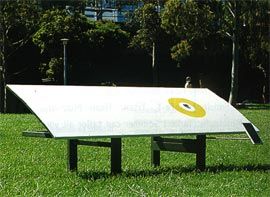 A lot of urban space and street furniture tries to keep people moving. No skating, no loitering, and especially no sleeping.
Various types of grooved and flip-up seats have been invented to frustrate those wanting to stretch out.
Meanwhile, between three and six hundred people sleep rough in Melbourne every night (CHP report, 1997). The law views them as illegal campers, and governmental efforts to help them have focused on reducing numbers on the street rather than dealing with the practicalities of living on it.
Melbourne architect Sean Godsell has attempted to redress the balance by building a park bench that encourages people to sleep on it. At night it transforms into a shelter. By day it's an inconspicuous steel bench, if slightly oversized. The only real clue to its after-hours possibilities is a large graphic on top that contains a house symbol with familiar gabled roof and chimney. This is about as homely as the shelter gets.
When it's up and running, council workers will go around at dusk "turning up" the beds. One side of the bench is lifted up and locked in place. Underneath is a woven wire bed frame. This bench is not supposed to be a designer object, despite the cheeky branding. It is robust and cheap ($3,000), designed for easy cleaning and injury-free operation. It has an automatic night light shining onto the ground beneath, signalling that someone is occupying the bench.
Godsell thinks this park bench makes for a safer and more comfortable nestling space than a shop doorway. Getting in and out of the bed is a rather awkward process though, and wouldn't be easy to do if you were elderly or overweight. The next prototype will be higher and wider to accommodate bigger people and those wearing many layers of clothing. For Godsell it is too early to know if it is going to work.
That's what the trial run is for.
This trial and other tricky issues are currently being worked through with two interested councils, welfare services and corporate sponsors. Issues such as where the benches could be sited, maintenance (the bench has to be upgraded to stainless steel), and liability are being examined. Then there's the problem of moving people on in the morning so that the bed can revert to a bench. Godsell is nevertheless hopeful that a trial will happen in the near future.
Whether it works or not, this project will push the envelope. While artists Lucy Orta and Kryzsztof Wodiczko have tackled the issue imaginatively in the galleries, little has been done at ground zero. The homeless are, by definition, excluded from general architectural discussion. They are hard to find, hard to place and hard to bill.
Godsell insists that this project isn't a bandaid solution, for him it's better to do something than nothing. The park bench joins his other pet project, Future Shack, in a new socially-minded sideline that his practice feels drawn to. This work has to be simple, affordable, and make use of existing materials and infrastructure. It is a necessary counterpoint for him to the award-winning bespoke homes that he is gaining a reputation for.
Peter Johns is an Melbourne-based architect who also maintains www.butterpaper.com