Some of Sydney's most significant heritage buildings stand guard over Martin Place. Ranks of Doric columns proudly proclaim the resilience and status of corporate wealth along its length, but a petite corrugated demountable shed is an unlikely part of this composition. Yet, as part of the 2012 Sydney Architecture Festival (SAF), Carter Williamson's Grid held its own in this business district for thirty-six hours.
Conceived by Shaun Carter in response to the 2004 tsunami in Banda Aceh, Grid was refined over the seven years since, and assembled on site in just three and a half hours for the SAF exhibition.
Based on a concept of prefabrication using a unit system of standard 2.4 metre material lengths and truck-load capacity, Grid can be easily flat-packed and transported to remote or inaccessible locations, and assembled on site by four unskilled workers in a day. Its modest materials and clean interior belie a bevy of sophisticated ideas: inverted Acrow props, traditionally used for scaffolding, are here reinvented as support columns and can be adjusted to suit large height variations in devastated terrain.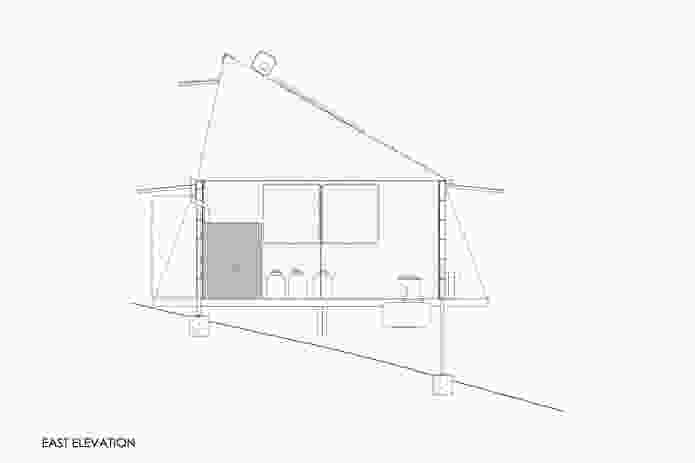 Grid can house up to ten people, courtesy of its mezzanine loft for sleeping. In community contexts, it can be arrayed in different configurations to respond to the specific needs of family, culture or work, and the sanitary and shower amenities are located on outside metal decks for hygiene. It is highly efficient in other ways too. The fully insulated, steel-frame structure utilizes photovoltaic cells and a roof-mounted solar hot water system to operate independently of standard power supply sources — off the grid, so to speak. Barn-door windows keep the building well ventilated, while rainwater tanks collect roof runoff.
In answer to the growing frequency of natural disasters, plans are also afoot for Grid to be manufactured in large quantities for shipping anywhere in the world. To test Grid's applicability, Shaun Carter will use his 2012 Byera Hadley Travelling Scholarship to embark on a research tour of disaster-affected areas including: Indonesia, Thailand and New Orleans, China, as well as New York and Washington D.C. to make UN contacts and learn about the logistics of relief housing roll-out. "It's part of an information-gathering process to continually refine the design of the Grid modules," says Carter.
A variation of Grid is also being developed to sell locally as a holiday house. It will offer customized fit-out options and the ability to connect to municipal services. After its thirty-six hours in Martin Place, the Grid prototype for SAF was once again flat-packed (watch the video below) and headed south on a truck to a new resting place – a waterfront acreage in southern Tasmania where the full force of the Great Southern Ocean will surely test its mettle.