Mention the word sustainability in conversation and it will probably elicit a plethora of responses and opinions, informed or otherwise. The entire environmental debate has evolved as an issue of moral proportions and the impetus placed on the individual – to "make a choice" and take a position on what seems an insurmountable topic – actually seems unreasonable. In general, the ideology presents a reductive approach: buy less, drive less, reduce your carbon footprint. This conjures images of a somewhat comic Lilliputian regression or a pseudo-agrarian, semi-industrial society. Clearly neither are realistic projections and indeed, any talk of diminishment is usually met with much resistance, as the individual feels that what is rightfully theirs cannot be impinged on. In other words, I do not want to be less comfortable for the sake of sustainability. This exists as a deeply entrenched social condition and although, perhaps, it is the price we have paid for modernity, it nevertheless creates a contradiction, as the tussle between what one should do for the environment and the potential personal cost of this is always at play.
Although much coverage is given to deforestation and environmental degradation in developing countries, it is worth noting that there is a direct correlation between wealth and production of greenhouse pollution. The Australian Conservation Foundation's Consumption Atlas shows how each municipality in Sydney contributes to greenhouse pollution, with a clear link between consumption, pollution and economic factors. Procurers of design services are generally within a higher economic bracket. Reconciling the relationship between wealth and greenhouse pollution with a concerted effort to create buildings and homes of genuine benefit to the individual and the environment all of a sudden becomes a rather complex issue.
Adding to this equation, and as a result of the extraordinary economic boom of the recent past, we find ourselves in a still-lingering milieu of exorbitant property prices and expansive housing designs. Real estate and marketing agendas successfully instilled the fear of undercapitalization into home owners, and so we are faced with a generation of unsustainable homes. All the while, this is contradicted by elaborate mechanical systems to modulate what is actually a moderate and generally tolerable climate. With responsibility apportioned on all fronts, architects and building designers, on average, address the notion of sustainability either through simplistic overlays of sun diagrams and cross-ventilation paths, or through obligatory add-ons such as solar panels, photovoltaic cells, water tanks and the like; a tick-the-box mentality.
Change, therefore, is imperative, but we need approaches that are neither radical nor moralistic; attitudinal rather than technical shifts. Arguably, a genuine approach to sustainability requires the breaking down of the idealized image and the exploration of alternate possibilities that do not involve perceived reduction of comfortable living standards. Rethinking house sizes and configurations, considering plan types and footprints, creating innovative ways of harnessing water and solar energy and disposing of or reusing waste can alter perceptions of value, and what is deemed important may not relate just to size and view. Architects, designers, planners and builders have in their repertoire the ability to re-create. However, if form and appearance are valued as first principles, this will negate the possibility that new ways of thinking about sustainability can create different building typologies, with potentially exciting building forms. The onus is as much on the professional side as on the client side – the process must be collective, and the move is not just towards efficient design, which has that connotation of sparseness, but towards effective design, where quality is attained through the dissemination of information and its effective application in the right places at the right time.
The definition of sustainability and sustainable development as set out by the Brundtland Commission of the United Nations, on 20 March 1987, states that: "Sustainable development is development that meets the needs of the present without compromising the ability of future generations to meet their own needs." One could say that this is quite an optimistic and visionary statement. However, design professionals and their associated collective knowledge can circumvent a much misunderstood and confronting territory, by using design as the critical tool. The process is therefore not reactive, not the clash of ideologies, but rather enters the realm of possibilities through the dominant and truly sustainable force of creativity.
Read a case study of House Shmukler by Tribe Studio, winner of the Sustainability category in the 2011 Houses Awards.
Source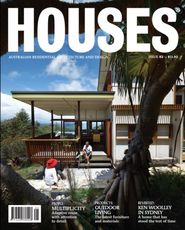 Issue
Houses, October 2011
Related topics