Shigeru Ban to design commercial, retail centre for Christchurch
Japanese architect Shigeru Ban together with Warren and Mahoney will design a new retail and commercial centre for the New Zealand city of Christchurch.
The new building will occupy a site on Cathedral Square and is inspired by the "braided rivers" of the Canterbury region. Developer Richard Hanson says it will be an "iconic anchor" for the southern corner of the square that will provide a visual reference to the region's geographical landmarks.
The building will house office space, a cafe, a restaurant and retail space, according to a report from local newspaper The Press.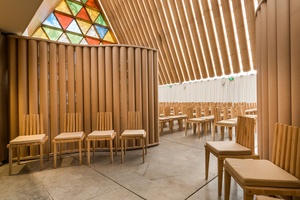 Shigeru Ban and Warren and Mahoney had previously collaborated on the Transitional Cathedral for Christchurch, also known as the Cardboard Cathedral. The cathedral was built to replace the Christchurch Cathedral that was partially destroyed the 2011 earthquake, devastated the city.
"For visitors flying into Christchurch, the braided patterns of the Waimakariri River are a distinctive feature that signifies not only the beauty of our landscape but also the history and future of this city.
"Christchurch has lost so many special buildings, so it is important that new buildings are of high quality and have a strong narrative. This is particularly important for Cathedral Square as it is still a strong tourism destination in the city," said Hanson.
Ban is a Pritzker Prize-winning architect known for his use of unconventional materials. The Braided Rivers project is no exception and will use glued laminated timber, or "glulam" to create this unique aesthetic.
Warren and Mahoney brings a distinctly Kiwi perspective to the project. "Our deep understanding of the materials, New Zealand codes and standards and seismic requirements means that we can have the detailed conversations about construction methodology with the contractors, and loop through to the Shigeru Ban Architects team as required," said principal Peter Marshall.
Construction is anticipated to start in October 2018, with completion scheduled for late 2019.
This article is an amended version of a story that was first published on ArchitectureNow.co.nz. Read the original article here.