Shigeru Ban's emergency structures coming to Australia
Japanese architect and 2014 Pritzker Prize Laureate Shigeru Ban will present two of his paper tube disaster relief shelters in Australia next year.
From 25 March to 1 July 2017, Ban's Paper Log House from Kobe (1995) and a shelter design for the Ecuador earthquake relief effort (2016) will be exhibited in the courtyard garden of the Sherman Contemporary Art Foundation (SCAF).
Ban's work will also be exhibited in the interior gallery of SCAF. An immersive scaled version of the Christchurch Cardboard Cathedral (2013) will be the centrepiece, which will be accompanied by a four-metre scale model of the Japan pavilion for the Hannover Expo in 2000.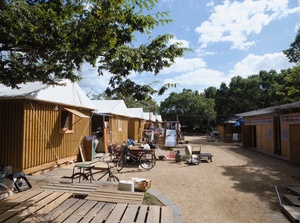 Ban is a pioneer of paper tube structures and is renowned for his humanitarian work. In 1994, he was engaged by the United Nations High Commissioner for Refugees after proposing paper tube shelters as a form of relief housing for the millions of people displaced by the civil war in Rwanda. In 1995, he lent his expertise to the victims of an earthquake in Kobe when he further developed the Paper Log House concept.
The paper tube was also used in the Japan pavilion for the Hannover Expo in 2000, for which Ban collaborated with 2015 Pritzker Prize Laureate Frei Otto to design the paper tube grid-shell structure.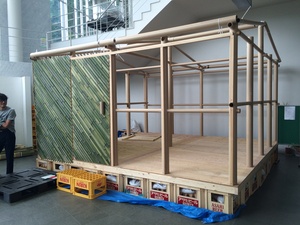 Ban also established a humanitarian organization, the Voluntary Architects' Network, in 1995, which has resulted in a number of paper tube structures around the world. In 2013, Ban completed the Cardboard Cathedral in Christchurch, after the 2011 earthquake destroyed much of the city, including its Gothic stone cathedral. In April 2016, Shigeru Ban Architects and the Voluntary Architects' Network joined disaster relief efforts following an earthquake in Ecuador which left more than 28,000 people displaced. The project will initially provide 20 paper tube temporary houses for a community in downtown Manta.
"Architects mostly work for privileged people, people who have money and power," Ban said. "Power and money are invisible, so people hire us to visualize their power and money by making monumental architecture. I love to make monuments, too, but I thought perhaps we can use our experience and knowledge more for the general public, even for those who have lost their houses in natural disasters."
Gene Sherman, executive director of SCAF, said Shigeru Ban's exhibition will echo the foundation's inaugural exhibition from 2008, Ai Wei Wei: Under Construction.
"[Ban and Ai are] creative titans [who] share a number of preoccupations which resonate strongly with me personally," Sherman said. "Via art and architecture they both actively engage with society at large, focussing on the dispossessed, the homeless and the disempowered. [While] their methodologies may differ, their goals clearly intersect. With this exhibition, SCAF will bookend its ten years as a commissioning institution with two of the cultural world's internationally renowned elder statesmen."
Shigeru Ban will be in Sydney for the opening of the exhibition at SCAF and will also present a series of talks and discussions while in Australia, including at the ArchitectureAP Symposium, which takes place on Friday 24 March at the State Library of Queensland in Brisbane. Click here for more information and to buy tickets. SCAF is an event partner of the Asia Pacific Architecture Forum.