Whichever way you look at it, this house on Victoria's Mornington Peninsula reads as a long, thin line, tracing its way across the hillside. Designed as two staggered, linear pavilions, linked by a perpendicular, glazed entry hall, the layout was a direct response to the site and the brief.
"In order to have as many rooms fronting the views of Western Port Bay as possible, the building lent itself to an elongated form," says Tamara Dunkley, associate architect with SJB Architects. "We wanted to create a new interpretation of a ranch-style house, where you could circulate all the way around it largely undercover. It would feel integral to the landscape and celebrate its coastal location."
The house itself is a series of three long, narrow volumes, but the decks – which wrap around and into the house by means of courtyards - occupy almost as many square metres as the enclosed space. The shape of the house (a back-to-front elongated S) means that the decks provide a variety of sheltered outdoor areas depending on the direction of the prevailing wind: northerlies in summer, southerlies in winter.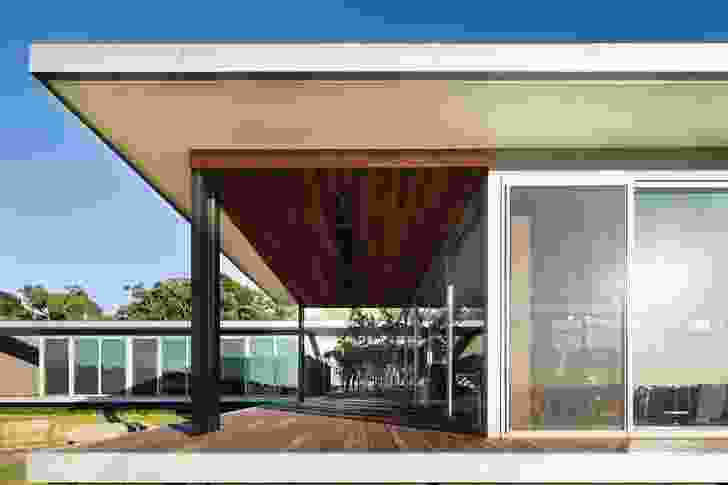 It is a house that, by careful planning, accommodates family members who are at times engaged in different pursuits. While some may be swimming in the twenty-five-metre lap pool that lies sheltered behind a low rendered wall extending out from the house's rear boundary, others can gather around the outdoor fireplace in the central internal courtyard, or play games in the rumpus room that doubles as overflow accommodation.
Meanwhile the owners can retreat to their suite at the eastern end of the main living pavilion, its entry door concealed in the timber-clad end wall of the kitchen. In this private domain the bed faces the view, with twin washbasins and a bath tucked on the other side of a mid-height bedhead wall. The shower, housed in a cubicle behind, is also open to the view by means of a horizontal slice cut out of the wall at shoulder height.
The second pavilion, leading off the entry hall to the west, comprises four bedroom suites, each with its own ensuite bathroom. At the end of this wing is a double-car garage and plant rooms. On the other side of the entry is the rumpus or pool room. Viewed from the rear, the house gives little away, with rendered masonry walls flanking a timber-clad section that hides the entry door. But from inside, the house opens up to the view. Floor-to-ceiling glazing captures the expansive views, giving the house lightness and transparency. "The approach side, devoid of openings, creates a counterpoint to the view side," says Tamara. "Then once you come through that threshold point, everything opens up and the living wing appears to hover over the landscape."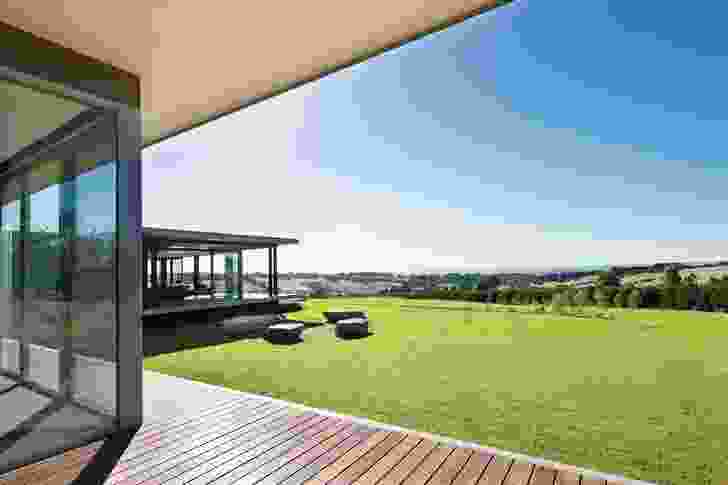 Interior and exterior materials share a robust sensibility. Hardwood timber, honed bluestone, charcoal concrete floors and dark metal elements ensure that the house's character fits with its rural location, while providing an easy-care living environment. "We looked at their existing city house," says Andrew Parr, director of SJB Interiors. "And it's very much a family home, one that is used and lived in. So we took that approach by bringing external materials inside, and adding natural materials that aren't stained or polished. The interiors have a semi-rural approach to them, but they are still contemporary and robust."
The sloping, rectangular twenty-hectare block runs east down to a distant creek line. Finding a building site was relatively easy given council regulations regarding setbacks and the owner's request to position the house as high as possible to capture the views.
Extensive landscaping works around the rear and sides of the house, with raised planting beds and large slabs of rock, bed the house into the hill. "Our and the client's brief to the landscape designer, Robert Boyle, was for the landscape to have an organic, free-flowing quality about it, the opposite of the house's orthogonal qualities," says Tamara. "Mass plantings and waves of soft grasses will eventually conceal the house from the road. It will become one of those secret houses."
Products and materials
Roofing

Colorbond Klip-Lok roofing, 'Woodland Grey'.
External walls

Rendered blockwork; spotted gum; bluestone cladding, honed finish.
Internal walls

Plasterboard, painted Dulux 'White on White'; lining board; spotted gum.
Windows

European Window Company frames, powdercoated Dulux 'Precious Pewter Pearl'.
Doors

Spotted gum front door by Easton Builders; internal doors finished in a factory-applied paint finish, some with routed grooves.
Flooring

Polished concrete with oxide tint and river pebbles; Godfrey Hirst carpet.
Lighting

Libra P floor lamp; Wastberg Studiolise W084 table lamp; Bilbao pendant; Mance Design Edison Fitting pendant; Euroluce Tubular Bells; LPA custom wall lights.
External elements

Spotted gum decking; bluestone-clad fireplace.
Kitchen internal walls

Lightweight stud frame; plasterboard.
Kitchen flooring

Concrete, polished finish with integral oxide tint and river pebbles.
Kitchen joinery

Southern Cross joinery; Designer Doorware custom-design door hardware
Kitchen Lighting

Custom-made Beam 60 fluorescent lighting; LPA custom up/down wall light, Dulux black; custom-painted vintage high bag fixtures in black and fuscia.
Kitchen sinks & tapware

Abey Mary Noall Quadrato sink, Oxygene sink mixer.
Kitchen appliances

Ilve oven/cooktop; Qasair rangehood; Miele dishwasher.
Kitchen doors & windows

European Window Co. glazing.
Kitchen furniture

Hub Furniture Viccarbe Last Minute stool; SJB Interiors custom-made dining tables and chairs, manufactured by Geoffrey Divko & Associates.
Bathroom internal walls

Large-format tiles.
Bathroom flooring

Polished and honed granite concrete.
Bathroom joinery

Southern Cross 2-pac metallic and spotted gum vanity joinery (in main bathroom); Southern Cross 2-pac and metal frame vanity joinery (in ensuite).
Bathroom sanitaryware

Kaldewei bath; Reece toilet; Rogerseller shower.
Bathroom lighting

Mance Design Edison Fitting pendants (in ensuite).
Credits
Architect

SJB Architects and Interiors Melbourne
Southbank, Melbourne, Vic, Australia
Project Team

Tony Battersby, Tamara Dunkley, Andrew Parr, Kylie Dorotic
Consultants

Builder Easton Builders
Engineer Webber Design
Joinery Southern Cross Shopfitting
Landscaping Robert Boyle Landscape Design
Lighting Varions

Site details

Location Mornington Peninsula, Melbourne, Vic, Australia
Number of stories 1
Site type Rural
Category Residential
Type New houses, Residential

Project Details

Status Built
Design, documentation 12 months
Construction 12 months

Source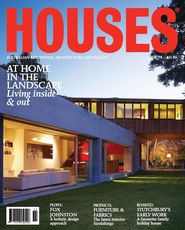 Related topics