The Victorian government has revealed the five shortlisted proposals in a national competition to design the $50-million new Frankston railway station in Melbourne's south-east.
The competition is jointly conducted by the Office of the Victorian Government Architect (OVGA) and the Department of Economic Development, Jobs, Transport and Resources (DEDJTR). The jury selected the five proposals from 39 anonymous submissions.
The shortlisted teams are:
Luke Farrugia and Andrew Shaper – both young practitioners on the central coast of New South Wales. Their proposal is to create a "continuous and countered ground plane providing universal access and connection." The design features "a forest of slender columns" supporting an "impossibly thin roof plane."


Grimshaw Architects – a large international practice with a Melbourne office. The practice proposes to "integrate the transit interchange with the landscape and public space" by creating a new underpass that will "function as a civic plaza with station program incorporated." The design also features "natural dune forms in the landscape."


Genton Architecture – a mid-sized Melbourne practice. Its scheme "envisages the station at the centre of a pedestrian retail zone" with facilities such as a coffee stand and a fruit stall. The design is characterized by a perforated metal canopy and side walls. "The form of the canopy bends towards the surrounding streets opening to continue vistas of key view lines emphasising the station's role as a connecting hub rather than dividing barrier," the practice stated in its design response.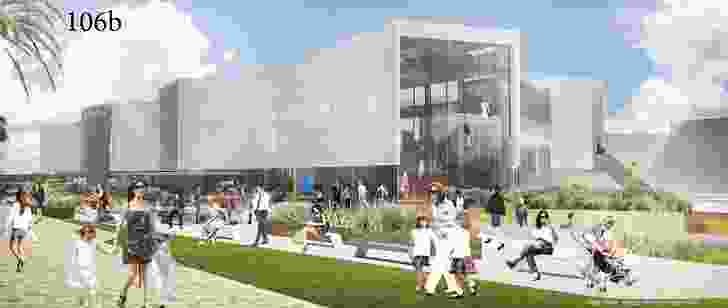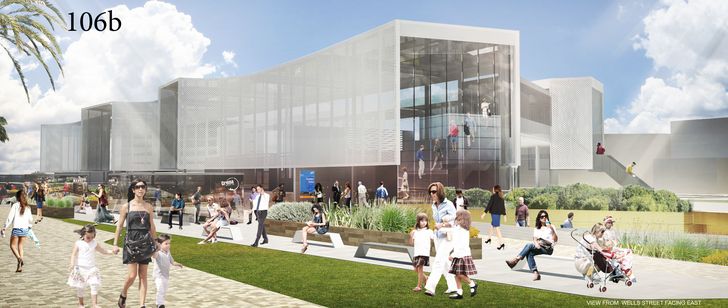 Cullinan Ivanov Partnership – a mid-sized Sydney practice. The practice proposes to redevelop the station in three phases, which will include a new landscaped promenade, elevated boulevard, plaza, an amphitheatre, a new civic and arts building and an overpass connecting the station to the beach.


Supermanouvre – a young international architecture and innovation practice based in Sydney. Its proposal, titled Frankston United, seeks to "re-unite the CBD with its suburbs." The concept includes a new public plaza and an amphitheatre combined with a "dramatic yet efficient transport spine to provide a new heart for the city."


The finalists will now proceed to the second stage of the competition to develop their designs. The preferred design will be announced in March 2017 and the winning team will be appointed project architect for the building of the new station. See the shortlisted submissions here.
On the jury were: Jill Garner (Victorian Government Architect, jury chair), Felicity Stewart (Stewart Hollenstein), Peter Elliott (Peter Elliott Architecture and Urban Design), Dennis Hovenden (Frankston City Council), Paul Edbrooke (state member for Frankston) and Geoff Oulton (DEDJTR).
The redevelopment of Frankston station is the flagship project in the $63-million revitalization of the Frankston station precinct.
Related topics